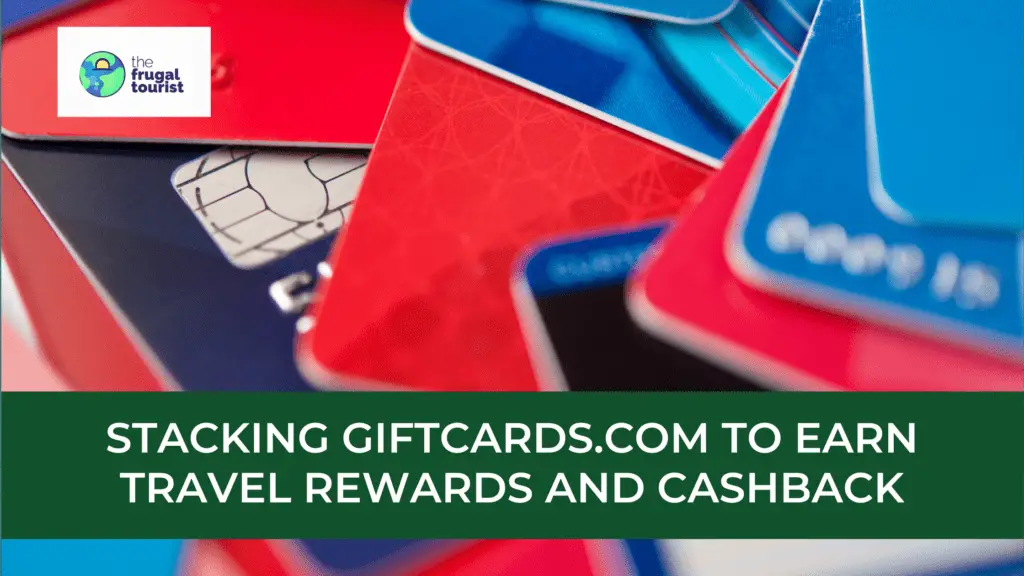 ADVERTISER DISCLOSURE: The Frugal Tourist is part of an affiliate sales network and receives compensation for sending traffic to partner sites, such as MileValue.com This compensation may impact how and where links appear on this site. This site does not include all financial companies or all available financial offers. Terms apply to American Express benefits and offers. Enrollment may be required for select American Express benefits and offers. Visit americanexpress.com to learn more. Additionally, the content on this page is accurate as of the posting date; however, some of the offers mentioned may have expired
If you're looking for a way to rack up travel rewards and cash back, you should consider stacking giftcards.com purchases.
This approach can help you earn significant rewards while spending little effort. Keep reading to learn more about how to make the most of this strategy.
In this blog post, I will guide you on how to earn cashback or travel points when purchasing gift cards on Giftcards.com.
---
Current GiftCards.Com Promotion
---
If you are unfamiliar with how to stack deals on giftcards.com, please read the rest of this article before returning to this section.
Giftcards.com is out with an incredible promotion where buying gift cards through November 17th can earn the following:
Airline Miles or Cashback through a Shopping Portal (check Cashbackmonitor.com)
Cash Back from Credit Cards (check Credit Card Bank Offers)
5% Discount by using a Coupon
---
What is Stacking?
---
Stacking deals is a process of combining multiple promotions to get the most rewards. Some people also call stacking as double-dipping on deals.
For example, in this current giftcards.com promotion, you can earn airline miles or cash back through a shopping portal, cash back from credit cards, and a 5% discount by using a coupon. By stacking these deals, you can maximize your rewards.
---
Steps On How To Stack GiftCards.Com Promotions
---
1. Use a Coupon
---
Whenever giftcards.com rolls out a promotion, typically 5% off during a holiday, we try our best to take advantage of the deal and stack it with another offer to double-dip or triple-dip on travel rewards or cashback.
Current Coupon: None
Previous Coupons:
5% Off MASTERSALE, VETERANSDAYSALE, VETERANSDAY from November 11-17, 2022
We announce giftcards.com coupons on our free Facebook Travel Miles and Points Group. Feel free to join us. We learn about these deals from Doctor of Credit and The Frequent Miler.
---
2. Stack With Airline Rewards or Cashback
---
A. Go To Cashbackmonitor.com
---
Cashbackmonitor is a website that keeps us updated on the current shopping portal bonuses. I use it all the time and find it to be an incredible tool.
---
B. Type Giftcards.com in the Search Field
---

---
C. Select Which Rewards You Prefer To Earn
---
I tend to select airlines miles if there is an increased bonus or Rakuten since that converts into American Express Membership Rewards.
Here are the types of rewards that you can earn whenever you purchase gift cards at giftcards.com through a portal.
Cashback
Travel Miles/Points
Credit Card Points
Other Reward Points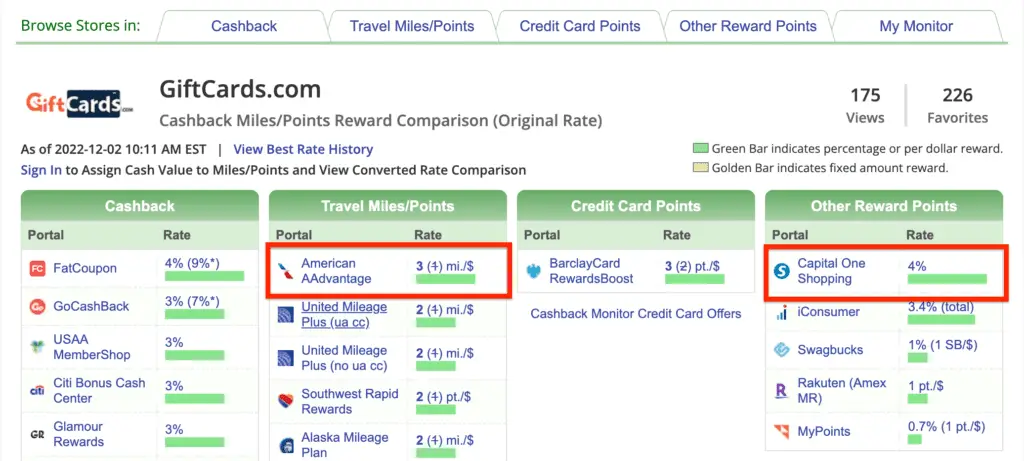 In the example above, I narrowed my choices to either using the American AAdvantage Shopping Portal (3 AA miles per dollar) or Capital One Shopping (4 points per dollar).
I ultimately selected the American AAdvantage shopping portal during the last promotion because it also gave a 4,000 bonus for purchases over $1,000.
---
D. Sign Up for the Portal You Selected If You Do Not Have an Account With Them Yet
---
It is free to sign up, but make sure to use a friend's referral link when signing up so both of you will get rewarded.
---
Example: American Airlines AAdvantage Shopping Portal
---
The AAdvantage Shopping Portal usually gives 3 American Airlines miles per dollar when you shop at Giftcards.com. Please read the terms carefully.
Once on the AAdvantage Shopping Portal, type "Giftcards.com" in the search field, then click the merchant name to enter the site.

You will then be prompted to click any of the Giftcards.com offers that are eligible to earn American Airlines miles. Click "Shop This Offer" or "Shop Now".
I usually click an ongoing generic offer, such as the coupon below.

Next, you will get a notification that the coupon has been activated. The notice also includes the terms of the offer.
Mileage Terms: Please note these terms & conditions: Special terms: Orders over $2,000.00 are not eligible.This merchant is temporarily unable to reward for purchases made using the default settings for Safari 12 or higher, which automatically block the cookies required for this merchant to track your purchase. This feature can be turned off in your browser settings by disabling the 'Prevent Cross-Site Tracking' setting. Not eligible on purchases made with coupon or discount codes that are not found on this site.AAdvantage Shopping Portal
---
3. Find the Best Credit Card To Use on Giftcards.com
---
Search for Giftcards.com Deals Offered By Your Credit Cards
---
Before you make your purchase, check if any of your credit cards have a cash-back offer on Giftcards.com
Historically, the following banks have offered cash back for purchases on Giftcards.com:
Capital One
Citi Merchant Offers
---
Example 1: Capital One Credit Card Offers
---
If you own a Capital One credit card, check if there are any offers for giftcards.com.
Once you find the offer, click "Continue to Merchant" and purchase through that particular link to earn the cash-back bonus. Please make sure to read the terms, which states that the purchase has to happen within a certain time period.
You need to use the particular Capital One Credit Card linked to the offer to activate this deal.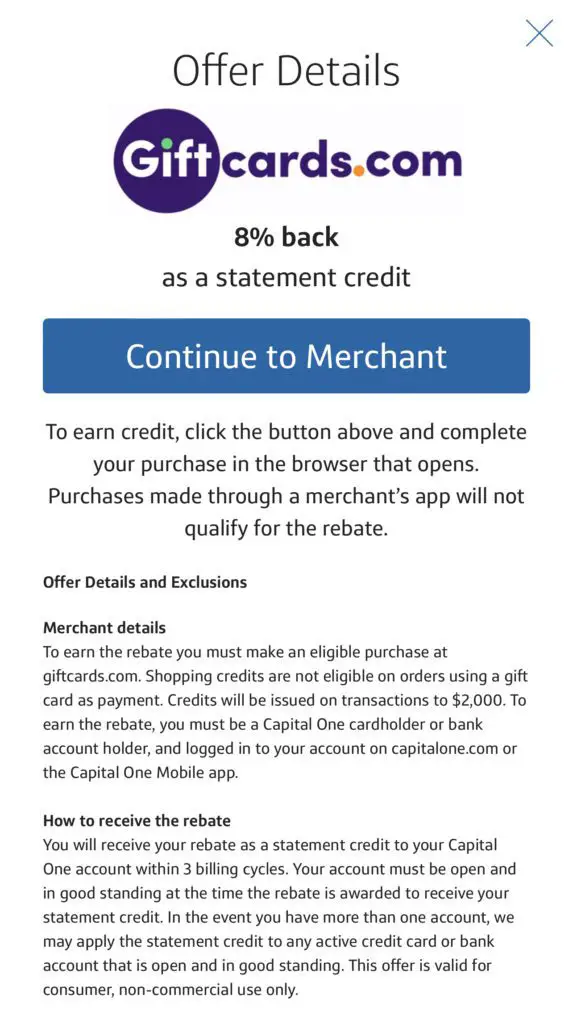 My Giftcard.com Capital One Offer is on my Capital One Venture X Card.
CAPITAL ONE VENTURE X REWARDS– Earn 75,000 bonus miles once you spend 4,000 on purchases within the first 3 months from account opening.
Earn unlimited 10X miles on hotels and rental cars booked through Capital One Travel 
Earn unlimited 5X miles on flights booked through Capital One Travel
Earn unlimited 2X miles on all other purchases
Up to a $100 credit for Global Entry or TSA PreCheck®
Unlimited free access to Capital One Lounges
Complimentary Priority Pass™ membership
Up to $300 Capital One Travel credit
10,000 miles anniversary bonus
$395 Annual Fee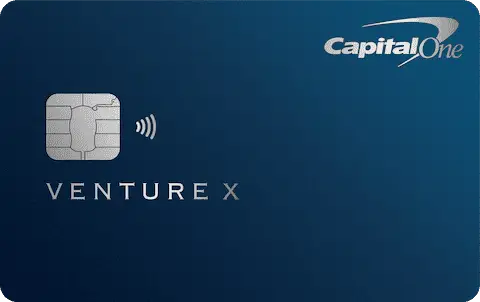 ---
Example 2: Citi Credit Card Merchant Offers
---
If you own a Citi Credit Card, check if you currently have a cashback offer for purchases on GiftCards.com. Activate it by clicking "Add Offer".
If this is your first time using Citi Merchant Offers, follow these steps to navigate to the Merchant Offers page:
Log in to your Citi App, then click "Services" at the bottom.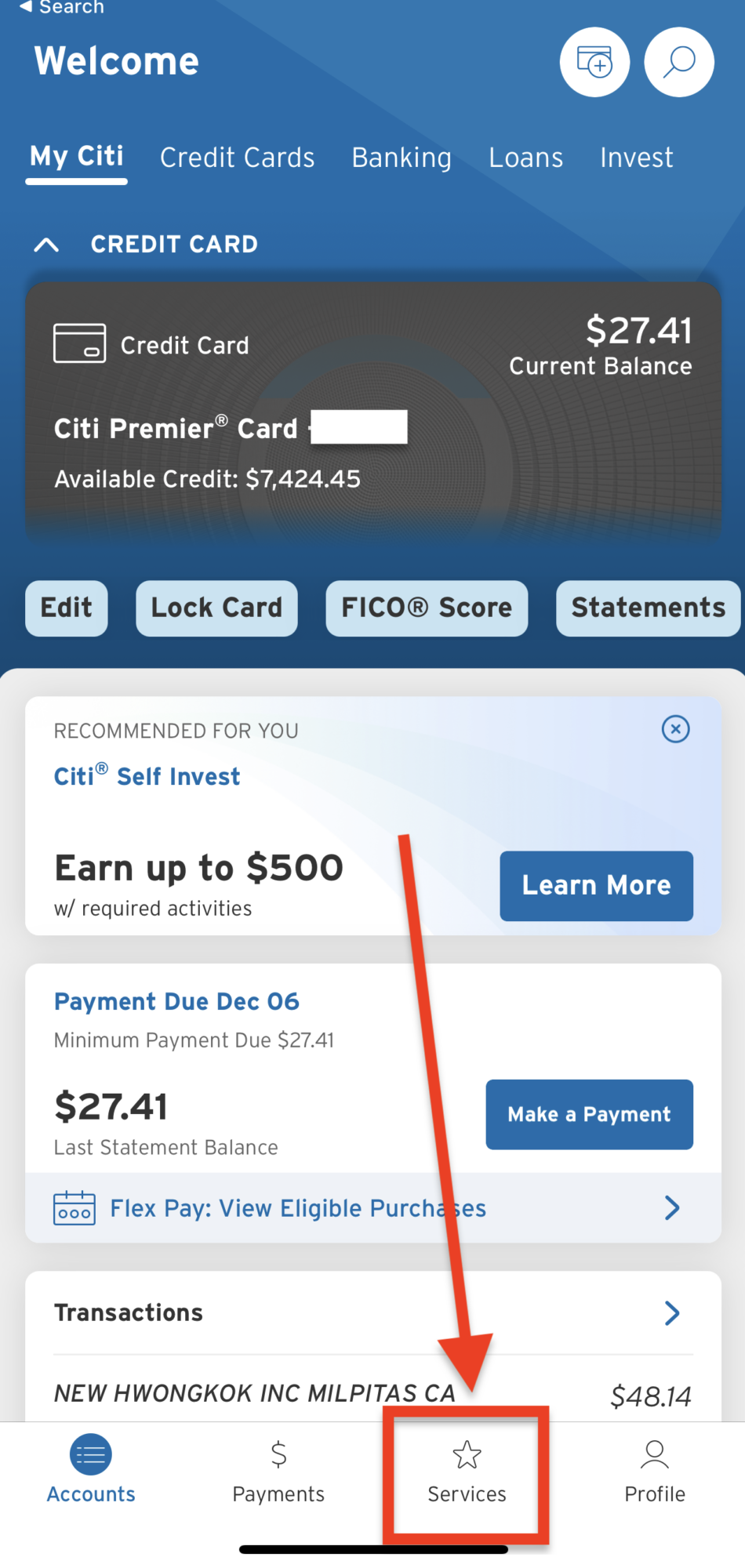 Next, click "Product & Offers".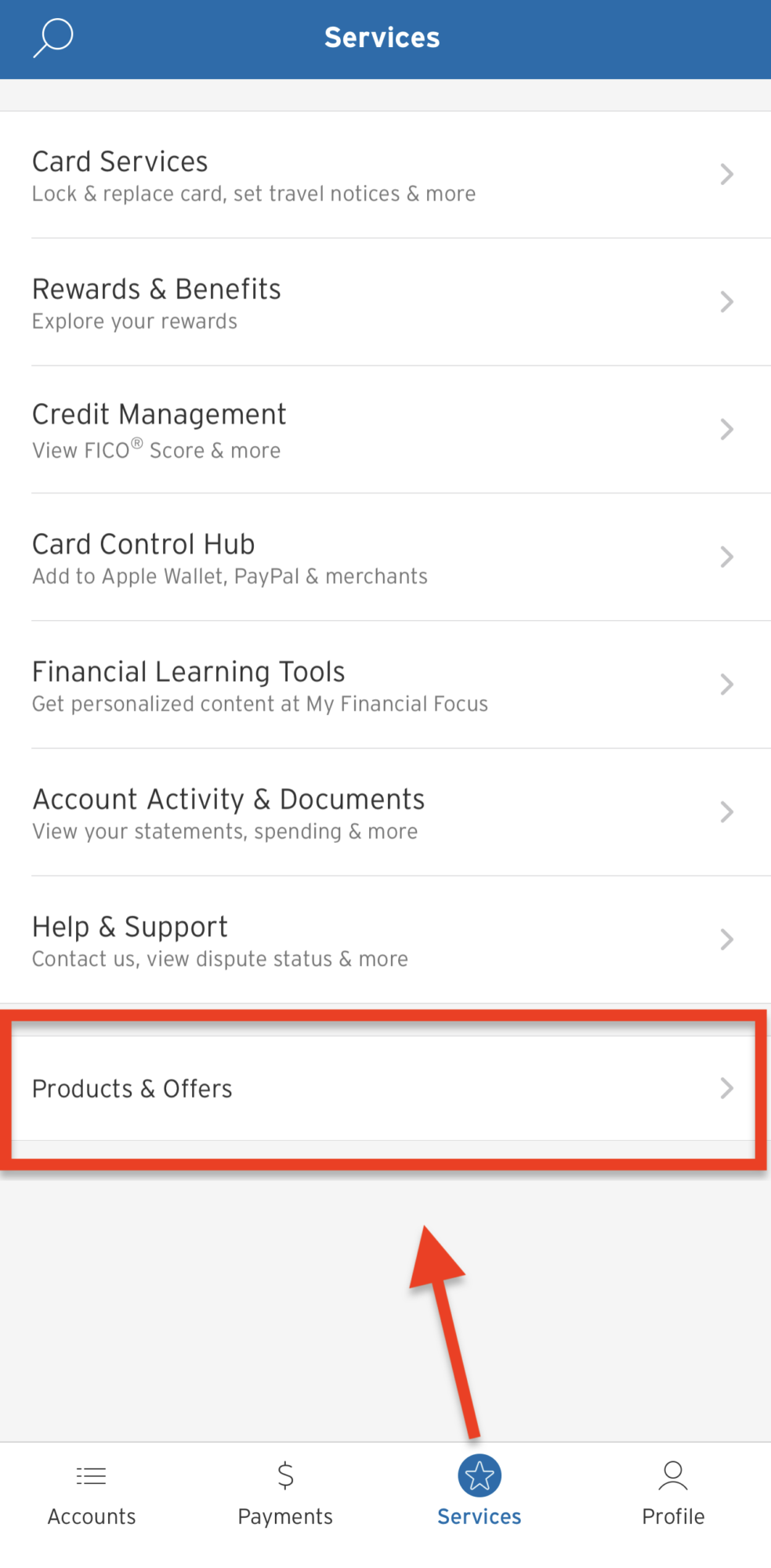 Click "See All" opposite "Save with Merchant Offers".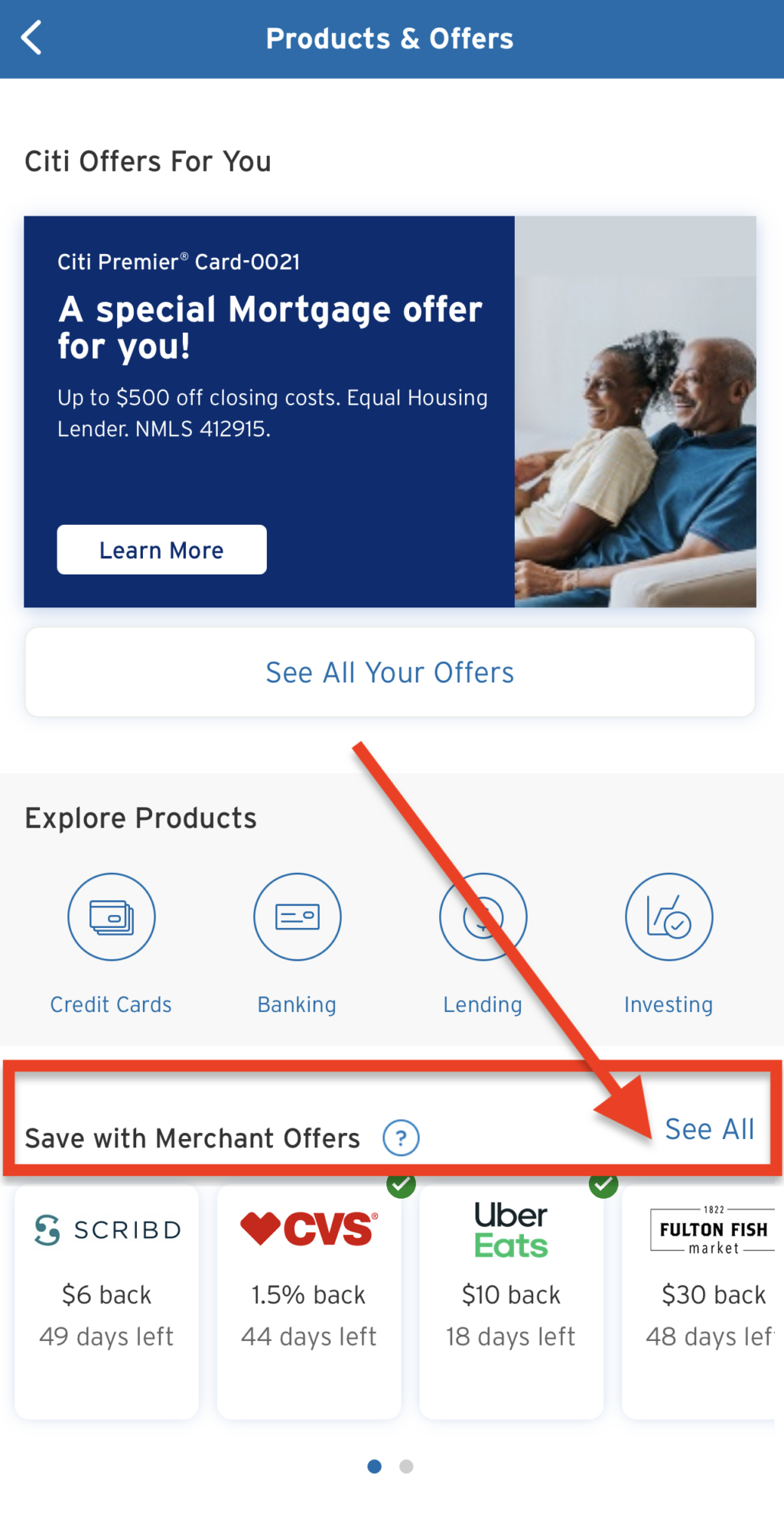 Navigate to the GiftCards.com Offer, click "See Details", then "Add Offer".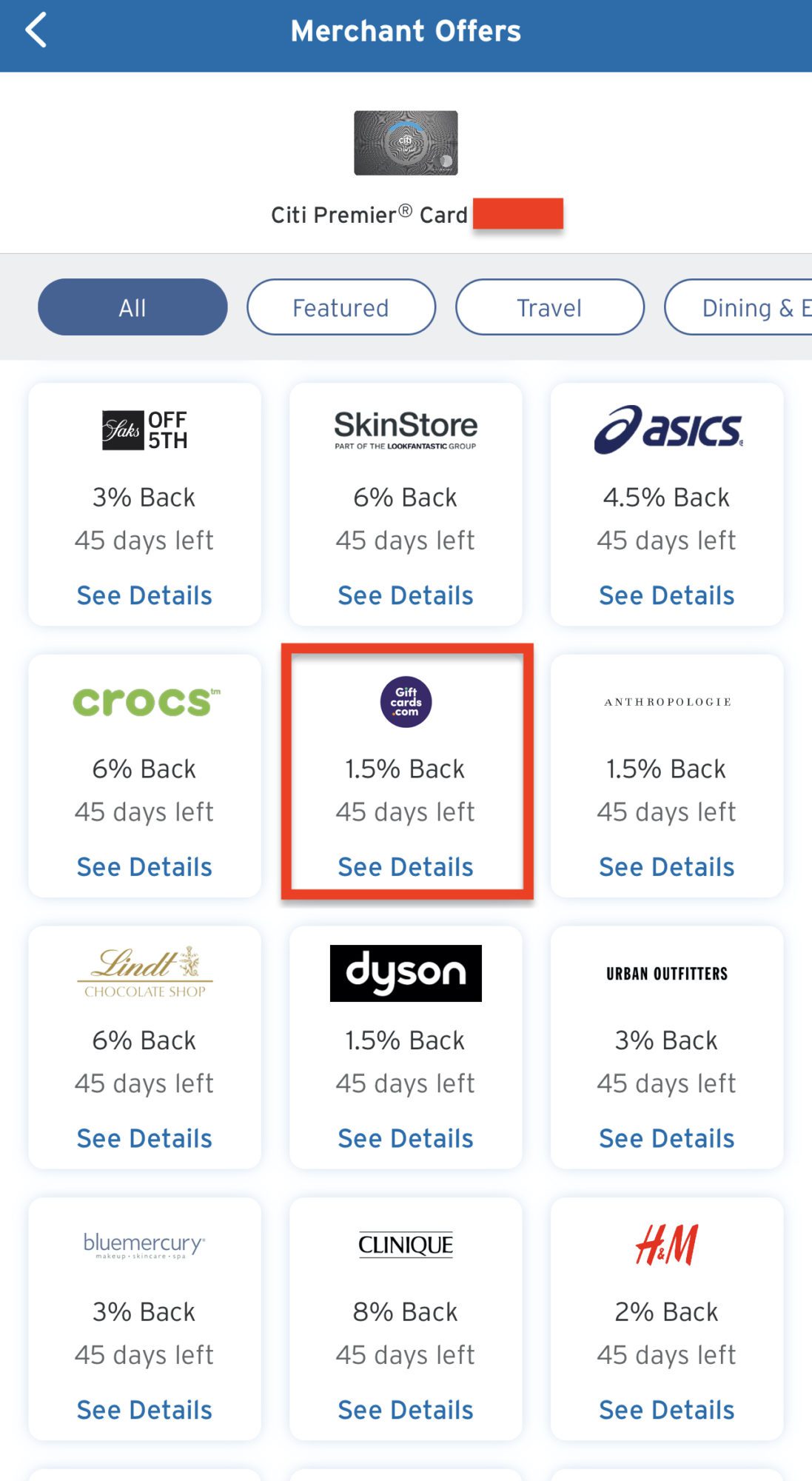 My Giftcards.com Citi Merchant Offer is on my Citi Premier Credit Card.
---
Don't Have a Citi Card? Consider the Citi Premier
---
---
What If I Do Not Have Any Credit Card Offers? Which Credit Cards Do I Use?
---
Here are some recommended credit cards that you can use on giftcards.com:
A new credit card that you are meeting a minimum spending requirement for to earn a generous sign-up bonus (SUB).
A credit card that gives more than 1 point per dollar such as the Capital One Venture X, Citi Double Cash, American Express Business Blue Plus, or Hilton Business Card.
---
Steps On Stacking a Giftcards.Com Purchase
---
1. Activate Credit Card Offers
---
Giftcards.com offers have historically popped up on Capital One and Citi Credit Cards.
If you can not find an offer on any of our credit cards, consider these alternatives:
A new credit card that you are meeting a minimum spending requirement for, or
A credit card that gives more than 1 point per dollar such as the Capital One Venture X, Citi Double Cash, American Express Business Blue Plus, or Hilton Business Card.
---
2. Go Through a Shopping Portal
---
You can only go through one shopping portal, so check cashback monitor to find the best deal for you.
---
3. Purchase the Gift Cards that are Currently on Sale
---
After activating your credit card offer, go through the shopping portal of your choice to access giftcards.com.
Then, determine which gift card is currently on sale. It is usually either a Visa Gift Card or a Mastercard Gift Card. Click "Buy Now".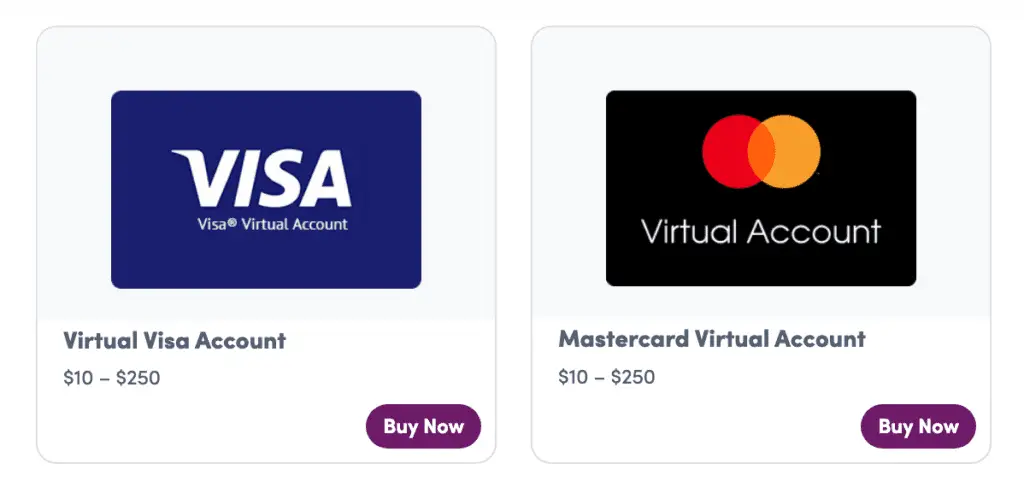 ---
4. You Can Purchase Up to $250
---

---
5. Fill Out Your Recipient Information
---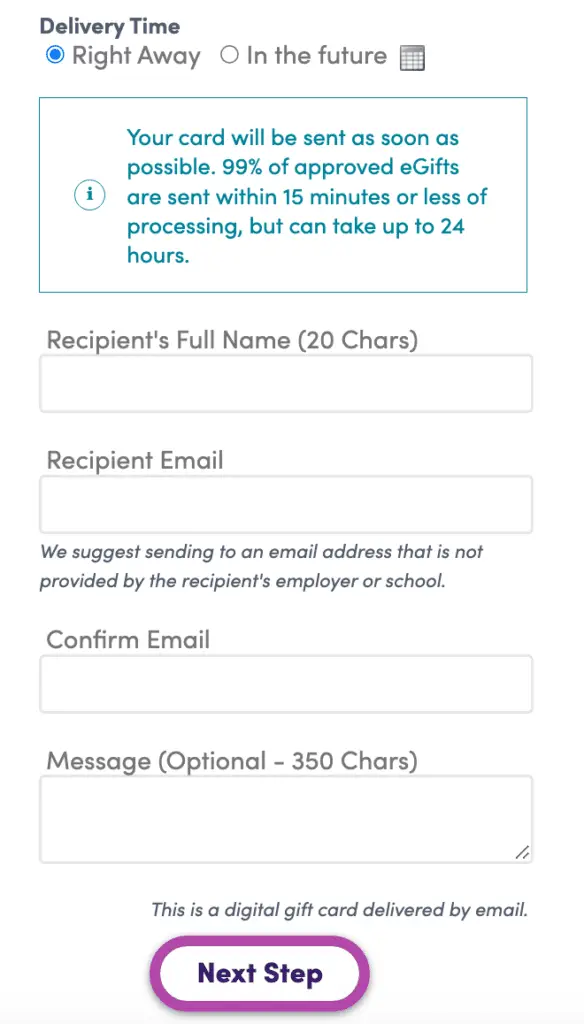 ---
6. You Can Duplicate the Amount
---
Usually, the 5% discount only works for gift card purchases of no more than $1,500, so I typically purchase $250 X 6 cards.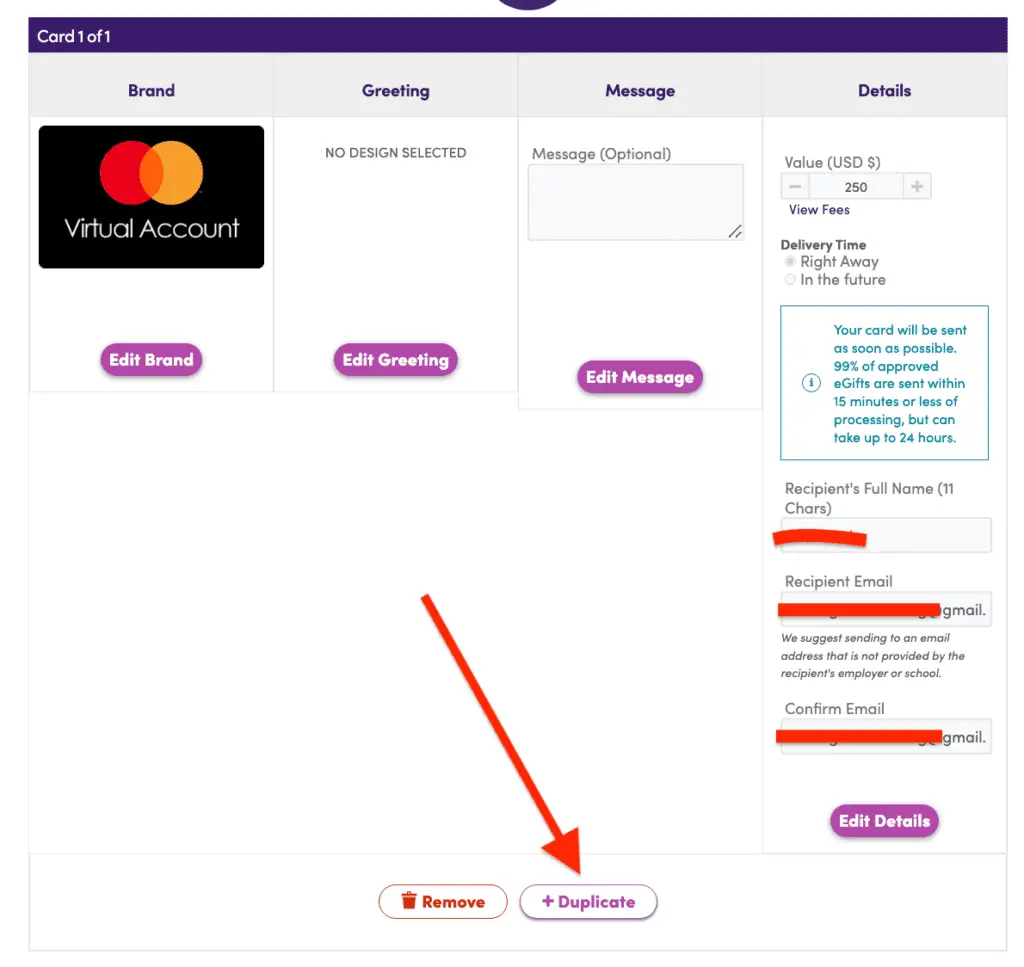 ---
7. Apply the Coupon to Your Purchase
---
In this example, I ended up paying $1,460.70 for $1,500 worth of Mastercard Gift Cards after using a 5% coupon "mastersale".
Make sure to pay with a credit card that has an activated offer.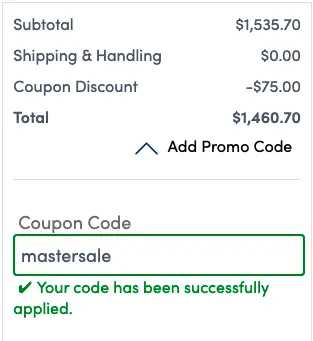 ---
Read The Fine Print
---
By stacking multiple deals, you can maximize your rewards on a single purchase from giftcards.com.
It is important to note that certain restrictions may apply when stacking promotions, so be sure to read the fine print before completing your purchase.
---
Best Ways to Use GiftCards
---
A gentle reminder to only purchase the gift cards you can liquidate. For additional ideas on how to redeem these gift cards, check out the related post below.
---
Final Thoughts
---
This current Giftcards.com promotion offers the ability to stack deals and earn rewards from different avenues.
Have you ever taken advantage of a deal like this before? If not, now is the time!
I have outlined in detail how you can maximize your earnings by taking advantage of this offer.
Be sure to check out Cashbackmonitor.com for up-to-date information on which credit cards offer the best return on gift card purchases.
Do you have any questions about this promotion or how to take advantage of it?
Let me know in the comments below, and I will do my best to help out.
EDITORIAL DISCLOSURE – Opinions expressed here are the author's alone, not those of any bank, credit card issuer, hotel, airline, or other entity. The content has not been reviewed, approved or otherwise endorsed by any of the entities included within the post.