ADVERTISER DISCLOSURE: The Frugal Tourist is part of an affiliate sales network and receives compensation for sending traffic to partner sites, such as MileValue.com This compensation may impact how and where links appear on this site. This site does not include all financial companies or all available financial offers. Terms apply to American Express benefits and offers. Enrollment may be required for select American Express benefits and offers. Visit americanexpress.com to learn more. Additionally, the content on this page is accurate as of the posting date; however, some of the offers mentioned may have expired.
---
The Deal
---
Office Depot/Max is back with their regular deal on discounted gift cards. This discount is only available for in-store purchases from January 15th until January 21st, 2023.
With this deal, $15 is instantly deducted if you purchase at least $300 worth of Mastercard gift cards.
This is a wonderful opportunity to help you meet the minimum spending requirement of a new credit card you just got approved for, as long as that card is not an American Express Credit Card.
---
Earn 5X Per Dollar With The Chase Ink Business Cash
---
We recommend using the Chase Ink Business Cash® Credit Card, which gives 5X Ultimate Rewards (UR) points per dollar at office supply stores.
I love accumulating Ultimate Rewards points for free travel and hotel stays, and I always try to take advantage of office supply promotions whenever they come around.
This promo can add about 1,500 Chase Ultimate Rewards (UR) points to your stash per visit. If you visit a few times this week, you can easily double or triple your earnings.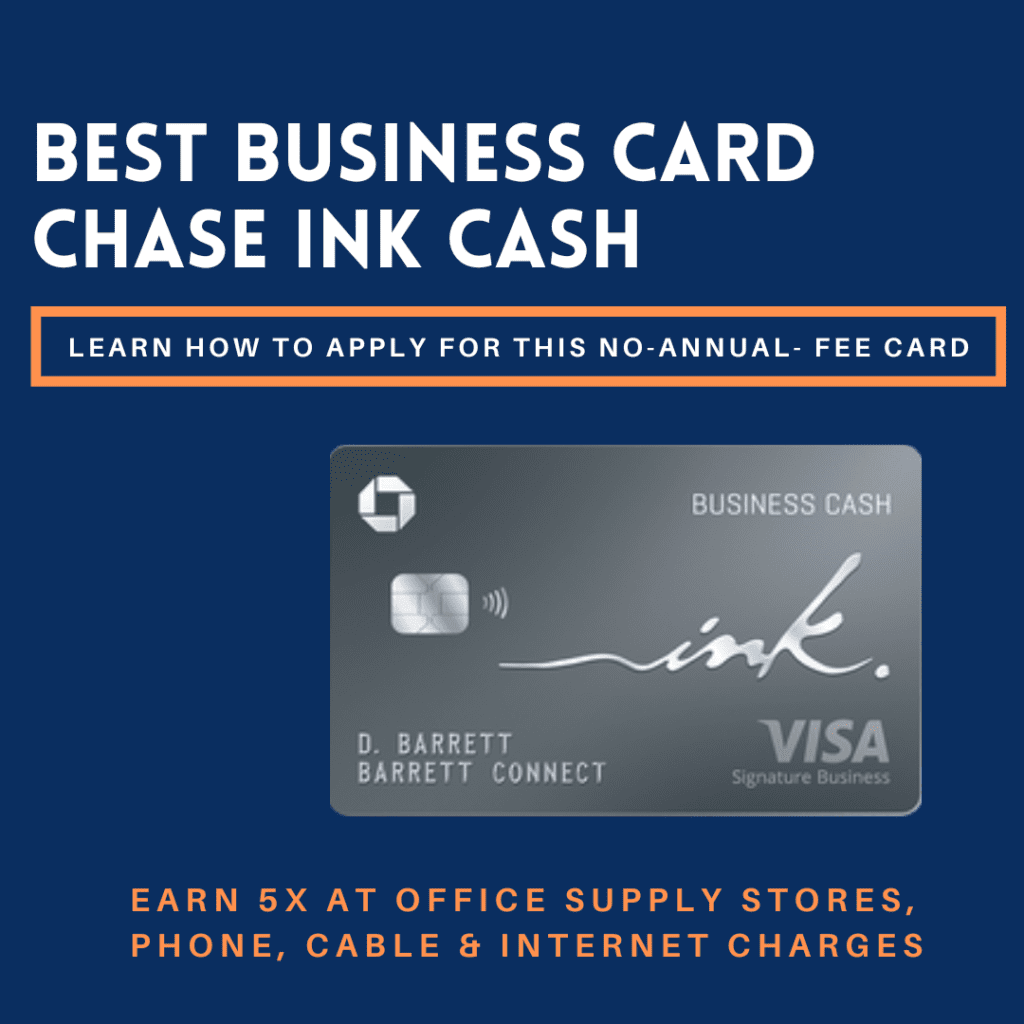 For some context, a round trip to Europe in economy via United is roughly about 70,000 Ultimate Rewards Points, and the $1,500+ room I booked at Ventana Big Sur was 30,000 Chase Ultimate Rewards points per night (40,000 points as of May 22,2022).

---
Stacking Ideas
---
Stack 1: DOSH – Possible Account Shutdown
The cashback app "DOSH" also offers a 2% cashback for purchases at Office Depot/Max.
Although Dosh states that gift cards do not earn cashback, my experience has been the opposite. However, add a few random items to prevent an audit.
Just be mindful that Dosh can claw back any cashback bonuses they've given at any time, so YMMV (your mileage may vary).
This deal is a fantastic opportunity to get travel points and earn a $15 discount simultaneously, but the possibility of receiving cashback from Dosh makes this deal even more lucrative.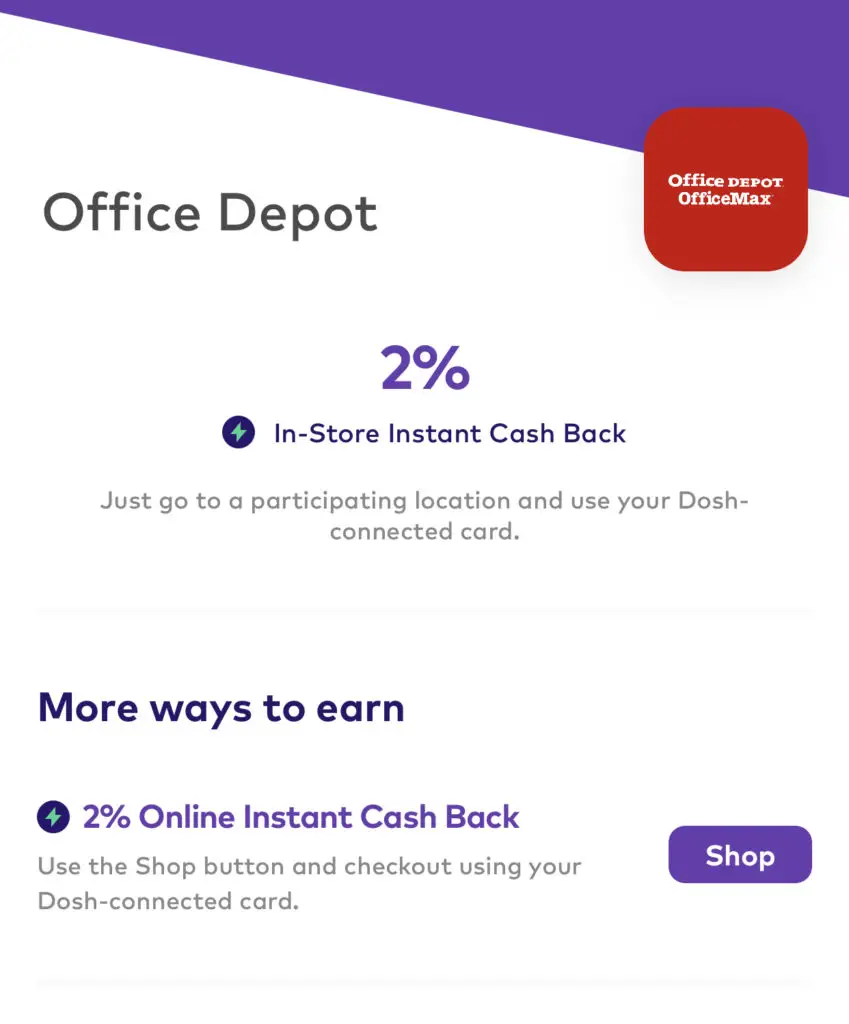 If you do not have DOSH yet, feel free to sign up by clicking the button below (referral link).
Make sure you link the credit card you plan on using to your Dosh account before making this purchase.
Some data points (DPs) indicate that you would need the card linked 24 hours before your purchase, but my experience has been quicker.
The cashback is usually instant and the maximum cashback from Office Depot per day is $10.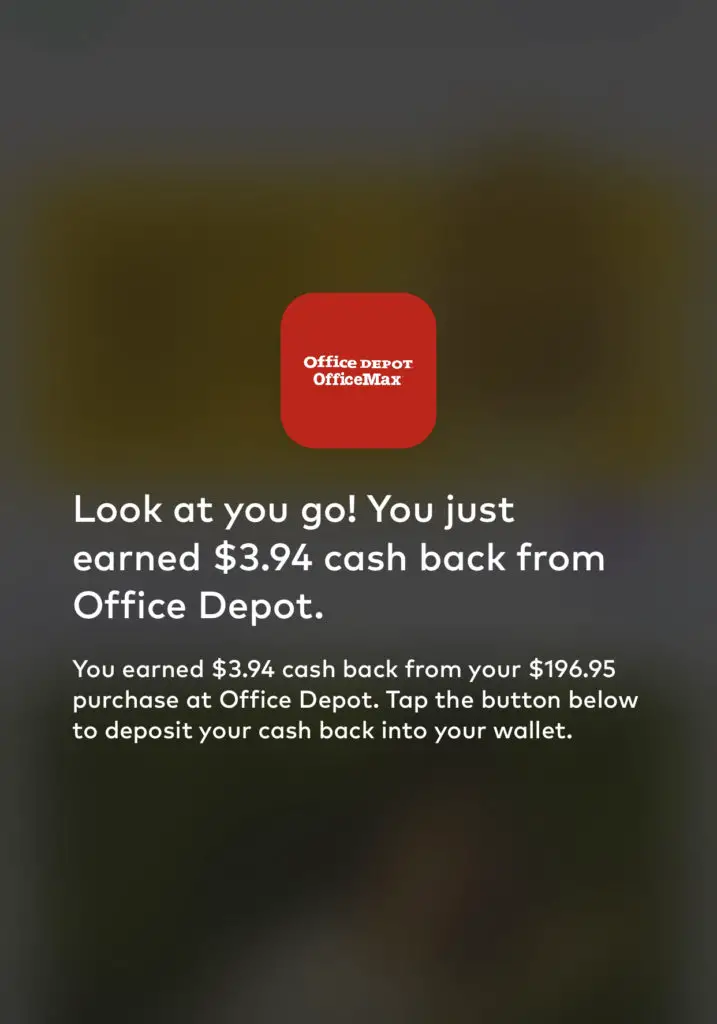 ---
STACK 2: PAYCE
---
Another cashback app that you can use at office supply stores is Payce. The critical thing to remember with Payce is that you must activate the deals each month to trigger the cash bonus. You also need to link the credit cards on the app before your purchase. Sign Up For Payce Here.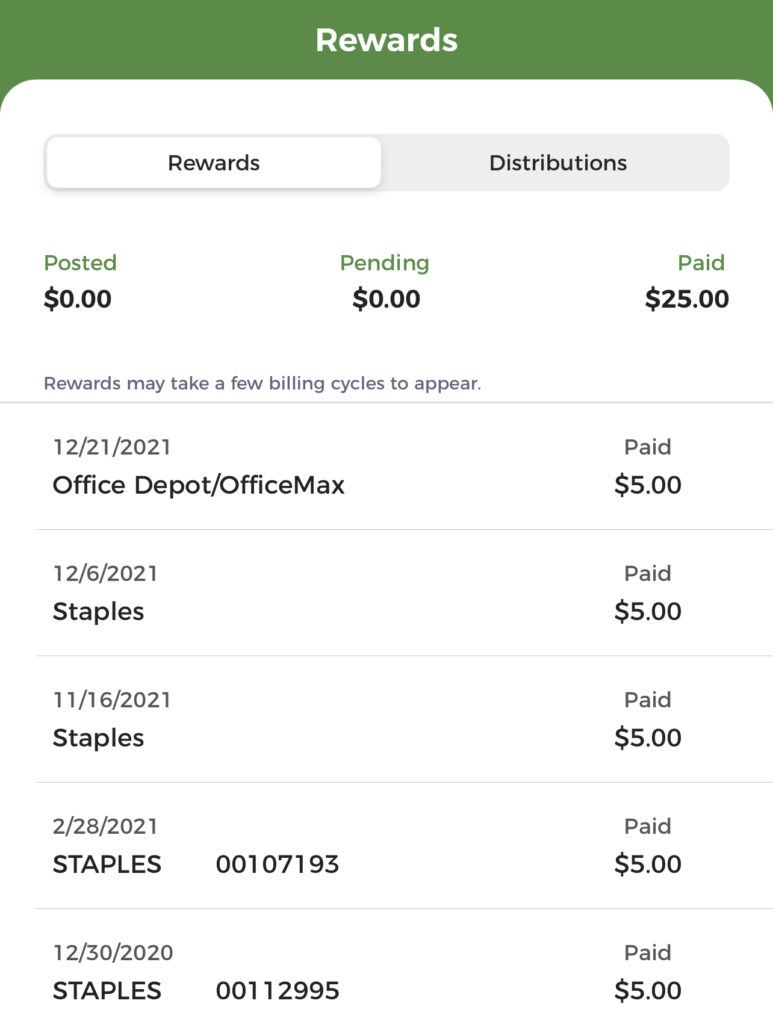 ---
STACK 3: CHASE OFFERS
---
After setting up DOSH and PAYCE, check Chase Offers to see if they have cashback opportunities with Office Depot or Office Max.
They also typically offer these cash-back deals from multiple Chase credit cards – both consumer/personal and business cards – so check all your Chase credit card accounts.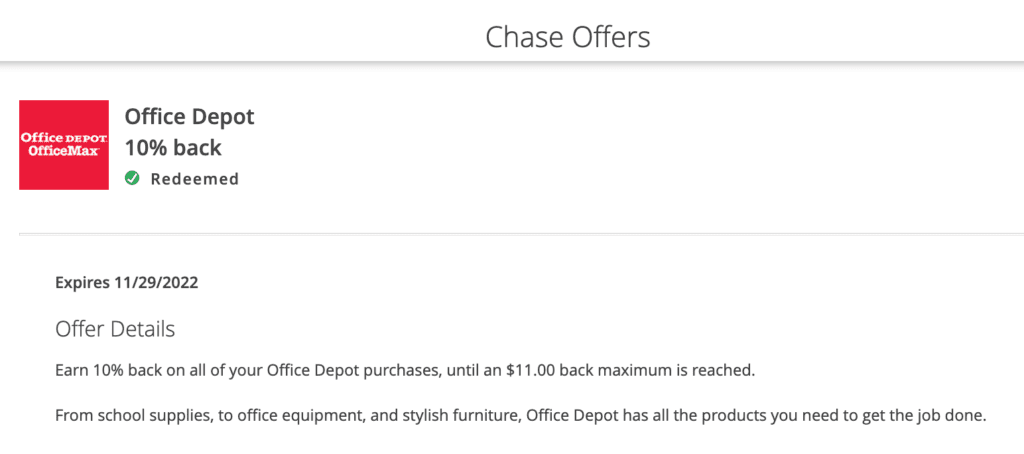 ---
Easy Steps
---
STEP 1:
We announce these gift card deals on our Travel Miles and Points Facebook Group. It is free to join.
STEP 2:
Set up Dosh by linking a card you plan to use (e.g., Chase Ink Business Cash or a credit card with a sign-up bonus. Link your card once).
Set up Payce by linking the card you plan to use (e.g., Chase Ink Business Cash or a credit card with a sign-up bonus. Activate the offers every month).
Add/Activate any Office Depot/Office Max Chase Offers
STEP 3:
You have two options: Buy two (2) $200 Mastercard Gift Cards (MC) from Office Depot for a total of $400.00 or purchase one (1) $200 MC and one (1) $100 MC for a total of $300.00.
Heads-Up: $200 MC Gift Cards have an activation fee of $6.95, while $100 MCs charge $5.95. Update: New Cards now have an activation fee $7.95.
---
| | | | | |
| --- | --- | --- | --- | --- |
| Options | Total Cost | With $15 Discount | Profit | Chase UR points if using Chase Ink Cash (5X) |
| | | | | |
| A. Two (2) $200 MC gift cards for 206.95 each. (Old Cards: $6.95 Activation Fee) | $413.90 | $398.90 | $1.1 | 398.90 X 5 = 1,994 Chase UR |
| | | | | |
| B. One (1) $206.95 MC and one (1) $105.95 VGC (Old Cards: $6.95 Activation Fee) | $312.90 | $297.90 | $2.1 | 297.90 X 5 = 1,489 Chase UR |
| | | | | |
| C. Two (2) $200 MC gift cards for 207.95 each. (New Cards: $7.95 Activation Fee) | $415.90 | $400.90 | -$.90 | 400.90 X 5 = 2,005 Chase UR |
| | | | | |
| D. One (1) $207.95 MC and one (1) $106.95 VGC (New Cards: $7.95 Activation Fee) | $314.90 | $299.90 | $.01 | 299.90 X 5 = 1,500 Chase UR |
---
STEP 4:
Get the $15 discount, instant cashback from Dosh, and credit card points with just one swipe of your linked card.
STEP 5:
Since you can only get the $15 discount once per visit, you can potentially repeat the process a few times during the promo week to accrue more points.
Pro-Tip: If no gift cards are left on the racks, ask any employee to check the back office. Sometimes, they just forget to replenish when the cards on display run out.
Caution: Only purchase the number of gift cards that you can comfortably use in the future. In this post, I will list the best ways to redeem these gift cards later. Also, since these purchases are charged to your credit card, please be mindful to purchase an amount you can quickly pay in full once your credit card statement comes around. It is NEVER a good idea to pay banks hefty bills. Hence, do not employ this strategy if you anticipate difficulties settling your bill in full on or before the due date.
---
Best Ways To Use These Gift Cards
---
You can use these gift cards to cover any of the below expenses:
Medical Bills
Utilities: Electricity, Water, Internet, Phone, Garbage, etc.
Groceries
Gas (you need to pay inside)
Auto Insurance
Home Insurance
Car Repair/Maintenance
Restaurants
Shopping (in-store and online)

---
Which Credit Card To Use?
---
This promotion works well in two instances:
OPTION A
Purchasing using a credit card that gives a bonus in office supply stores, specifically the Chase Ink Business Cash, which gives 5 Chase Ultimate Rewards points per dollar in office supply stores.
Currently, Chase Ink Business Cash is offering an all-time high bonus of 90,000 Chase Ultimate Rewards after spending $6,000 in 3 months. No annual fee.
Aside from earning 5 points at office supply stores, it also gives 5 points per dollar on internet, phone, and cable charges. You can read more about its current generous offer here.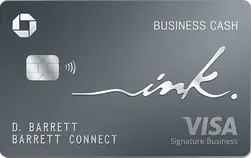 Refresher: 1 Chase Ultimate Rewards Point from a no-annual-fee card like the Chase Ink Cash is equivalent to only 1 cent if you withdraw your points as cashback. Alternatively, if you have one of the 3 premium Chase cards (Sapphire Reserve, Sapphire Preferred, or Ink Business Preferred), you can transfer your Ultimate Rewards points accrued from Ink Cash to these premium cards in order to access more lucrative redemption options such as transferring to airline and hotel partners. If you want to know more about how to transfer your Ink Cash points to the aforementioned Chase premium cards, here is a step-by-step guide on how to do it.

Fraud Alert: If you are using your Chase Ink Business Cash to buy gift cards for the first time, make sure you have your phone with you, as Chase may send you a fraud alert via text. Once you verify who is making the purchase, Chase will approve the transaction, but the cashier may have to scan the gift cards again.

OPTION B
Use a credit card that earns a bonus when purchasing at Office Supply Stores.
Since the Chase Ink Cash only provides 5 points per dollar on up to a maximum of $25,000 per cardmember year on combined Office Supply, cable, phone, and internet charges, the card is not recommended when you exceed this $25,000 threshold as you will only earn 1 point per dollar then.
Hence, I recommend pivoting to other business cards that reward a bonus at office supply stores.
I currently have two business cards that I am ready to use when I am about to go over the $25,000 limit on my Chase Ink Cash cards.
Earn 75,000 bonus miles after spending $5,000 on purchases in the first three months your account is open.
Earns 2X miles on United Airlines and 1X on all other purchases.
Learn more about this United Business Card offer 

here.
OPTION C
Meeting a minimum spend requirement for a credit card you recently got approved for.
But do not use an American Express Credit Card, as purchasing gift cards to meet minimum spending is against their terms and conditions.
If you have already reached the $25K annual cardmember cap on the Chase Ink Cash, another fantastic no-annual-fee business card is the Chase Ink Business Unlimited® Credit Card. Just like the Chase Ink Cash, it also earns 90,000 Chase Ultimate Rewards Points after spending $6,000 within three months.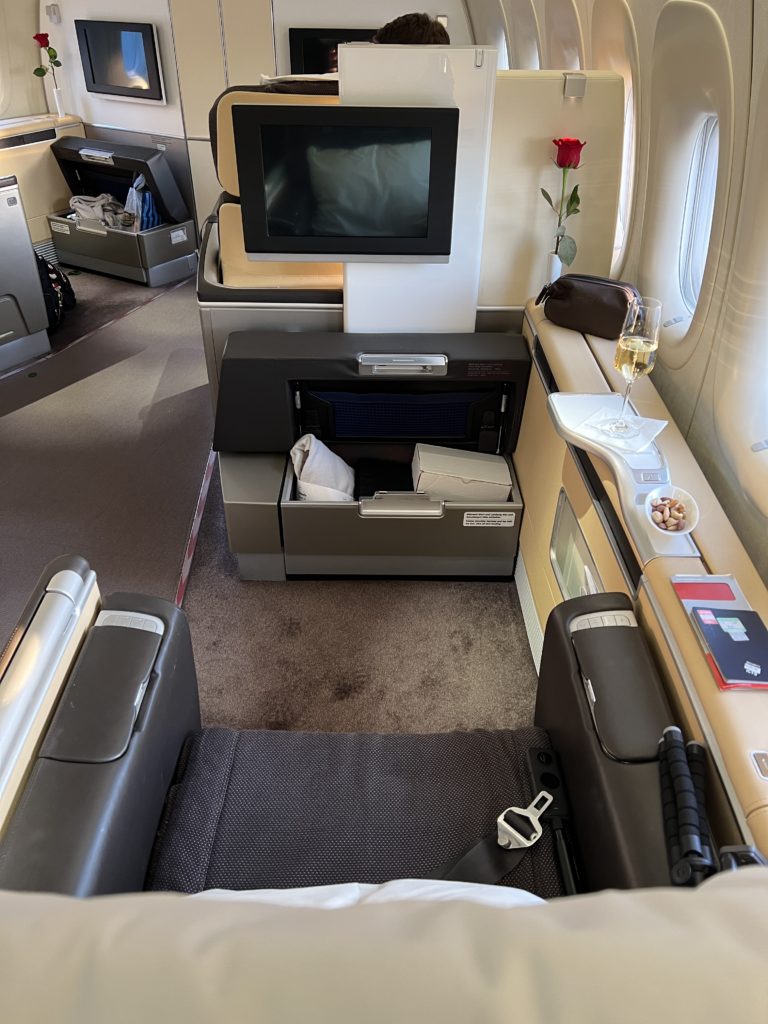 ---
Final Thoughts
---
I am a huge fan of these promotions and try to take advantage of them at every opportunity.
I highly encourage you to do the same, mainly if you are accumulating Chase Ultimate Rewards points or meeting a minimum spend requirement.
However, a gentle reminder is only to purchase the number of gift cards you can comfortably pay once your credit card statement comes around.
It is never a good idea to keep a balance in your cards and consequently pay high-interest charges. That will defeat the purpose of this hobby, which is free frugal travel.
Do you plan to swing by Office Depot/Max this week too?
Hat Tip: Doctor of Credit
EDITORIAL DISCLOSURE – Opinions expressed here are the author's alone, not those of any bank, credit card issuer, hotel, airline, or other entity. The content has not been reviewed, approved or otherwise endorsed by any of the entities included within the post."
DO NOT TRAVEL WITHOUT TRAVEL INSURANCE. GET A QUOTE HERE.