ADVERTISER DISCLOSURE: The Frugal Tourist is part of an affiliate sales network and receives compensation for sending traffic to partner sites, such as MileValue.com This compensation may impact how and where links appear on this site. This site does not include all financial companies or all available financial offers. Terms apply to American Express benefits and offers. Enrollment may be required for select American Express benefits and offers. Visit americanexpress.com to learn more. Additionally, the content on this page is accurate as of the posting date; however, some of the offers mentioned may have expired.
One of the fastest ways to earn travel miles and points is to purchase gift cards (Visa Gift Cards or Mastercard Gift Cards) when they go on sale at
office supply stores like Staples & Office Depot
grocery stores like Safeway, or
online retailers like Giftcards.com.
Whenever these promotions occur, it is possible to rack up several thousand points depending on the number of cards you buy and the number of times you swing by these establishments.
This points-earning strategy involves using credit cards that generate category bonuses (or "multipliers") at these merchants above.
If you are new to the world of buying gift cards as a way to earn travel rewards, don't fret. I will list my recommended credit cards later in this post so you can also employ this strategy!
---
How to Liquidate Gift Cards? A Constant Dilemma
---
Whether you are new to the hobby or a seasoned gift card buyer, a constant challenge is to identify viable methods by which you can spend the discounted gift cards you have accumulated.
This blog post will list the various liquidation paths I've utilized over the years.
While some tactics are considered tried and tested methods, it is not unusual that a strategy or two suddenly stop working, typically without advance notice.
Thus, it is crucial to remain flexible. Almost always, new approaches come up to replace those that have dried up.
Additionally, it is realistic to expect that some of the recommended strategies in this post will involve a small fee and some degree of leg work.
---
Ways to Use, Liquidate, or Spend Your Gift Cards
---
The website printed at the back of your gift cards is where you can register your cards and check your balances. I rarely register my gift cards, but if you hit a snag in one of the recommended methods below, registering your gift cards under your name usually resolves that issue.
---
---
1. Utilities
---
Electricity
---
In California, I pay a flat fee of $1.35 when I use a gift card to prepay my electric bill. 
To avoid paying multiple $1.35 fees, I use a gift card with a large denomination, such as $500 or $200 for this particular expense. 
Of course, it is also an option for anyone to use multiple gift cards – just be mindful that each gift card will incur a fee.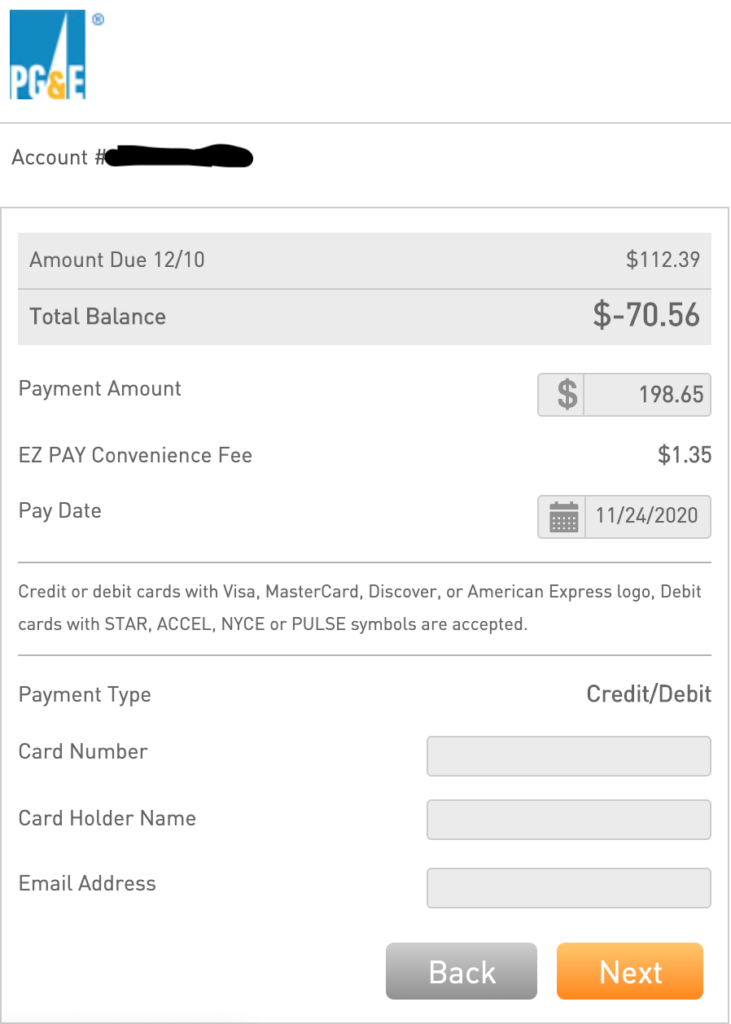 ---
Water / Garbage / Cable / Internet 
---
In my state, all of these utilities allow multiple payments without a fee.
So, I call each of them 2-3X a year to give them several gift cards just enough to prepay my services for several months.
---
Mobile Phone
---
Unfortunately, I will lose my auto-pay discount with T-Mobile if I prepay using multiple gift cards.
But a friend recently shared that you can still get the auto-pay discount if you pay only a portion of your bill with a gift card and cover the rest of the amount using the card saved for auto-pay.
So, I tried it, and the auto-pay discount still got triggered as long as a credit card was linked to my account.
---
2. Medical and Dental Bills 
---
I have paid expensive medical bills using multiple gift cards a few times.
To be sure, check with your medical provider/dentist if they accept gift cards.
---
Flexible Spending Accounts (FSA) / Health Savings Accounts (HSA)
---
Instead of applying for an FSA or HSA debit card, I use my gift cards to pay for co-pays, deductibles, and other medical expenses.
Then, I send my receipts to my FSA provider so I can be promptly reimbursed in cash.
I immediately use the cash to pay for my credit cards.
---
3. Taxes
---
Estimated Taxes (Federal and State)
---
Presently, the IRS accepts gift card payments for taxes and estimated taxes.
By and large, this has been one of my most utilized (and favorite) methods. So much so that I wrote a separate blog post dedicated to this strategy (see Related Post below).
I have taken advantage of this liquidation path every quarter for a few years. And I hope it will continue to be available for us for many more years.
Ultimately, the best part about using gift cards to pay taxes is that gift cards are essentially considered as debit cards. Therefore, the fees are considerably lower when compared to credit cards.
---
Property Taxes
---
Depending on which county your property is in, you can actually send multiple payments to cover your property taxes using gift cards.
While there is a fee involved in using this approach, it can definitely be a good avenue to liquidate gift cards, especially if you have a growing stash.
If you'd like to avoid fees when paying property taxes altogether, you can also search if your county is a registered merchant on PayPal's Bill Pay service. You can read more about this in the related post below.
---
4. Organic Spend, such as Shopping (Grocery/Retail)
---
Liquidate the remaining balances in your gift cards when grocery shopping.
Cashiers do not seem to mind when I swipe multiple cards or when some gift cards only have .78 cents.
However, I time my visit when stores are less busy, so I can take my time swiping multiple cards.
I have drained my gift cards at Target, Safeway, the Dollar Store, and Walmart without any issues.
---
5. Gas
---
When using gift cards at gas stations, I recommend going inside to pay at the cash register, as paying at the pump almost always does not work.
If you want to liquidate the remaining balances in one of your cards for gas, I recommend going online to check the remaining balance you have left.
Once you're at the gas station, provide the exact amount, down to the last penny, to the cashier to drain your gift card balance completely.
---
6. Insurance
---
Auto
---
I usually pay my car insurance annually, so I could use 4-5 gift cards at a time while simultaneously triggering the discount for paying a year in advance.
---
Home 
---
Same strategy as auto insurance. I give my insurance agent multiple gift cards to cover my home insurance.
Since I also have a rental property, I can indirectly convert several gift cards to cash when I settle this expense for both houses.
---
Renter
---
Since Renter's Insurance can be paid off with a credit card, I will assume that companies will also accept gift cards as a mode of payment.
---
Health
---
My mom pays off her monthly health insurance premiums using multiple gift cards.
Thankfully, phone agents have generally been patient with her when she gives out several gift card numbers, expiration dates, and security codes.
---
7. Car Repair/Maintenance
---
Another great way is to use these gift cards when the car undergoes routine checks such as oil changes, tire alignments, periodic tune-ups or when it requires a significant overhaul.
---
8. Costco / Costco Gas 
---
Costco accepts both Visa and Mastercard Gift cards since both are considered debit cards. This is what we use when getting Costco gas or shopping at Costco.
Also, cashiers do not mind when I use multiple gift cards when paying at the register, so this can be an avenue to drain gift cards with spare change.
---
9. Costco Gift Cards
---
You can also use Visa and Mastercard gift cards to purchase Costco Cash Cards.
Since gift cards are considered debit cards, you can use these gift cards in-store to buy Costco gift cards. Just make sure to use the last four digits of your card as your PIN.
Hence, you can convert your Visa and Mastercard gift cards into Costco Gift Cards, which you can liquidate when you shop online or at their warehouses.
Sadly, this method does not always work when purchasing Costco gift cards online.
---
10. Restaurants
---
Fast food
---
Possible to use multiple gift cards.
---
Dine-In Restaurants
---
Make sure you have enough money on your cards when dining out.
When using gift cards at dine-in restaurants, remember that your gift card will automatically designate 20% of your balance towards the tip.
Therefore, I give two or more gift cards when anticipating a considerable restaurant bill.
Then, I let the waiter know the specific amounts to charge on each card, taking into account the 20% gratuity.
---
11. Amazon
---
This is a reliable tactic and a perennial favorite.
Use up all of your remaining gift card balances by reloading your Amazon accounts.
A reader shared a datapoint (DP) that Amazon suspended his/her account for using this method regularly, so please utilize this option sparingly to avoid account closure.
---
12. Starbucks
---
I drain gift cards that carry very minimal balances at Starbucks.
Timing it when there is no queue is the best way to avoid having others wait while you swipe multiple cards.
The minimum total amount that they can load is $5.00.
Here's a sample script:
"I would like to load $5.42 in my account, but I will swipe 4 cards."
1st Card: $2.04
2nd Card: $0.89
3rd Card: $1.17
4th Card: $1.32
If you prefer to drain your gift cards down to the last penny, you have to check the balances of each card before going to the cafe, although this may be too much legwork for some.
Another option is to tell the cashier a random amount, say $10, then just keep on swiping your cards until you've drained out all of your remaining balances.
Use another credit card to cover the difference, if any.
---
13. Charitable Contributions
---
Spread the wealth and your generosity by diverting the extra stash of gift cards you've stockpiled by donating money to your favorite charitable organization.
GoFundMe.com accepts a minimum donation of $5.00 (+ tax), so if you have gift cards with balances over $5.00, this is a brilliant way to utilize them.
---
14. Gifts
---
Instead of physical gifts or cash, I give friends and families gift cards during Christmas or special events.
Or you can use your gift cards to buy them physical gifts. Retailers usually accept multiple gift cards as a form of payment.
---
15. Government Loans
---
Presently, I have a COVID-19-related business loan with the government that I'm paying using gift cards.
Since gift cards are considered debit cards, the website I'm using (Pay.gov) does not charge extra fees when the system detects debit card transactions.
Therefore, I get to earn 5 points per dollar from this loan amount if I purchase the gift cards using the Chase Ink Business Cash® Credit Card at office supply stores. Sweet!
---
16. School Expenses (Tuition Fees, Housing, Etc.)
---
My sister, a junior in college, uses multiple gift cards to pay for her tuition fee, books, etc.
This may not be possible in all institutions, but it would not hurt to ask.
---
17. Loan Money to Budding Entrepreneurs
---
Websites like Kiva.com make it effortless to loan money to budding entrepreneurs who need extra cash to jumpstart their business ventures.
Kiva allows a minimum loan of $5.00, so this is undoubtedly a viable way to spend any small change you might have remaining on your gift cards.
According to Kiva, 96% of borrowers are able to pay back their loans eventually.
---
18. Everyday Organic Spend
---
You can use these gift cards anywhere credit cards, and debit cards are accepted.
I've used them at hotels, the post office, and paying my electrician… you got the geist.
As a result, I am guaranteed to earn between 2-5 travel points for practically every single dollar that comes out of my pocket.
---
19. Student Loans
---
Multiple members of the Travel Miles and Points Facebook Group have reported that they have successfully paid down their student loans with gift cards.
You can also try to see if you can get some of your previous payments refunded so you can pay them off with gift cards instead.
---
20. 529 Contributions
---
Wouldn't it be awesome to earn travel miles when contributing to your children's 529 college fund?
We have multiple reports that you can use gift cards when sending 529 contributions.
---
21. Mastercard Gift Cards: Pay Mortgage via Plastiq.com
---
For a fee of 2.85%, you can send funds to your mortgage company using Mastercard Gift Cards on Plastiq.com.
Since I purchased these gift cards using the Chase Ink Business Cash® Credit Card, which earns 5% at office supply stores (Staples/Office Depot), these payments still leave me with a 2.15% profit (5% minus 2.85% = 2.15%).
This is a liquidation path that I find myself regularly using now rather than sending money from my bank account, which earns zero points.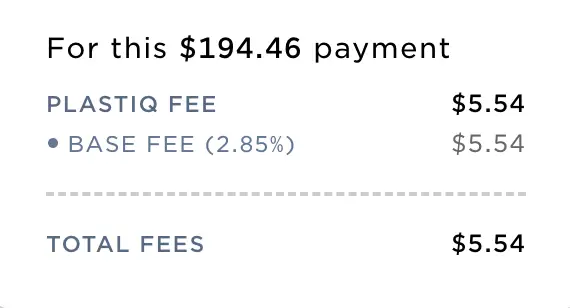 ---
22. PayPal Bill Pay (PPBP)
---
You can search for various payment targets on the PayPal Bill Pay app, including credit card companies, county taxes, mortgages, banks, utilities, school loan providers, etc.
Once you have found a payment recipient, try to use one of your gift cards to send payments. Sometimes this approach works, and sometimes they do not. Your mileage may vary (YMMV).
Go to the PayPal app
Click "Payments" at the bottom
Click "Bills"
Select your payment targets (Utilities, TV/Internet, Phone, Credit Cards, Loans, Insurance, etc.)
If you can't find your payment target, tap "+" and search the company by name.
Add details from your bill, such as your account number
Send payment (My example below: I sent a property tax payment of $250 to my county using one of my Visa Gift Cards purchased from Giftcards.com)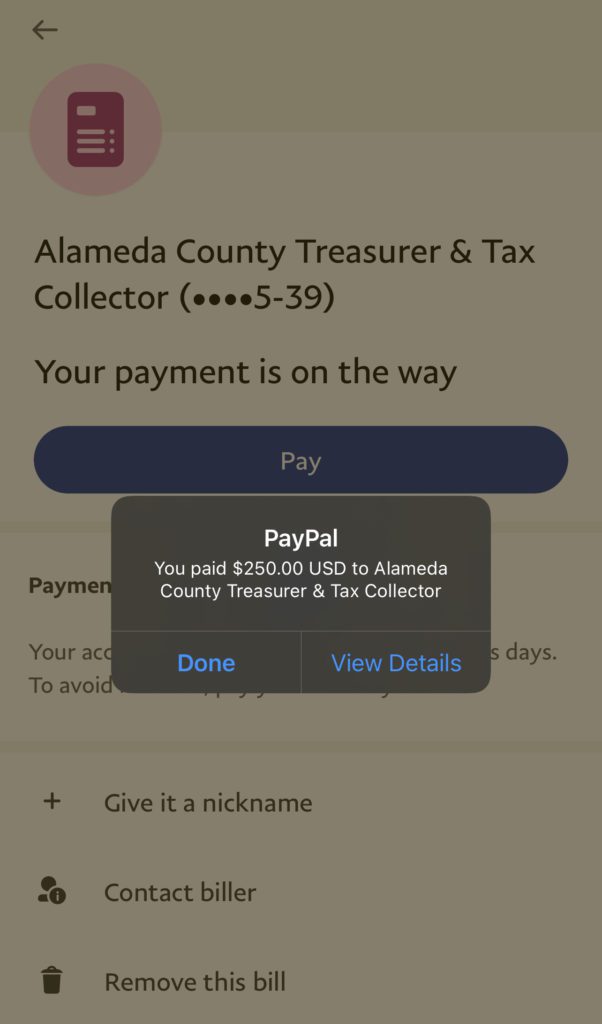 ---
23. Pay Retail Credit Cards
---
Whenever my birthday month rolls around, I typically receive a $25 gift from J Crew as long as I use my J Crew Credit Card to redeem the gift.
Side Note: I do not recommend applying for retail credit cards, as some retail cards can impact your 5/24 status. I applied for this J Crew card a few years back.
At any rate, I tend to go over a few dollars after taxes are factored in when I redeem my birthday gift. 
After the purchase, I immediately let the cashier know I intend to pay what I owe. I then use my Visa or Mastercard gift cards to bring down my J Crew credit card balance to zero. 
I assume this will also be allowed by other retailers, like paying off your credit cards for Target, Home Depot, etc. Please report back if you were successful.
---
Recommended Credit Cards When Buying Gift Cards
---
Reminder: Only buy these gift cards when they are discounted.
---
Office Supply Stores: Chase Ink Cash
---
The no-annual-fee Chase Ink Business Cash® Credit Card is unbeatable in this arena as it nets 5 Chase Ultimate Rewards Points for every dollar spent at office supply stores.
The Chase Ink Business Cash is giving an all-time high sign-up bonus of 90,000 Chase Ultimate Rewards points ($900 cash) after spending $6,000 in 3 months.
This card gives 5 points per dollar at office supply stores and earns 5X per dollar on internet, cable, and phone charges. You can read more about this lucrative card here.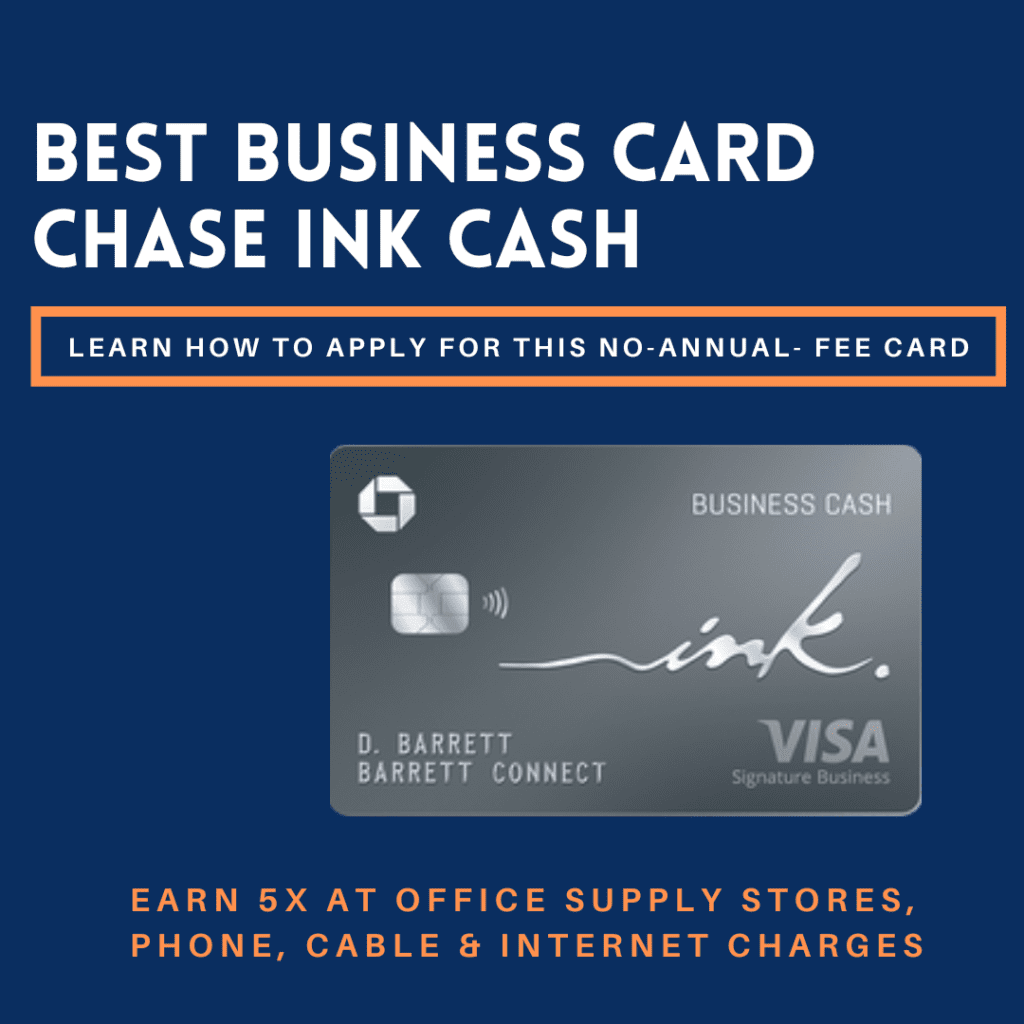 Staples and Office Depot/Max run frequent gift card promotions, so be ready to pounce with your Chase Ink Cash card when those offers occur.
I post these deals as I learn about them in our Travel Points & Miles Facebook Group. It is free to join. Alternatively, you can subscribe to Doctor of Credit for the latest gift card deals.
---
Grocery Stores: Chase Sapphire Preferred & Citi Premier
---
Similarly, grocery stores such as Safeway, Albertsons, etc., frequently offer great coupons that wipe out the gift cards' hefty activation fees.
To maximize grocery purchases, you must utilize a credit card that gives a grocery bonus.
Cards like the Chase Sapphire Preferred and the Citi Premier Credit Card® Credit Card give 3 points per dollar at grocery stores.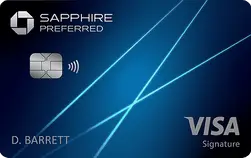 ---
Online Gift Card Retailers such as Giftcards.com
---
Giftcards.com typically run 5% sales on their gift cards around holidays. We take advantage of this deal whenever they come around.
Make sure to go to cashbackmonitor.com to determine an airline shopping portal or cash back portal like Rakuten to double up your earnings.

PRO-TIP: Do not use an AMEX to buy gift cards as they are known to claw back points accumulated from gift card purchases. However, you can buy them and other grocery items periodically to lessen the likelihood of getting audited.
---
Do Not Use Gift Cards When….
---
Do not use gift cards when purchasing high-ticket items that require purchase protection. Instead, I'd use a credit card that offers purchase protection or extended warranty.
Do not use gift cards when there is a high likelihood that you will need to return items in the future.
Final Thoughts
---
I am a huge fan of gift card promotions, and I try to take advantage of these deals whenever the opportunity arises.
A perpetual predicament that points enthusiasts face is draining these gift cards and converting them into cash, as options have significantly diminished in the past few years.
I hope the strategies I have outlined in this blog post open up numerous avenues for you to turn these gift cards into money.
With that said, a gentle reminder again to only purchase the number of gift cards you can comfortably pay once your credit card statement comes around. It is never a good idea to pay banks hefty fees.
Nonetheless, I relish the notion that I can get a free flight or hotel stay by using gift cards to cover day-to-day expenses, as it somehow softens the blow of these financial responsibilities.
So, will you try any of the methods summarized in this post?
EDITORIAL DISCLOSURE – Opinions expressed here are the author's alone, not those of any bank, credit card issuer, hotel, airline, or other entity. The content has not been reviewed, approved or otherwise endorsed by any of the entities included within the post.