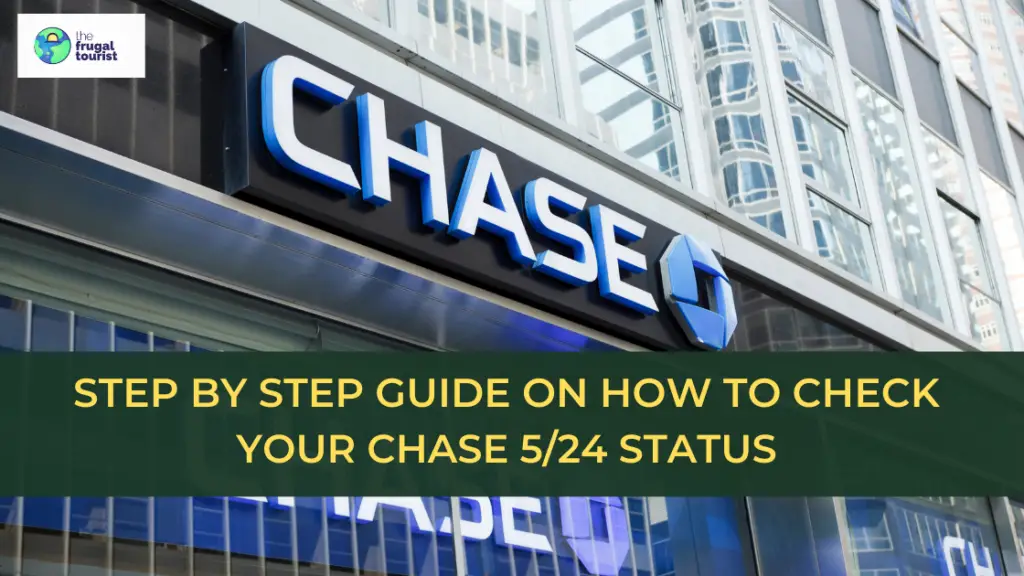 ADVERTISER DISCLOSURE: The Frugal Tourist is part of an affiliate sales network and receives compensation for sending traffic to partner sites, such as MileValue.com This compensation may impact how and where links appear on this site. This site does not include all financial companies or all available financial offers. Terms apply to American Express benefits and offers. Enrollment may be required for select American Express benefits and offers. Visit americanexpress.com to learn more. Additionally, the content on this page is accurate as of the posting date; however, some of the offers mentioned may have expired.
Whether you are new to travel hacking or a seasoned points enthusiast, you must know how banks approve credit card applications.
Earning credit card sign-up bonuses (also known as SUB) for free flights and hotel stays is the crux of travel hacking. Your first hurdle, though, is to get those credit card applications approved.
In fact, your chances for approval improve as your knowledge of each bank's respective application rules grows.
Since Chase Bank is one of the most generous purveyors of travel points and miles, it is recommended that you acquaint yourself with Chase's 5/24 policy.
---
What is the Chase 5/24 Rule?
---
Broadly speaking, Chase will deny your personal and business credit card applications if you have gotten approved for 5 or more personal credit cards across all issuers in the past 24 months.
Essentially, Chase will only approve applications from individuals who do not apply for many personal credit cards.
As a matter of fact, Chase has arbitrarily designated a specific number of credit cards they want people to have in the past 2 years before they can say "yes" to your request for a new credit card.
And that magic number is no more than 5 credit cards in the past 24 months, hence the term 5/24.
So it does not really matter how stellar your credit score is or how worthy of a credit card candidate you are, Chase will automatically turn down your application once their system has detected that you have breached the 5/24 threshold.
---
Why Does Chase's 5/24 Rule Matter?
---
Chase consistently rolls out lucrative credit card bonuses a few times a year. Should you find yourself at or above 5/24, you will not have a fighting chance of getting approved for these valuable offers.
Therefore, you should stay at or below 4/24, so you have a slot or two reserved for future generous Chase promotions.

---
What Counts Toward Chase's 5/24 Rule?
---
Technically, all credit cards opened within the past 24 months that show up in your credit report will count against your 5/24 status. They will include the following:
All Personal Credit Cards 
Business Cards from TD Bank, Discover, and Capital One since these cards appear in personal credit reports as well.
Authorized User Cards 
Retail / Store Cards that can be used anywhere, usually store cards with Visa, Mastercard, and American Express Logos.
Canceled Personal Credit Cards or the Business Cards above that have been opened within the past 24 months.
---
What Does Not Count Towards Chase's 5/24 Rule?
---
Business Credit Cards (except TD Bank, Discover, and Capital One unless they were opened over 25 months ago)
While Chase Business Credit Cards do not count toward your 5/24 status, you need to be below 5/24 for Chase to approve your Chase Business Credit Card application.
Loans (Mortgage/Auto)
Non-Credit Card Accounts like Savings / Checking Accounts
All Personal Credit Cards that were opened over 25 months ago
American Express Personal Credit Cards will not appear on your credit reports until after the 1st or 2nd statement, whereas other personal credit cards take only a few days to register.
---
How Do I Check My Chase 5/24 Status On My Own?
---
Simply put, your 5/24 status can be obtained by accessing your personal credit report.
There are several ways how you can figure this out on your own.
But for this post, I will only feature three relatively easy methods to follow, so you could also DIY your 5/24.
Hat-tip to Frequent Miler and Doctor Of Credit for these tactics.
---
---
STEP 1: Create your user profile in Credit Karma. 
STEP 2: Log on by clicking the link below. This will generate Credit Karma's original user interface. 
STEP 3: Once logged in, click "Accounts" on the home page.
STEP 4: Click "Filters", then select "Show All" under "Account Type" and "Status." This will ensure that your report will capture all accounts, including canceled cards, within the past 24 months.
Alternatively, under "Account Type," you can check off "Credit Cards" to eliminate all other entries.
For this post, I chose "Show All" to highlight which items count and do not count against your 5/24 slots.
STEP 5: For the system to generate your credit cards in ascending order, from the most current one to the oldest, click "Open Date" and make sure that the arrow next to it is pointing down. See Image.
STEP 6: Lastly, count the number of cards you have opened in the past two years.
An easy way to determine when to stop counting is to subtract two years from the current year while retaining the same month.
Thus, if today's month is December 2020, count the number of cards approved since December 2018.
Even though loans and store cards appear in your credit report, they generally do not impact your 5/24 status except in certain circumstances.
When I crunched my numbers, I was delighted to know that I am presently 4/24 using the Credit Karma method.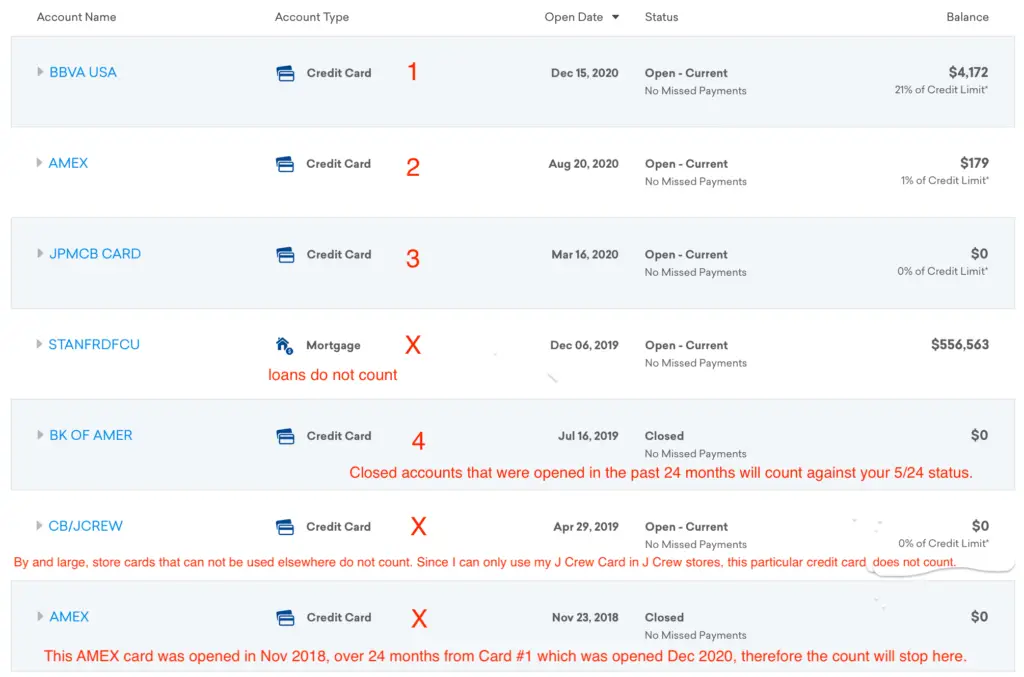 Since I am 4/24, I am eligible to apply for one more personal Chase card before I am entirely locked out of any future Chase bonuses.
However, once July 2021 rolls around, the #4 card (opened July 2019) on the image above will disappear from my 5/24 count, thereby giving me another opportunity to apply for a new travel rewards Chase card.
If I decide not to apply for any personal cards until later in the year, my 5/24 status will drop to 3/24 in July of 2021.

---
Option 2: Experian Credit Report (App)
---
STEP 1: Download the app and create your login credentials.
STEP 2: After logging in, you will be directed to a page that shows your current credit score as well as additional vital information about your credit.
Navigate to the bottom menu and click "Report." See the red arrow below.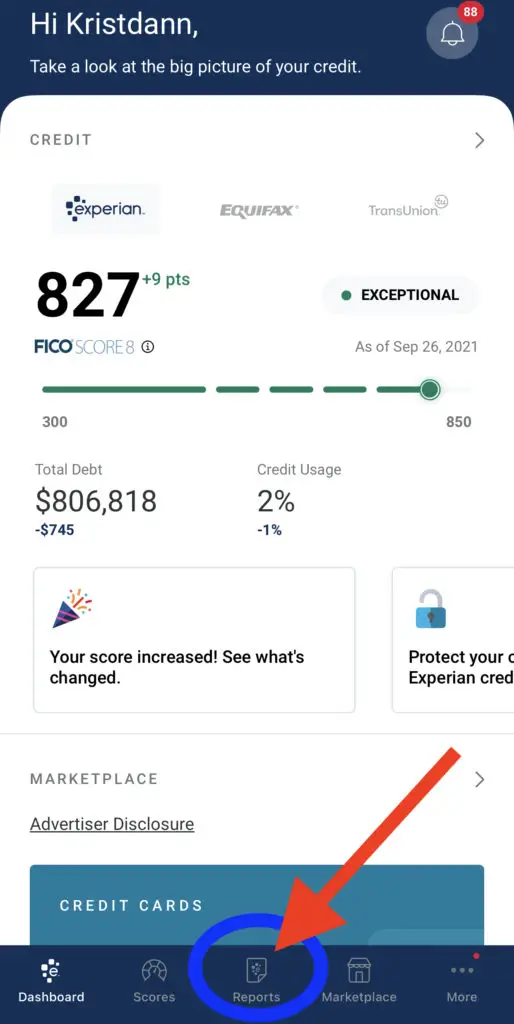 STEP 3: After selecting "Reports", click "Accounts".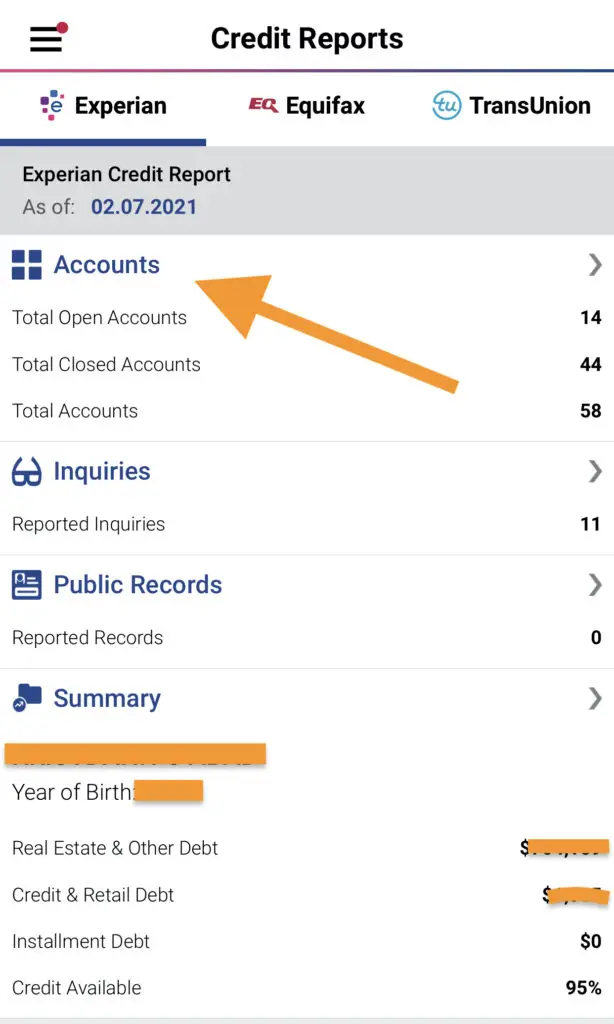 STEP 4: On the Accounts page, click "Views" in the upper right-hand corner, then scroll down to select "Date Opened (New to Old)."
This option will list your credit cards in ascending order, from your newest card to your oldest, similar to what Credit Karma generated above.
STEP 5: Start counting your accounts until you have reached the same month two years back.
So if today's month is February 2021, you will add up all the credit cards opened since February 2019, even if the accounts have already been "closed" (see #4 on the image below).
Also, eliminate accounts that do not count against your 5/24 status, such as mortgages, personal loans, etc.
---
Option 3: Travel Freely App
---
This free app tracks your 5/24 count for you and another individual, which the app labels as User 2/Player 2. Your User 2/Player 2 can be your spouse, adult child, parent, or friend.
Simply search for the personal cards you currently have and enter the dates when you were approved for them. The app will automatically monitor and check your 5/24 status for you.
If you want an accurate list of the consumer credit cards you recently got approved for, the Experian app (Option 2) will list them out. Just transfer the information to your Travel Freely app.
The app also features a 5/24 countdown timer, so credit cards acquired over 24 months ago will drop off from your dashboard once it reaches the 2-year mark.
For example, if a personal credit card was opened on the 14th of February 2020, the Travel Freely app will stop counting this card in March 2022 – 24 months after approval. Please check the image for my current 5/24 count as of September 2022: 4/24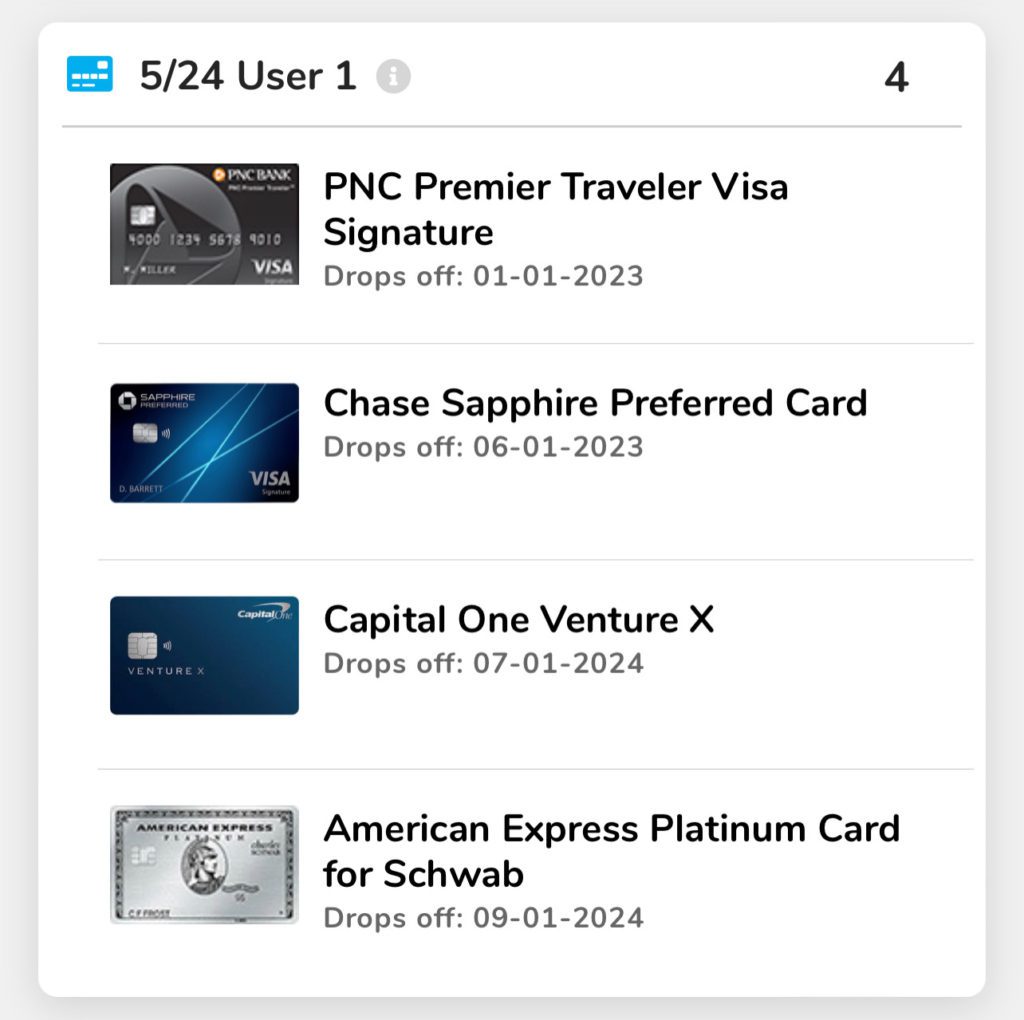 If you are wondering why I have a PNC travel card on there, I applied for it when it gave a $1000 statement credit after a minimum spend requirement of $5,000, so it was worthy of a 5/24 spot for me. It is undoubtedly a personal choice.
---
What If I Am At or Above 5/24?
---
Apply for non-Chase business cards as these cards typically do not show up in your credit report except TD Bank, Discover, and Capital One business cards.
Take a break from credit card applications unless an irresistible non-Chase sign-up bonus comes around. You have to weigh your options and determine if this card is worth giving up a potential massive Chase offer later.
If you got rejected because you are an authorized user of someone's credit card, pushing you over the "5/24" edge, then calling the Chase reconsideration line can usually reverse this denial.
---
I Am Now 4/24. What Do I Do?
---
Apply for non-Chase business credit cards, as these cards will not impact your 5/24 count.
Wait for an incredibly appealing Chase personal credit card offer to occupy your last 5/24 slot.
Apply for a non-Chase personal credit card offer with an all-time high bonus.
---
Authorized User Cards Do Not Count Toward 5/24
---
Yes, authorized user cards do not count toward your 5/24 status, but sadly, they show up on your credit reports.
Since these cards are reflected on your credit report as separate cards, Chase will deny your application if an authorized user card pushes you over 4/24.
Sadly, Chase cannot instantly determine which cards are authorized user cards, so you have to do your due diligence to ensure you close all authorized user cards before applying for a Chase personal or business card to increase the likelihood that your application will get approved.
Case in point, while I was checking my 5/24 status using the Experian App a few days back, I was taken aback by my current 5/24 status.
I was under the impression that I was only 4/24. However, the app showed I was, in fact, at 5/24.
Surprised by this new 5/24 information, I wrote down all the cards that made up my 5/24 and tried to remember each one. As expected, I remembered all of my credit cards except for the last card that was approved just this past July.
Entirely dumbfounded by this new information, I initiated a dispute with Experian. And, there it was, the bitter truth – the card that pushed me over the edge was an authorized user card.
---
What To Do If Being An Authorized User Made You 5/24
---
This is an easy fix. Call the bank and request for the Authorized User card to be canceled. It will not impact your credit history.
Alternatively, you can call the Chase reconsideration line to let Chase know you are an authorized user on one of your cards.
Once they confirm this, they can approve your card as long as you are below 5/24.
---
Do Product Changes Count?
---
It's difficult to know whether a product change (PC) will count towards your 5/24 status since it depends on the bank's processing of the new account.
A product change occurs whenever you downgrade or upgrade a credit card. For example, it is pretty common for consumers to downgrade or product change their annual fee card to a no-annual fee card after the first year.
Thankfully, in most situations, product changes do not count, but you can definitely ask the bank if they will perform a hard credit check before changing your card. If they say yes, expect the new card to be added to your 5/24 count.
There are data points (DPs) that Citi counts product changes as new accounts, so I would be wary about carrying out product changes with Citi.
---
Final Thoughts
---
While it can be overwhelming to learn about bank rules at first, determining your 5/24 status with Chase is a recommended skill set no matter what level you are at in this hobby, particularly if you wish to maximize the benefits of travel miles and points.
For one, you would want to ensure that your odds of getting approved by any bank, specifically Chase, are high.
To increase this likelihood, knowing where you stand with regard to Chase's 5/24 rule is crucial before filling out a Chase credit card application.
Applying for a Chase credit card when you are at or above 5/24, regardless of how viable a client you are, is a futile exercise as it invariably results in a denial.
I hope that this post somehow makes the steps in identifying your 5/24 status a little bit more concrete and easier to comprehend.
Being mindful of this bank policy can guide you on what credit cards to apply for in the future and when it is prudent to do so.
Above all, I wish that having this tool can propel you to level up your strategies in accumulating points for free travel.
EDITORIAL DISCLOSURE – Opinions expressed here are the author's alone, not those of any bank, credit card issuer, hotel, airline, or other entity. The content has not been reviewed, approved or otherwise endorsed by any of the entities included within the post.
DO NOT TRAVEL WITHOUT TRAVEL INSURANCE. GET A QUOTE HERE.