ADVERTISER DISCLOSURE: The Frugal Tourist is part of an affiliate sales network and receives compensation for sending traffic to partner sites, such as MileValue.com This compensation may impact how and where links appear on this site. This site does not include all financial companies or all available financial offers. Terms apply to American Express benefits and offers. Enrollment may be required for select American Express benefits and offers. Visit americanexpress.com to learn more. Additionally, the content on this page is accurate as of the posting date; however, some of the offers mentioned may have expired.
In this post, I am sharing a strategy that I've been able to optimally leverage to travel the world for a significant discount. This tactic involves using travel miles and points earned from business credit cards.
Similar to personal credit cards, business credit cards can also provide lucrative sign-up bonuses that can be ultimately used to redeem for free flights and hotel stays.
One of the most generous bank institutions that offer a wide range of business travel credit cards in the United States is JP Morgan Chase.
In fact, a typical Chase business card can potentially give out upwards of 50,000 Chase Ultimate Rewards Points once requirements are met.
Ultimately, the points can be redeemed for free or discounted travel.
---
I Do Not Have a Company or an EIN. Am I Eligible?
---
If you are an owner of a company or a self-employed full-time contractor, applying for a business credit card should be a walk in the park for you already.
But for part-time side hustlers who occasionally moonlight, filling out a business credit card application can be incredibly unnerving.
I could just imagine how it could get quite daunting to provide information, such as your company's name and EIN (Employment Identification Number), when you do not have them.
It also does not help that there is a common misconception that seasonal side hustlers are not classified as business owners, thereby automatically disqualifying them from business credit cards altogether.
Nothing can be further from the truth.
Anyone who earns a profit from any type of venture, regardless of the revenue, is considered a sole proprietor and therefore eligible to apply for business credit cards, including Chase Business Credit Cards.
In this post, I aim to demystify the business credit card application process so you can confidently answer the application form even if you do not have a company and an EIN (Employer Identification Number).
Above all, I would like to increase your odds of getting approved so you can inch closer to your next bucket-list vacation.

---
Side Hustlers are Eligible to Apply for Business Credit Cards
---
Virtually anybody who presently has a side hustle or merely thinking of starting a future business may be eligible to apply for a Chase Business Credit Card.
That's right, you may qualify even if you are just at the initial stages of your business!
Simply put, your side hustle does not need to be entirely off the ground yet – you can also qualify while in the process of conceptualizing it.
Broadly speaking, though, having an existing side hustle, regardless of income, fundamentally makes you a more qualified candidate, but it is not a requirement. Hence, any start-up is eligible.
---
What Businesses Qualify As a Side Hustle?
---
As previously mentioned, any side hustle is considered a business.
Initially, I myself was doubtful if I would get approved for a business credit card when I first applied over a decade ago.
I was only selling "junk" on eBay and Craiglist periodically, and the income I received from it was inconsistent and barely sufficient to pay for gas.
When I qualified for my first-ever business card, I was beyond ecstatic.
Do you mean I can get travel points to book free business class tickets just by merely selling random used stuff online? Absolutely!
---
List of Popular Side Hustles:
---
buying and selling online (Facebook marketplace, Amazon, Etsy, eBay, etc.)
tutoring
driving for Uber/Lyft
tour guide
being an Airbnb host
caregiving
babysitting
dog-walking
instacarting
freelance writer
doordashing
coaching/consulting
any manual labor you do on the side – plumbing, electrician, mowing the lawn, etc.
having your own blog/podcast/youtube channel
having a rental property
any freelance gig that yields a 1099 come tax time
your side hustle!
In a nutshell, you need not own a multi-million dollar company in order to qualify for a business card. Nor would you need to have a physical office – your business address can be your primary residence.
Furthermore, you don't need to work in your business full-time. It can be part-time or seasonal, or a few hours throughout the year. As long as you are engaged in some form of activity to earn a profit, you are eligible!
To sum it up, any side hustle will do, regardless of the nature and structure of your enterprise.
---
Income And Credit Scores
---
How Much Income Do I Need When Applying for Business Credit Cards?
When I started my side hustles over a decade ago, the income I generated from them was nothing to write home about. I endured many years of floundering ventures until I got to where I am now.
Even though my business endeavors were fumbling then, that did not impact my eligibility to get approved for business cards.
So, I continued applying and traveling for free despite having numerous downturns in my undertakings.
The point is that "income" is not the only factor Chase will consider before approving.
Instead, Chase will most likely focus on your entire financial history to determine your viability. Thus, it is a recommended practice to cultivate a stellar credit score.
Moreover, they will certainly assess your credit utilization rate, simply the ratio of your debt to the total credit you have.
The following formula calculates this ratio: "What You Owe" divided by "Your Total Credit." The lower your credit utilization rate is, the higher the likelihood of approval.
At any rate, as long as you have a side hustle, you could potentially get approved regardless of your current earnings. You don't even need to have a steady revenue stream.
Of course, who doesn't wish for consistency in our income sources? But if you are concerned that not earning enough could adversely affect your application, it usually wouldn't.
---
Am I a Good Candidate for a Chase Business Credit Card?
---
Since I value frugality and not frivolously spending on unnecessary expenses, I do not recommend applying for business credit cards if you are having a challenging time carrying out the following:
Pay the bill on or before the due date
Pay the bill in full
The goal is to fly for almost free. Hence, paying finance charges inherently defeats the purpose of this strategy.
In short, if you have existing consumer debt, pay them off before applying for business credit cards.
Alternatively, if you have difficulty adhering to paying your credit card balances altogether, month per month, then I strongly suggest bolstering your savings account first by employing these heavyweight saving strategies.
Once you possess this new frugality habit and have saved up a decent emergency fund, you are more than ready to sign up for business credit cards.
Remember, paying banks ridiculously high-interest charges is not a good idea.

---
How Do I Answer a Chase Business Credit Card Application as a Sole Proprietor?
---
There are two components to a Chase Business Credit Card Application.
Business Information Section
Personal Information Section
Rule Of Thumb: Be Truthful
Below are the typical questions included in a business credit card application and my cheat sheet on how to answer them.
---
Business Information of a Chase Business Credit Card Application
---
The form below may not be identical to what Chase shows as they update the form frequently, but the required information will be the same.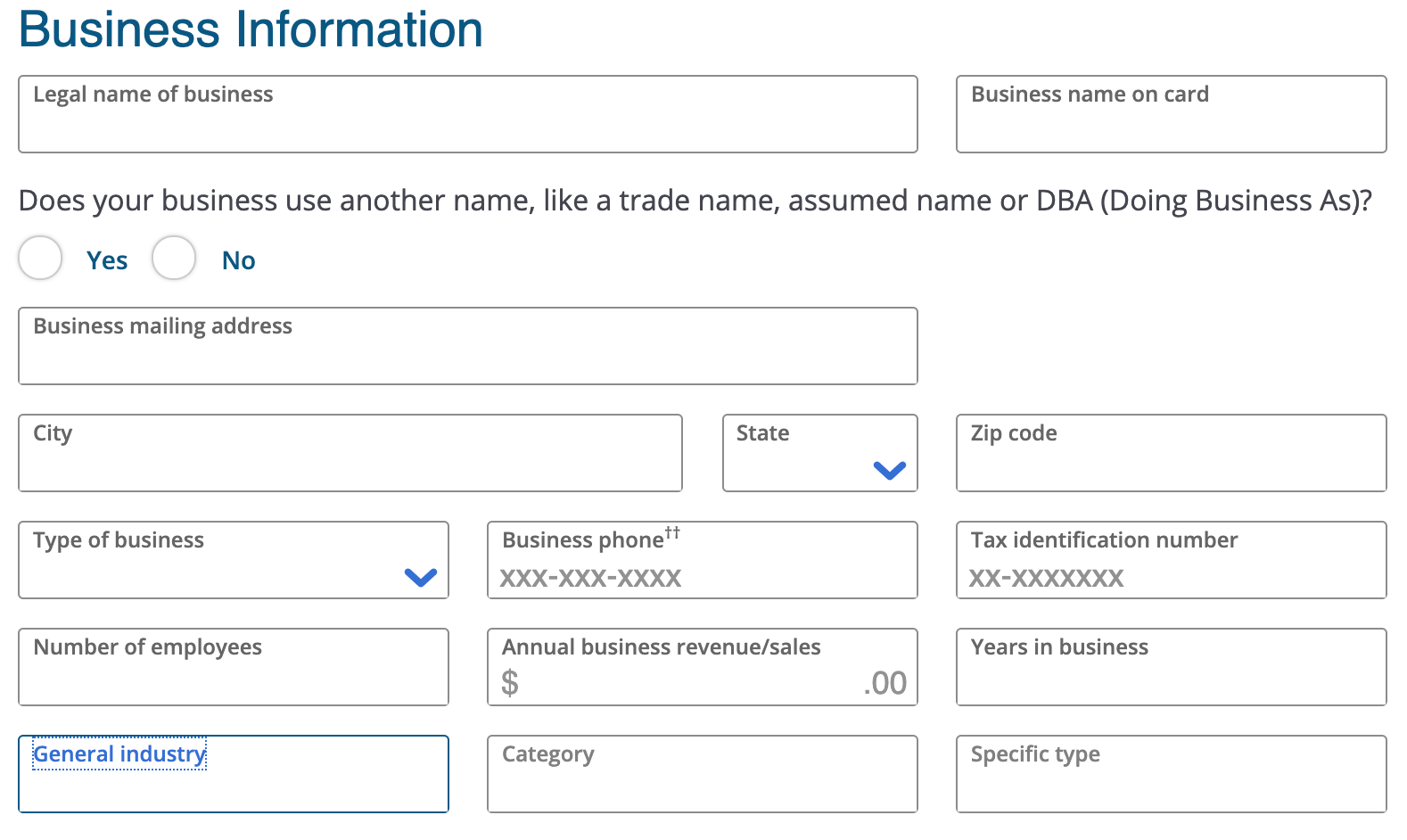 ---
Question
Answer
Legal Business Structure
Sole Proprietorship
Business Legal Name
Your Full Name (e.g. Kris Abad)
Desired Business Name on Card
Your Full Name
Does Your Business Use Another Name, Like a Trade Name, Assumed Name or DBA (Doing Business As)?
No
Tax ID Type
Social Security Number (SSN)
Is Your Business's Physical Address The Same As Your Personal Address?
Yes
Number of Employees
(Enter the number of all additional employees, not including yourself. Enter "0" if you're the only employee.)
0
Business Phone
Same as Personal
Business Established Date
Indicate the date when you started to conceptualize your business
Annual Business Revenue
Estimated Annual Profit of your Business ($1000 or higher).
Business Category
Choose One/Select the Category of Your Particular Side Hustle.

If your side hustle is Facebook Marketplace, then I would select "Retail: Automotive, Clothing, Food, Gas, Health, Home Goods"
Business Type
Choose any items on the drop-down menu. (Examples: Clothing, Home, etc.)
Business Sub-Type
Select from the drop-down
NAICS Code
Leave blank
Estimated Monthly Spend
$50+
---
Personal Information of a Chase Business Credit Card Application
---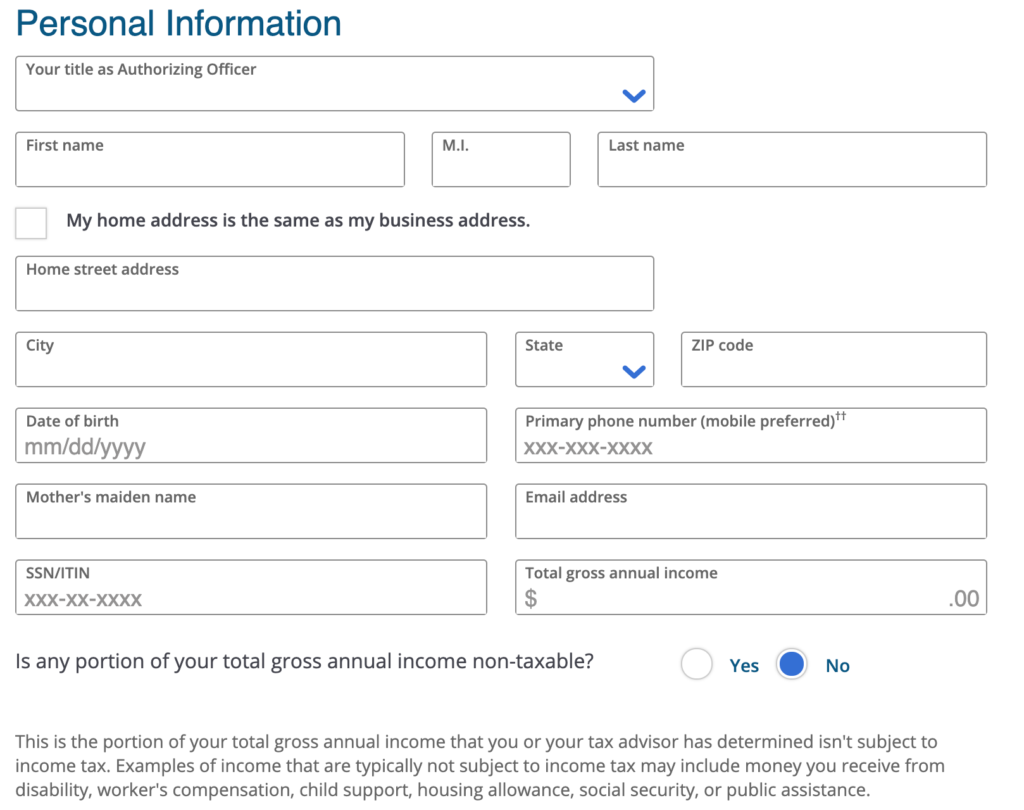 ---
| Question | Answer |
| --- | --- |
| | |
| Authorizing Officer Title | Owner |
| | |
| First & Last Name | First & Last Name |
| | |
| Date of Birth | Your Date of Birth |
| | |
| Primary Phone Number | Mobile Phone |
| | |
| Mother's Maiden Name | Your Mother's Maiden Name |
| | |
| Email Address | Email Address |
| | |
| Tax ID Type | Social Security Number |
| | |
| Address Type | Domestic |
| | |
| Total Gross Annual Income | Your Annual Gross From All Revenue Streams (Full Time Job, Side Hustles, etc.) |
| | |
Chase will also ask if you would like to add employee cards. This is optional and can be obtained anytime after getting approved.
Then, you will be asked to review their E-Sign Disclosures, Pricing & Terms, and Certifications. Lastly, check the box that certifies that you have read and agreed to Chase's terms and conditions.
Wait for a few seconds and cross your fingers for instant approval. If not, do not worry, I will walk you through the next steps in the following sections.
Before applying, I recommend that you read the entire blog post so you can determine your eligibility and know how to troubleshoot when denied.

---
What Are The Chances That I Will Get Approved?
---
NOTE: Due to the COVID-19 pandemic, banks have reportedly become more stringent in approving business card applications. It is still possible to get approved though, particularly if you have a stellar credit history and consistent income from your current side hustle. This will likely change when the economy stabilizes again.
If this is your first Chase business credit card application, there is an increased likelihood that you will not get instant approval. But, please do not worry, this is quite common.
As previously mentioned, banks require some time to review your application and assess your financial history & credit score, especially if this is your first foray into business credit cards. At the end of the day, they will still be at the losing end if the consumer has a high risk of defaulting.
If you have a credit history that paints a picture of an individual who is financially responsible, then chances are, you will most likely receive an approval letter in the mail. I cannot emphasize enough the importance of maintaining an immaculate credit score (700+).
Should you get a pending approval or a denial, it is not the end of the world. Almost always, it is possible to reverse the decision by calling the Chase Reconsideration Line at 1-800-453-9719.
Lastly, if your first reconsideration call was unsuccessful, you can always HUCA (Hang Up and Call Again) and hope to connect with a sympathetic Chase agent.
Pro-Tip: Please take note of the information you typed in on your application, as Chase reconsideration agents might quiz you on the business info you have submitted. We need to be consistent with the details we provide them.
---
Other Variables That Can Increase the Likelihood of Approval
---
Good to excellent credit.
Low credit utilization ratio.
Establish a business banking relationship with Chase.
---
Credit Score
---
WHAT IS THE MINIMUM CREDIT SCORE REQUIRED?
---
Having a good or excellent credit score increases your chances of approval. To be approved for either of the Sapphire cards from Chase, you must have a good to excellent credit score.
Your creditworthiness is determined by using a model called FICO scores. If your FICO score falls below 640, it's unlikely that you'll be approved.
We recommend aiming for a credit score of 720 or higher to improve your chances of approval.
Checking your credit score is easy and free on websites like Credit Karma or Credit Sesame.
---
Credit Utilization Ratio
---
WHAT IS THE MINIMUM INCOME REQUIRED?
---
Chase is known for approving applicants with various incomes and credit scores. No minimum income is required to apply for the Chase Sapphire Preferred or Reserve.
However, Chase does look at your debt-to-income ratio (credit utilization ratio) when considering applications. Your debt-to-income ratio is your monthly debts divided by your monthly income.
For example, if you have $500 in monthly debts and a $2000 monthly income, your debt-to-income ratio would be 25%. Chase prefers to see a debt-to-income ratio of 50% or less. Make sure to pay off some debt first before applying for the Sapphires.
Pro-Tip: if you have any outstanding balances on other credit cards, we recommend paying them off before applying. This will give you the best chance of being approved for a Sapphire card and getting a high credit limit.
---
Establish a Business Banking Relationship With Chase
---
Opening a business checking account has been reported to increase the likelihood of a successful business card application.
With that said, I'd wait to time my application for a Chase business checking account when a bank bonus is currently offered.
---
Recommended Chase Business Credit Cards
---
Three Chase Business Cards are offering lucrative sign-up bonuses right now.
---
Current Best Offer: 100,000 Chase Ultimate Rewards Points
---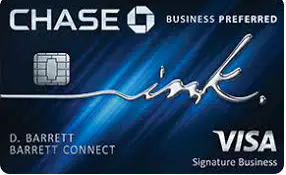 ---
The Chase Ink Business Preferred
Sign-Up Bonus (SUB): 100,000 Chase Ultimate Rewards Points
Minimum Spend Requirement: Spend $8,000 within 3 months to earn the SUB
Earn 3X: Earn 3 points per $1 on the first $150,000 spent in combined purchases on travel, shipping purchases, Internet, cable, and phone services, and on advertising purchases made with social media sites and search engines each account anniversary year.
Earn 1X: Earn 1 point per $1 on all other purchases, with no limit
Earn 1X: Earn 1 point per $1 on all other purchases, with no limit.
No Foreign Transaction Fees
Annual Fee: $95
---
---
---
The Chase Ink Business Cash® Credit Card
Annual Fee: $0
Intro Offer: Earn $750 Cashback (75,000 Chase Ultimate Rewards Points) after you spend $6,000 on purchases in the first three months from account opening.
Earn: 5% on the first $25,000 spent in combined purchases at office supply stores and on internet, cable, and phone services per cardmember year.
Earn: 2% on the first $25,000 spent in combined purchases at gas stations and restaurants within the cardmember year.
Earn: 1% per $1 on all other purchases, with no limit.
---
---
---
The Chase Ink Business Unlimited® Credit Card
Annual Fee: $0
Intro Offer: Earn $750 cashback (75,000 Chase Ultimate Rewards Points) after you spend $6,000 on purchases in the first three months from account opening.
Earn: 1.5% cashback on all purchases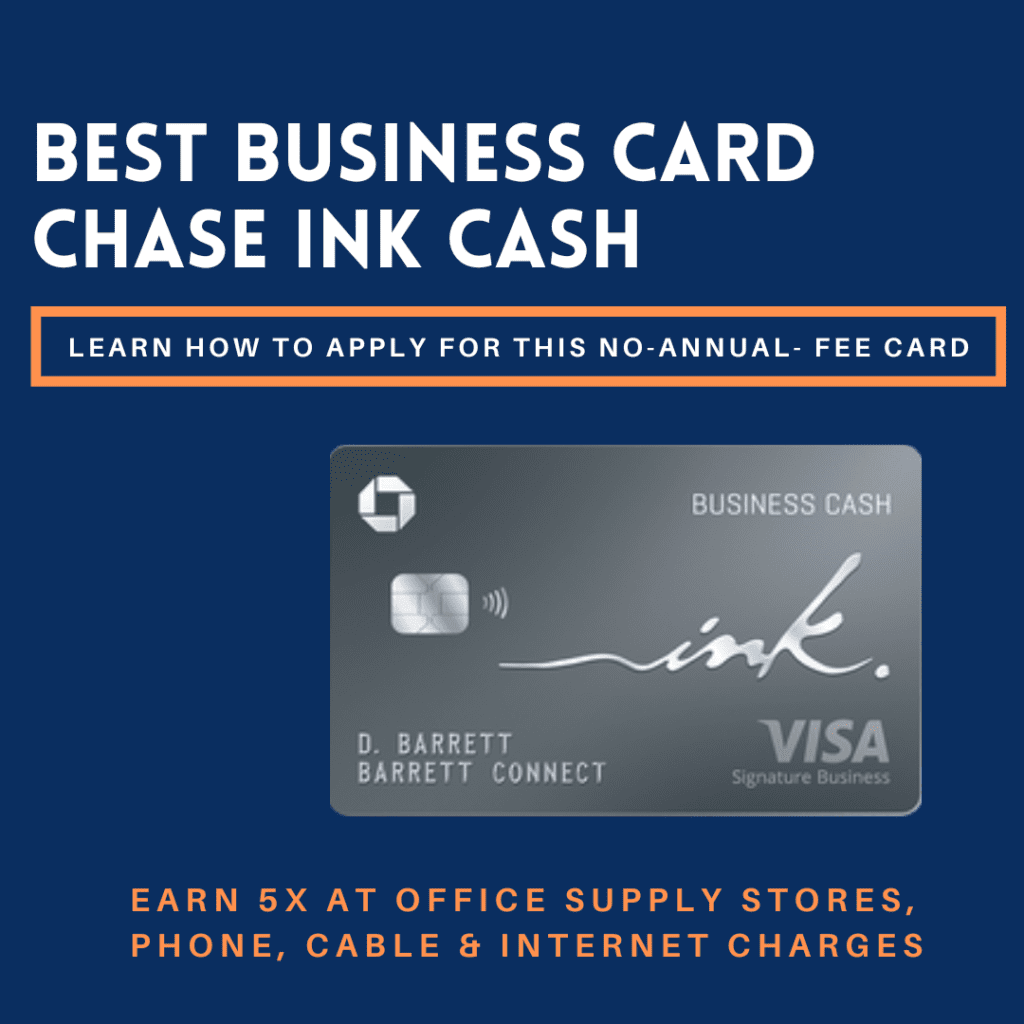 ---
Convert Cashback to Ultimate Rewards Points
---
The Chase Ink Cash® Credit Card and Chase Ink Unlimited® Credit Card are advertised as cash-back cards.
Thankfully, there is a way to convert cashback from these cards into travel points (Chase Ultimate Rewards Points).
The post below will walk you through the steps on how to do this conversion.
Lastly, Chase also has co-branded credit cards, such as the United Explorer Business® Credit Card, The World of Hyatt Business Credit Card, and Southwest Business® Credit Card, that generate travel points.
Yet, I prefer the Chase Ink Business® Credit Cards as they generate flexible currencies, meaning they can be redeemed in various ways – for flights, hotels, and cashback.
Before you apply, let's go over one crucial policy you must be familiar with regarding Chase. It is called the 5/24 Rule.
Simply put your chances of approval for a Chase Business Credit Card hinges on whether or not you are below 5/24.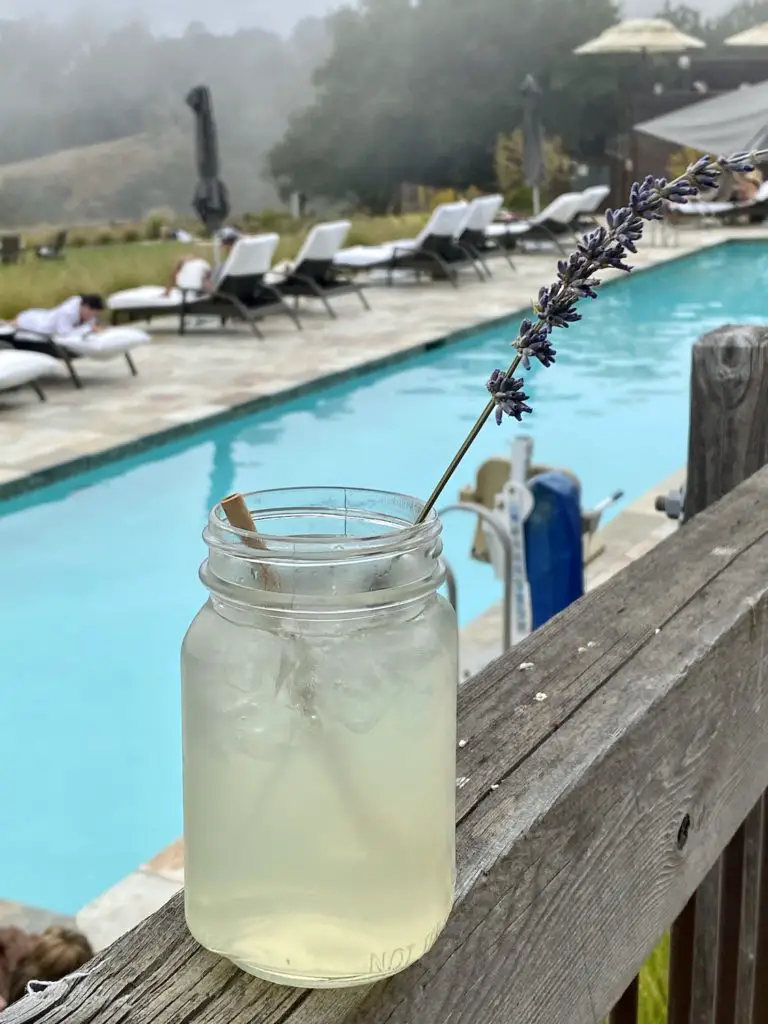 ---
Chase Bank's 5/24 Rule
---
Your 5/24 status is a critical variable to be aware of before applying for Chase Credit Cards, including the recommended Chase Ink Business® Credit Cards above.
Chase instantly rejects applications if you have applied and gotten approved for five personal credit cards across all banks in the past 24 months.
This is an important rule to be familiar with when applying for Chase cards. Sometimes you will notice people referencing this rule when describing their relationship with Chase, e.g., " I am 2/24", "I am 4/24″, etc.
Sadly, if you are at or above 5/24, there is no way to get around this stringent regulation except to wait until you get below 5/24.
I recommend not applying haphazardly for non-Chase personal credit cards unless there is an irresistibly generous sign-up offer. Each slot of your 5/24 status is precious.
Even though your Chase Business Credit Card application is contingent upon your 5/24 status, business cards do not add to it since only personal cards affect your 5/24 standing.
If you want to determine your 5/24 status, the blog post below has DIY instructions so you can figure it out on your own.
Alternatively, please feel free to contact us via our FREE Travel Miles and Points Facebook Group so we can help you through the process.
---
How Do I Meet The Minimum Spend Requirement (MSR)?
---
What is MSR ("minimum spend requirement")?
To receive the business credit card's bonus rewards, you must meet a minimum spending requirement within a specific time frame. Failing to complete these conditions will forfeit your reward.
So, how can you meet this spending requirement if you have yet to get your business off the ground? That's a valid question!
Banks typically do not have a way of knowing which spending is wholly for business or personal, and truthfully, sometimes, the boundaries between those two categories are blurred.
If you feel you cannot meet the minimum spend requirement and are in danger of missing out on the bonus, the related post below lists the strategies to assist you in fulfilling the required spending.
---
What If I Do Not Have a Business? Start One!
---
Do not fret, you do have a couple of options.
As mentioned above, applying for a business card is possible if you are still in the beginning stages of planning for a business.
As with all businesses, we all need initial capital to fund our "start-up" expenses, and sometimes the fund source can come from a credit card. Banks are aware of this.
Whether you are planning to start a podcast or a dog-walking side job (or any of the examples above) in the near future, consider applying for business credit cards, as the sign-up bonuses can be truly rewarding.
Pro-Tip: Selling Stuff at Facebook Marketplace is an easy side hustle anyone can start anytime!
It also goes without saying that if the COVID-19 pandemic taught us something, the future is fundamentally unpredictable.
No one can foresee if our business will be a roaring success or an unfortunate letdown. Neither the bank nor you can foretell that. Thus, viability is not a determining factor in getting approved.
Alternatively, if you do not plan to have a business in the future, I recommend exploring personal travel credit cards instead.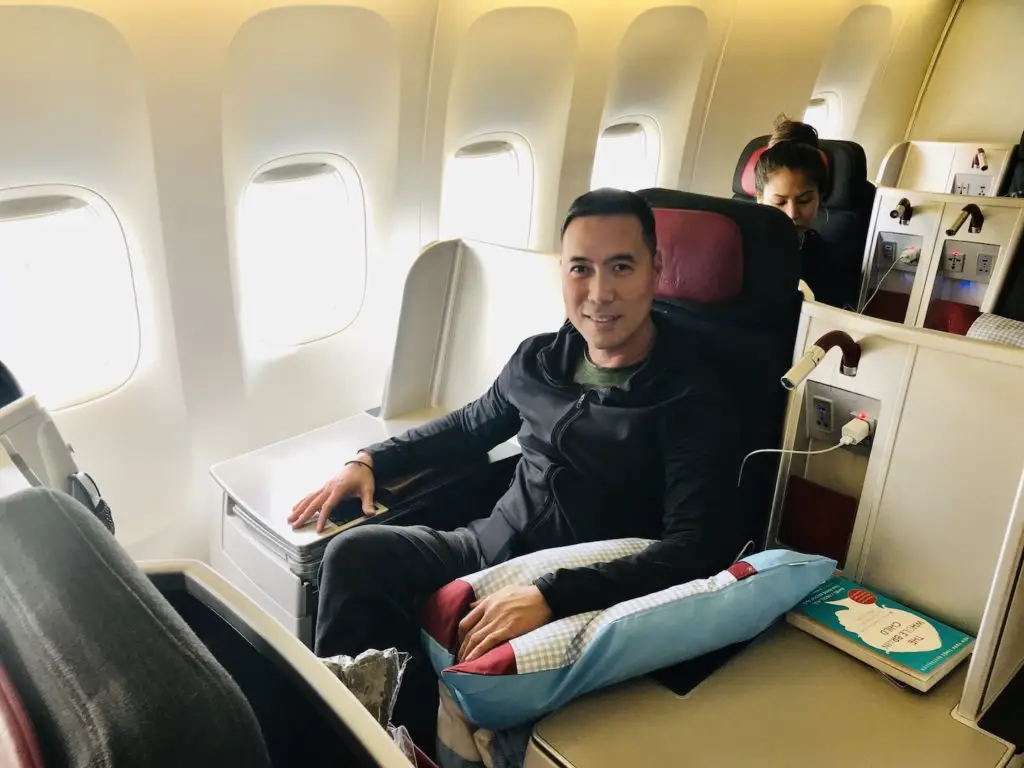 ---
Final Thoughts
---
I am a huge fan of lucrative credit card sign-up bonuses, so I try to take advantage of these offers whenever the opportunity arises.
Having a side hustle or a business not only multiplies your earning potential but also exponentially increases the variety of cards you can apply for, propelling you closer to your next dream vacation.
With that said, a gentle reminder to only apply for credit cards that you can comfortably pay once your statement comes around. Paying those hefty credit card fees is antithetical to the frugality principles I espouse in this blog.
I hope the actionable tips outlined in this post can pave the way for you to acquire your first-ever Chase Business Credit Card. Feel free to reach out anytime for questions!
Good luck!
EDITORIAL DISCLOSURE – Opinions expressed here are the author's alone, not those of any bank, credit card issuer, hotel, airline, or other entity. The content has not been reviewed, approved or otherwise endorsed by any of the entities included within the post.