ADVERTISER DISCLOSURE: The Frugal Tourist is part of an affiliate sales network and receives compensation for sending traffic to partner sites, such as MileValue.com This compensation may impact how and where links appear on this site. This site does not include all financial companies or all available financial offers. Terms apply to American Express benefits and offers. Enrollment may be required for select American Express benefits and offers. Visit americanexpress.com to learn more. Additionally, the content on this page is accurate as of the posting date; however, some of the offers mentioned may have expired.
Hyatt Hotels has a loyalty program, the World of Hyatt, popular among points enthusiasts.
The World of Hyatt loyalty program allows guests to receive free nights by earning points from hotel stays and credit cards.
One of the significant benefits of the World of Hyatt membership is giving members the ability to transfer and share points with other World of Hyatt members.
Whether you are transferring to friends or family, transferring points to another member is a great way to help them get closer to achieving their own bucket-list vacations.
In this blog post, we will guide you on how to transfer World of Hyatt points to another member hassle-free.
---
The World of Hyatt
---
Hyatt is arguably the most generous hotel brand as far as the number of points they require for their properties on award reservations.
Top-tier hotels, such as Ventana Big Sur or Alila Napa, typically cost at least $1500 each night.
But they can all be easily booked by forking out 40,000 World of Hyatt points and $0 per night.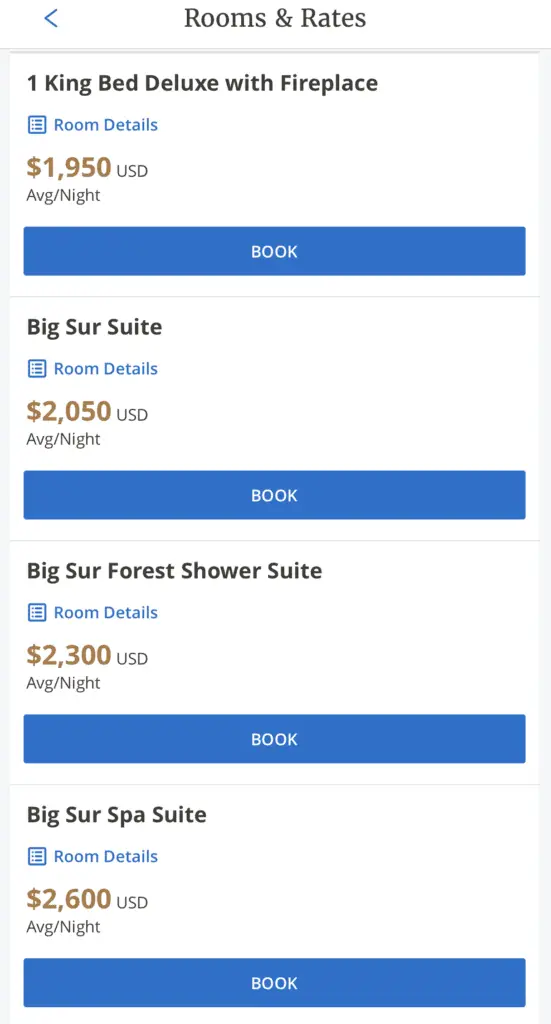 Whereas other hotels such as Hilton and Marriott charge over 70,000 for hotels in the same categories, Hyatt's award chart remains relatively attainable to most travel points enthusiasts.
And, that is the primary reason why Hyatt is compatible with a frugal tourist like myself.
For the most part, I am guaranteed to get the best bang for my buck when I redeem Hyatt points when booking hotels.
Yet periodically, there comes a time when you inevitably find yourself short on points at the exact moment a bucket-list property suddenly becomes available. 
Thankfully, there are a few options on how you can top off your Hyatt account. 
And one of those options is to transfer World of Hyatt points to another member.
---
Can I Transfer Hyatt Points to Someone Else?
---
Are you planning to surprise your loved ones with a luxurious vacation, or do you just want to share the benefits of your World of Hyatt points with them?
If so, you need to be familiar with the steps on how to transfer your World of Hyatt points to another member.
The process is easy and straightforward, and in the following section, we will guide you on the simple steps so you can learn how to do it too.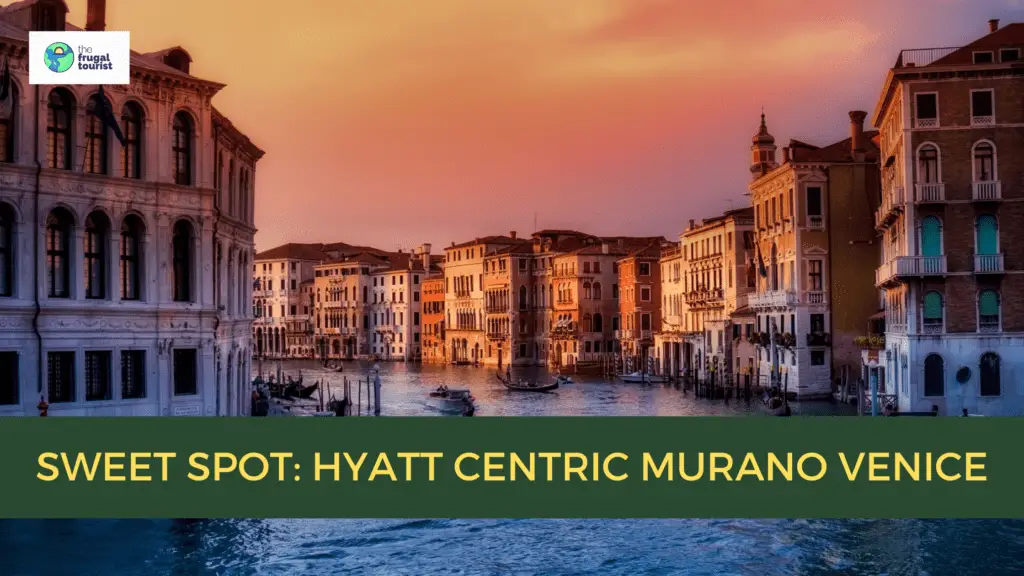 ---
It is Free to Transfer Hyatt Points
---
Undoubtedly, saving up for any bucket-list hotel redemption is extremely difficult as some aspirational properties require an enormous amount of points.
Thankfully, World of Hyatt's generosity does not end with its lucrative award chart. The program also allows transferring points between members for free.
Hence, even the most unattainable luxurious properties suddenly become realistically "bookable" if more than one individual diligently accrues World of Hyatt points.
Whether you need extra points to book several rooms or extend your trip from a couple of days to a week, combining Hyatt points with another person can make that goal much easier to reach.
---
Read This Before You Transfer Your Hyatt Points
---
Before we go over the steps involved in transferring Hyatt points to another individual, there are a few important details I would need you to be aware of.
You can only transfer (give/receive) Hyatt points once every 30 days.
There is paperwork to be printed, filled out, signed, and scanned.
Hyatt allows transferring of points if the purpose is to help another member book an award.
Both Hyatt accounts need to be active and in good standing. 
Now that we got those out of the way, the next goal is to find someone who can loan you those points.
As soon as another member is willing to lend you their World of Hyatt points, it's time to jumpstart the transfer process.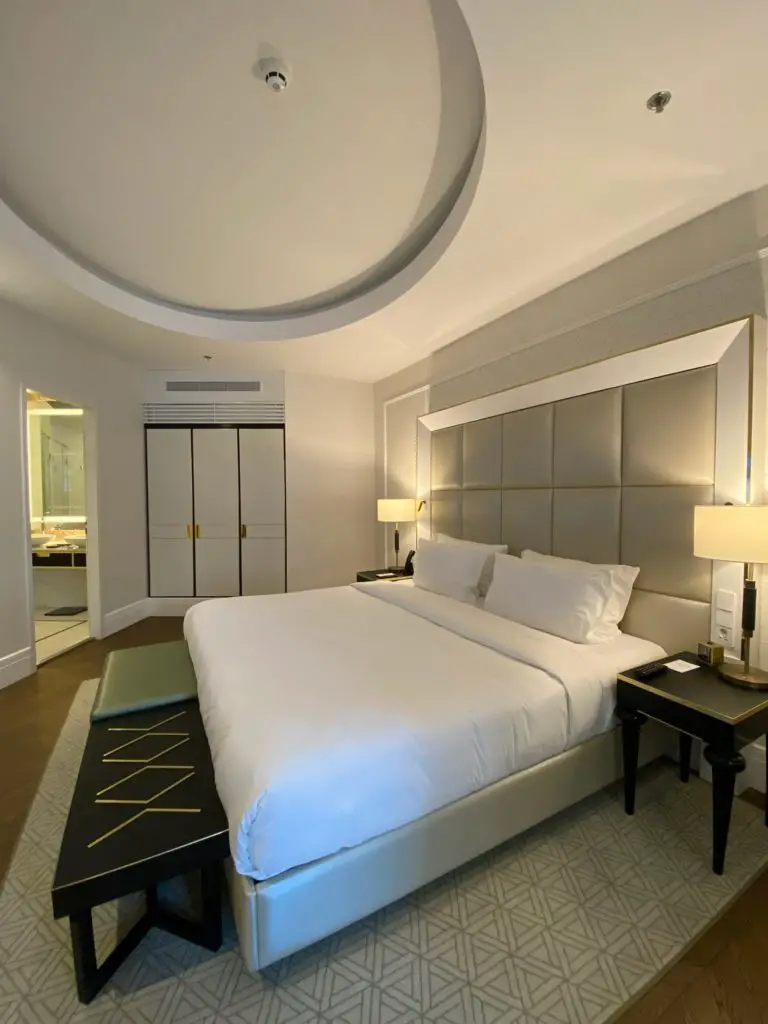 ---
Steps On Transfering Hyatt Points to Another Member
---
Step 1:
---
Download the Hyatt Points Combining PDF Form by clicking the button below.
The form requires a printed copy, as signatures from both the borrower and the lender are needed.
If you do not have a printer, you can email this form to yourself and print it out at an office supply store.
Just make sure you use a credit card that earns bonuses at Office Supply Stores.
---
Step 2:
---
Fill out the top half of the form by filling out the essential information for both members performing the transfer.
You would need the following information:
Names of Both Members
World of Hyatt Membership Numbers
Phone Numbers
Mailing Addresses
Email Addresses
---
Step 3:
---
The bottom half of the form will specifically designate who will be the "giver" and the "recipient" of those points.
As mentioned previously, both members need to sign the form.
If the member transferring points is from out of state or country, you can scan the form and email it to them.
Request a signed copy back, print it, and then follow the next steps.
---
Step 4:
---
Double-check the information to make sure that what you have written is accurate.
Then, the next step lists the two recommended ways on how to send the form to Hyatt.
---
Step 5:
---
Although Hyatt states that it might take about 2-4 weeks to complete the entire transfer process, I have personal data points (DP) indicating that the transfer can be successfully completed much faster than two weeks.
It is a highly-YMMV (Your Miles May Vary) scenario.
---
Option A: Email
---
Emails:
---
Option B: Snail Mail
---
By mail:  World of Hyatt Customer Service
P.O. Box 27089
Omaha, Nebraska
68127-0089
It goes without saying that my preferred option would be email. 
Not only will you have documentation of your request, but it also entirely avoids the risk of the mail not arriving at its intended destination. Besides, it is also faster.
Let your recipient know to monitor their Hyatt accounts regularly so they can book their desired properties as soon as the points appear.

---
Peak and Off-Peak Award Chart
---
Hyatt has switched to a different award chart reflecting off-peak and peak pricing for nights booked starting March 2022.
Higher-category hotels now cost about 5,000 Hyatt points more during peak times.
For example, Category 7 properties like the Park Hyatt Tokyo now cost 35,000 during the high season instead of 30,000 Hyatt points.
Conversely, Category 1 Hyatt properties only require 3,500 points during the low season instead of 5,000.
Hyatt also recently changed the categories of about 140 of their hotels.
Effective March 22, 2023, more Hyatt properties will be devalued and will now cost more points.
Sadly, several of Hyatt's most desirable brands will now require a significant amount of points compared to before.
The buttons below will link to Hyatt's hotel locator, which indicates each property's respective category and Hyatt's current award charts.
| Category | Off-Peak | Standard | Peak Nights |
| --- | --- | --- | --- |
| | | | |
| 1 | 3,500 | 5,000 | 6,500 |
| 2 | 6,500 | 8,000 | 9,500 |
| 3 | 9,000 | 12,000 | 15,000 |
| 4 | 12,000 | 15,000 | 18,000 |
| 5 | 17,000 | 20,000 | 23,000 |
| 6 | 21,000 | 25,000 | 29,000 |
| 7 | 25,000 | 30,000 | 35,000 |
| 8 | 35,000 | 40,000 | 45,000 |
Source: The World of Hyatt
---
When Is It A Good Idea to Transfer Hyatt Points To Another Member?
---
1. When a friend or a family member needs extra Hyatt points to top off their accounts for a specific redemption
Occasionally, there comes a time when we inevitably find ourselves or our loved ones short on points at the exact moment that we need to stay at a Hyatt property. 
Whether it is a bucket-list property you have wanted to book for years or an expensive airport hotel that we need to urgently book for an overnight layover, those Hyatt points can be incredibly valuable. 
Periodically, however, our points may not be sufficient to complete a reservation. This is when transferring Hyatt points between members can certainly come in handy.
2. When you do not want to fork out the cash
There are moments when you just don't want to shell out money to pay for lodging. 
If you have family members who do not mind (temporarily) parting ways with their Hyatt points, transferring points from their accounts to yours can be a worthwhile alternative.
In my Ventana example above, there was no way that I would be willing to shell out almost 2,000 Euros for a hotel. Yet with points, I will not hesitate at all, especially if the redemption rate has outsized value.
3. When you are splitting the room with a friend or a family member
Sharing a room with friends and relatives is one of my favorite frugal methods of saving money in hotels. And this transfer feature makes it practically effortless to pool World of Hyatt points with others.
Hyatt's free transfer benefit doesn't only encourage it, but there are no limits to the number of people you may send points to as long as you only do it once every 30 days. There is also no cap on the number of points you can transfer.  
4. When you are traveling with someone who has elite status or a higher elite status
Because of the unique benefits associated with having elite status, it is recommended that whoever holds a World of Hyatt elite status reserve the room from their account.
Doing so will unlock perks that will not only save money, but it is also guaranteed to make the stay more comfortable and memorable.
These benefits include late check-out, welcome amenities, free breakfast, and room upgrades depending on the traveler's loyalty status with Hyatt.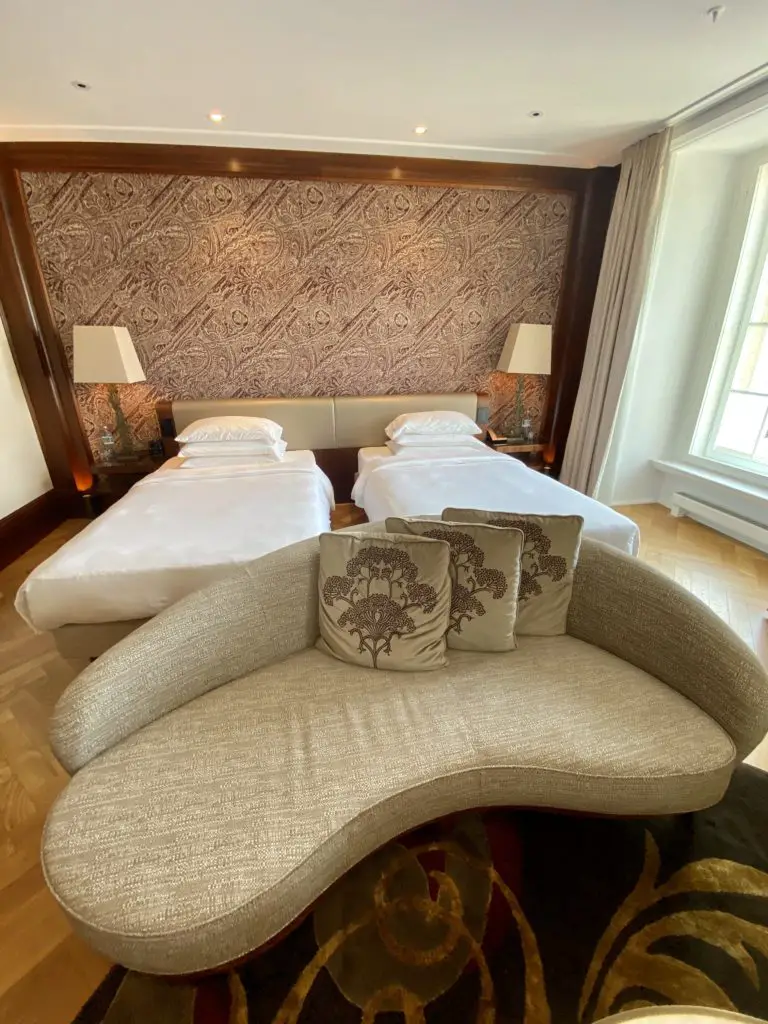 ---
Other Options on How to Top Off Your Hyatt Account
---
Option 1: Transfer from a Chase Premium Card
---
Since Hyatt is Chase's transfer partner, you can transfer your Chase Ultimate Rewards points to your Hyatt account.
For instructions on how to transfer your Chase points to Hyatt, check out the related post below.

While this seems to be the easiest path to take, it is not always an available alternative.   
For one, Chase only allows this ability to transfer to partners if you own one of the three Chase premium cards: Chase Sapphire Reserve® Credit Card, Chase Sapphire Preferred® Credit Card, and Chase Ink Business Preferred® Credit Card.
Even if these premium cards carry an annual fee, they ultimately pay for themselves as they come with numerous credits and perks, including the option to transfer to travel partners like Hyatt.
Therefore, if you do not hold any of the above premium cards and you find yourself in a situation where you urgently need to top off your Hyatt account, then you might have to explore other avenues.
---
Option 2: Apply for a Credit Card That Earns Chase Ultimate Rewards Points
---
Since Chase Ultimate Rewards can be transferred to Hyatt at a 1:1 ratio, then this is, bar-none, the most efficient way to amass a significant amount of Hyatt points.
But it is not easy as it sounds. Chase has specific application rules that apply to all of their cards, specifically the 5/24 rule.
Nevertheless, if you are financially responsible and pay off your credit card balances on time, and if you have not opened more than five personal credit cards in the past 24 months, your likelihood of getting approved is high.
I highly recommend the Chase Sapphire Preferred® Credit Card, which currently gives 60,000 points once the $4,000 spending requirement is sufficiently met within three months.
These Ultimate Rewards points can be partially or fully transferred to Hyatt, depending on your travel goals, as Chase Ultimate Rewards Points can also be moved to airline partners, among other options.

Case In "Points": In the image below, three nights for four adults at the Grand Hyatt Kauai only set us back 25,000 Hyatt points per night, whereas nightly rates at this property are at least $700! The 75,000 Hyatt points I used for this reservation originated from a Chase to World of Hyatt Transfer. Effective March 2023, nightly rates at the Grand Hyatt Kauai will be higher as it moved up a category (from Category 6 to 7).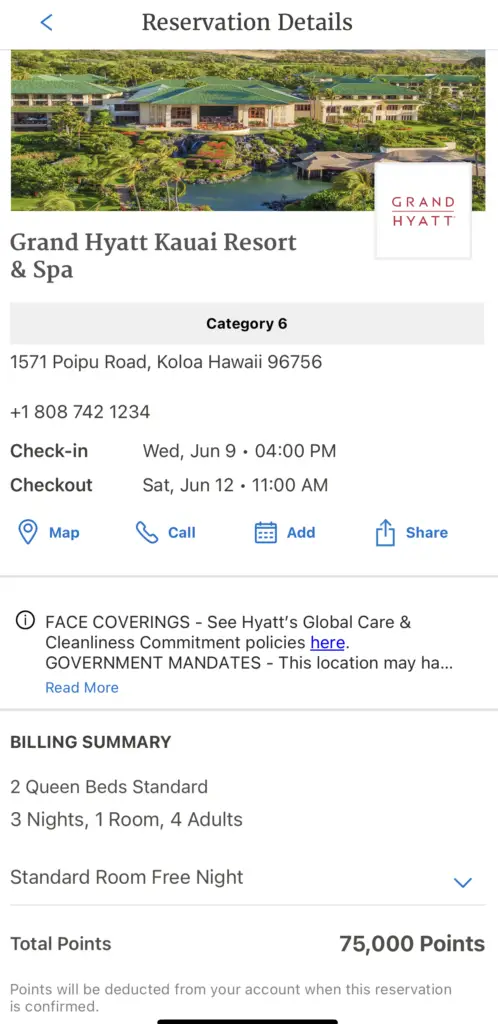 ---
Option 3: Apply for The World of Hyatt Credit Card
---
Two Hyatt credit cards are currently offered by Chase Bank. Both are viable ways to earn Hyatt points.
THE WORLD OF HYATT CREDIT CARD: Earn 30,000 Bonus Points after you spend $3,000 on purchases in your first three months from account opening. Plus, up to 30,000 More Bonus Points by earning 2 Bonus Points total per $1 spent in the first six months from account opening on purchases that normally earn 1 Bonus Point, on up to $15,000 spent. Read more about the Personal World of Hyatt Credit Card here.
THE WORLD OF HYATT BUSINESS CARD: Earn up to 75,000 points after spending $7,500 on purchases within the first three months from account opening. Read more about the World of Hyatt Business Credit Card here.
---
Option 4: Purchase Points
---
I do not recommend purchasing points unless you are left with no other recourse, as the cost of purchased points can be prohibitive.
However, once in a while, Hyatt puts their points on sale.
If you find yourself in a spot when you desperately need Hyatt points and there is an ongoing sale happening concurrently, then, by all means, consider capitalizing on this opportunity to acquire points when they are discounted.
If you are not in a time crunch, the fastest way to generate an enormous amount of Hyatt points is to apply for two types of Chase credit cards.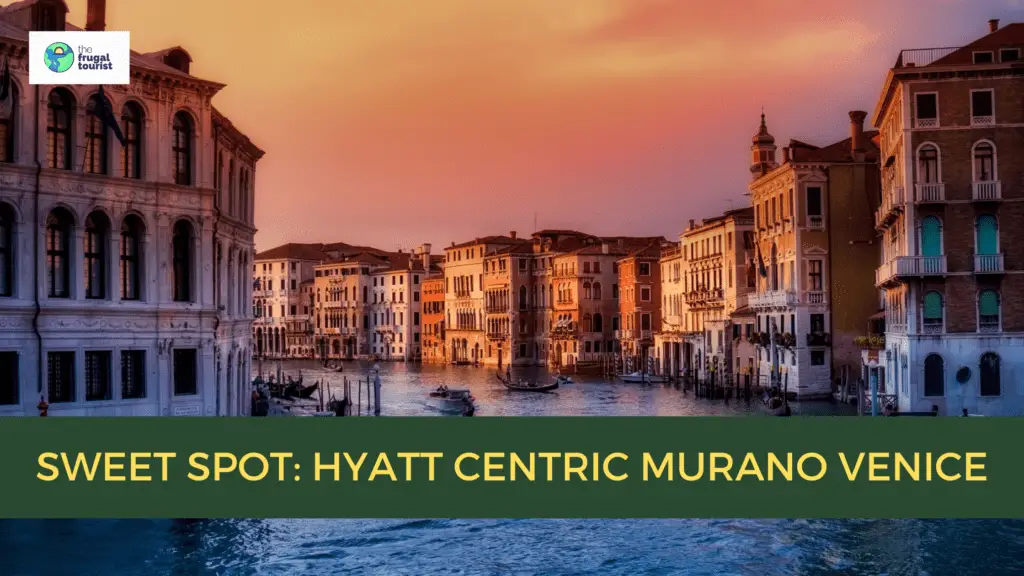 ---
Ways to Transfer to Hyatt If You Do Not Own a Chase Premium Card
---
Path 1: Upgrade / Product Change to a Chase Premium Card
---
If you have owned a no-annual-fee Chase card for over 12 months, then you might consider upgrading to any of Chase's premium cards in order to gain access to Chase's travel partners.
Hence, if you have a no-annual-fee personal credit card like any of the Chase Freedoms, you can upgrade those to either the Chase Sapphire Preferred or the Chase Sapphire Reserve if you have held the Freedom card for at least a year.
Similarly, if you have a no-annual-fee Chase Business Card for over 12 months, you can potentially upgrade them to the Chase Business Ink Preferred to utilize this transfer feature.
As a reminder, upgrading to a premium card involves paying an annual fee. Personally, I think it is worth paying, particularly if you find this ability to transfer to travel partners like the World of Hyatt program extremely valuable.
| Chase Premium Card | Annual Fee |
| --- | --- |
| Chase Sapphire Preferred | $95 |
| | |
| Chase Business Ink Preferred | $95 |
| | |
| Chase Sapphire Reserve | $550 |
| | |
---
Path 2: Transfer Chase Ultimate Rewards Points Between Accounts
---
Another option is to transfer your Chase Ultimate Rewards Points to a spouse or a family member who owns any of the above Chase premium cards so they can transfer points to their Hyatt accounts.
Just make sure that these family members live under the same address, as Chase will not allow transfers between individuals living in different residences.
Additionally, you will have to call Chase to move points between accounts. Once the points are in their Hyatt accounts, they can start booking their dream vacations.

---
Final Thoughts
---
Without a doubt, Hyatt's award chart is exceptionally rewarding as they charge substantially fewer points across the board when compared to other hotel brands.
Even though they do not have as extensive a footprint as some of its competitors, I sometimes catch myself going to great lengths to visit places with Hyatts, so I can take advantage of their generous awards and thus save up on accommodations.
I hope this post has given you additional options on how to top off your Hyatt accounts when you start seeing your stash dwindle.
Whether our points are obtained organically or loaned/given to us by another member, I hope that our Hyatt stays will be filled with unforgettable memories that we will remember for years to come.
Thank you, Hyatt and Chase!
EDITORIAL DISCLOSURE – Opinions expressed here are the author's alone, not those of any bank, credit card issuer, hotel, airline, or other entity. The content has not been reviewed, approved or otherwise endorsed by any of the entities included within the post."