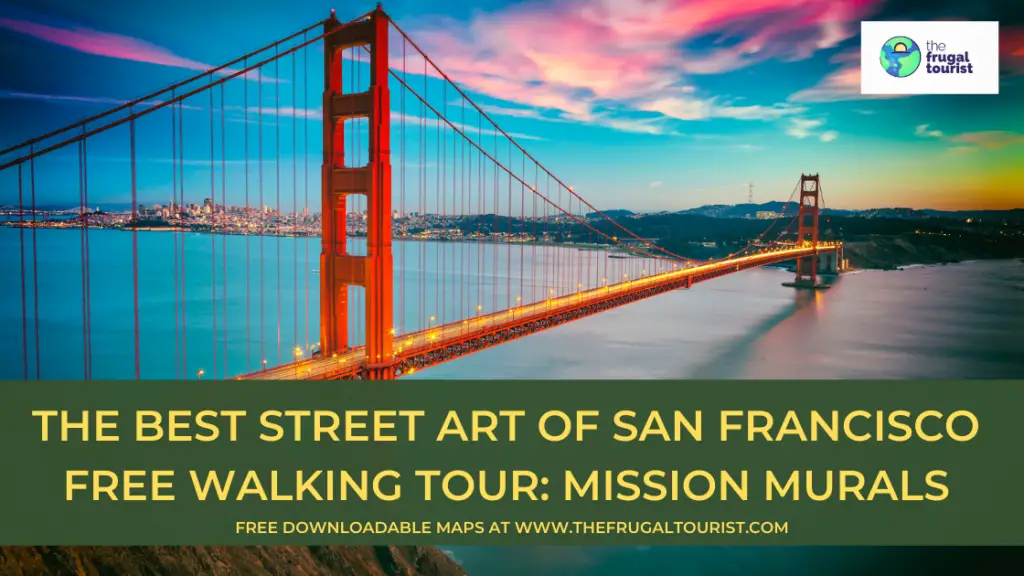 ADVERTISER DISCLOSURE: The Frugal Tourist is part of an affiliate sales network and receives compensation for sending traffic to partner sites, such as MileValue.com This compensation may impact how and where links appear on this site. This site does not include all financial companies or all available financial offers. Terms apply to American Express benefits and offers. Enrollment may be required for select American Express benefits and offers. Visit americanexpress.com to learn more. Additionally, the content on this page is accurate as of the posting date; however, some of the offers mentioned may have expired.
San Francisco is arguably one of the most beautiful cities in the United States and its stunning geography has certainly attracted an artistically-inclined populace.
Aside from its popular attractions, such as Alcatraz, the Golden Gate Bridge, etc., it is also speckled with brilliant street art, particularly in its famous Mission District. Lamentably, this is typically overlooked by the casual tourist.
Unbeknownst to many, there are hundreds of amazing murals scattered all over San Francisco but the "Mission" is hands down the epicenter of this kaleidoscopic movement.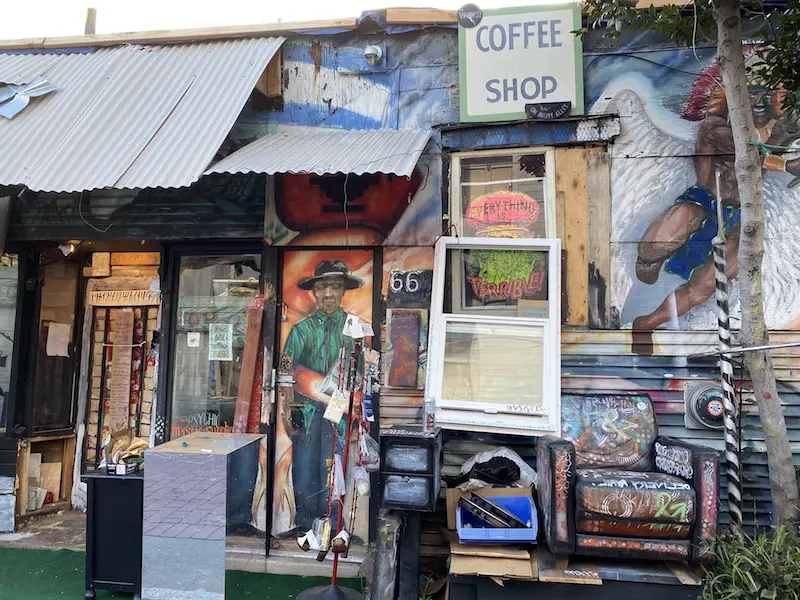 Since it is not realistic to see all of the public street art this city has to offer in one day, this tour aims to connect some of the most iconic and well-known neighborhood masterpieces in the Mission.
Murals from my blog post on San Francisco's Best Street Art will be linked together in this free walking tour, which will also meander through some of the Mission's most intensely atmospheric streets. Not for the faint of heart!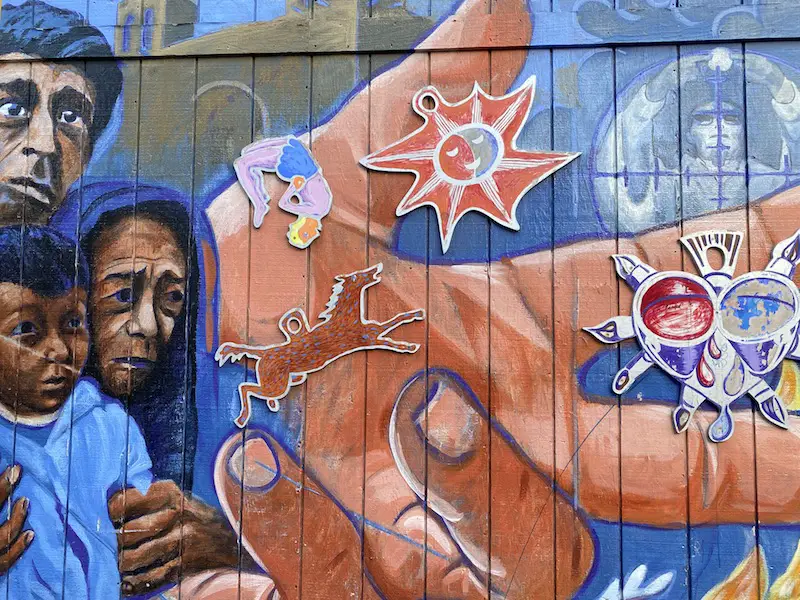 ---
Mission District's History
---
Settled by immigrants for centuries, the Mission District's multi-layered history is as colorful as its public artistic showcases. "The Mission" acquired its name from Spanish settlers that constructed the nearby "Mission Dolores" church ("San Francisco De Asis").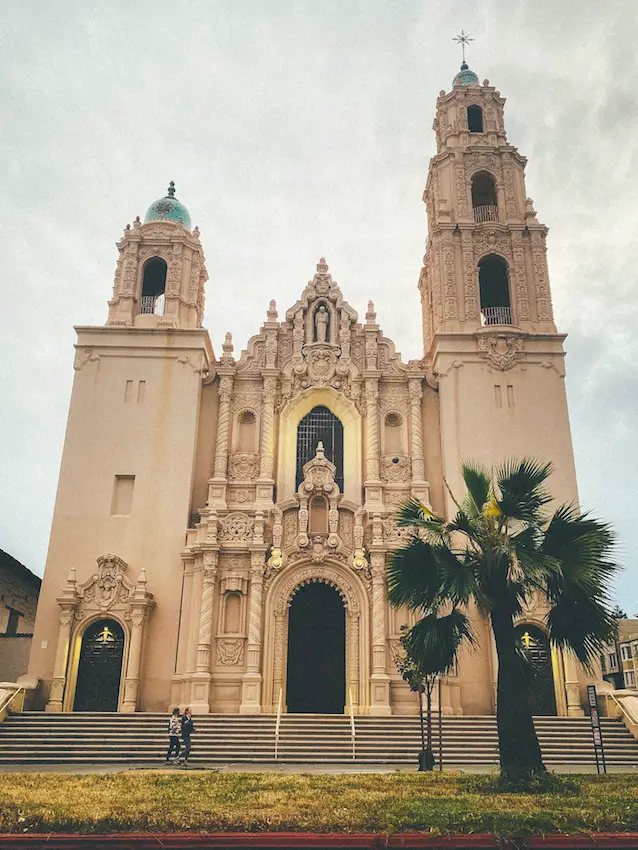 Mission Dolores is currently the oldest standing structure in San Francisco and was founded by Francisco Palou in October 1776. This is an active place of worship that you can visit when there is mass.
Not long after, Spanish-Mexican families came to the area to settle. In the mid-1800, European migrants started to arrive in droves during the peak of the Gold Rush. After the second world war, Mexicans and Central American Immigrants reignited the second wave of Hispanic settlers.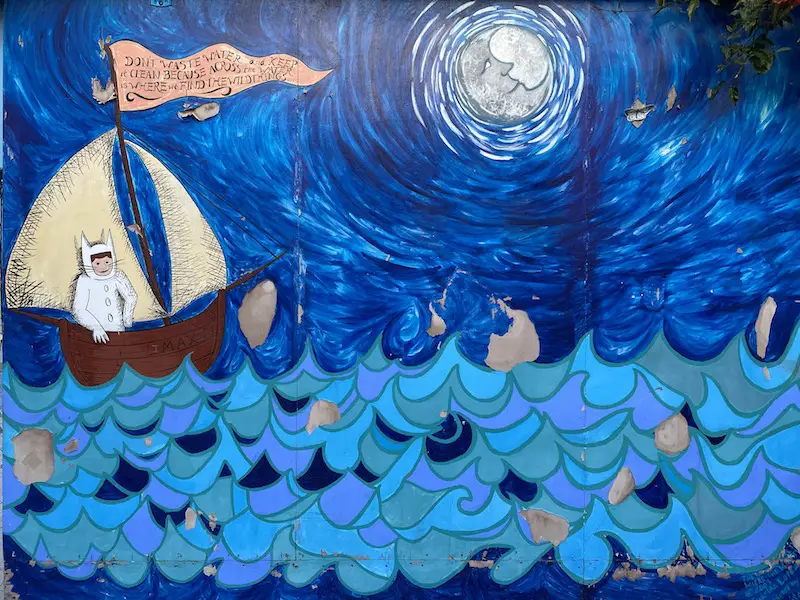 Because of the advent of technological advancements in nearby Silicon Valley, the ethnic population in the Mission has since been slowly pushed out by millennials and affluent tech workers.
The ongoing gentrification, a common theme in the murals, has just accelerated over the past few years and the diversity is swiftly being chipped away. Thankfully, these vibrant murals continue to survive despite this rapid tide of change.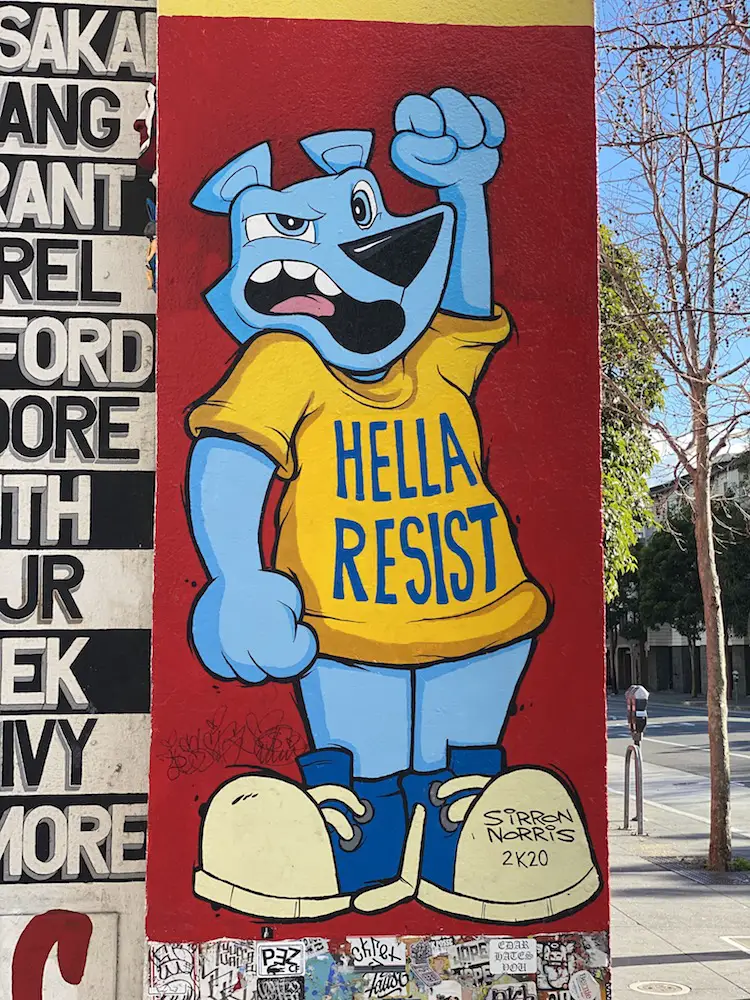 Some of the murals are commentaries about social injustices and political upheavals. But most serve as chronicles of the struggles immigrants face and the Mission's melting-pot history.
I prepared a free downloadable map if you wish to partake in this guided walking tour independently. Private tours are also available and information will be provided in this post as well.
Round up your friends, put on your walking shoes, and let's dive in.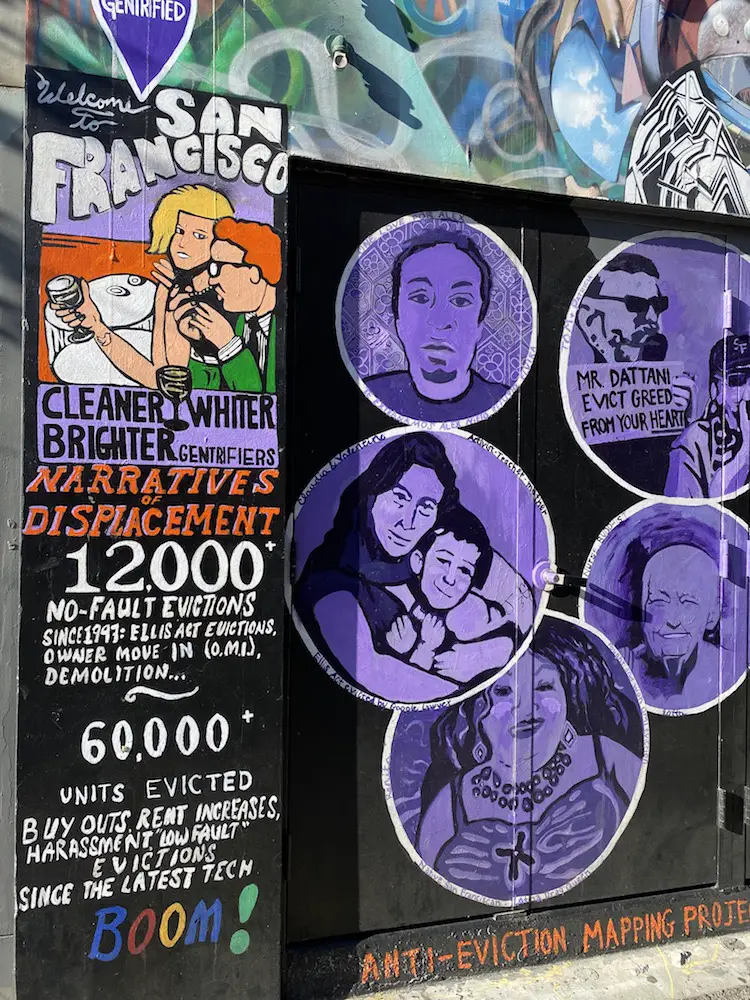 Feel free to download and share the FREE walking tour MAP below. 
---
Mission District Walking Tour Length:
---
Length of Tour: 3-6 hours depending on how much time you linger at each mural. If you only have time for 1 mural, head straight to Balmy Alley.
---
Start of the Free San Francisco Mission Murals Walking Tour
---
Three Options:
a. 16th Street BART Train Station
b. Mission Dolores Park – one of SF's most stunning parks that attracts hordes of picnickers and sunbathers on a warm day. Terrific views of the city skyline.
c. Mission Dolores Church (San Francisco De Asis) – this church is SF's oldest standing structure, constructed by the Spaniards in 1776.
A couple of blocks away from the above start points is our first alley brimming with incredible murals – Clarion Alley.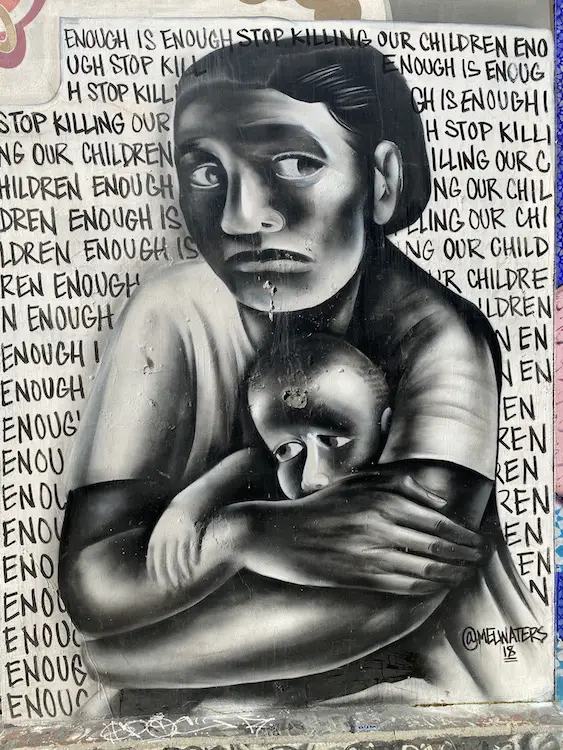 ---
A. Clarion Alley
---
Clarion Alley started as an art collective in the early 90s that gradually grew into its present form – a captivating addition to the mural circuit around Mission and a required stop for any street art fan.
Located between Mission and Valencia Streets, this short street packs a heavy punch as far as street art goes. Over 100 prolific artistic gems are on spotlight here so take your time immersing yourself in each.
The art projects along this alley is spearheaded by the organization Clarion Alley Mural Project (CAMP). Born in 1992, CAMP has supported the completion of over 700 murals. Over 200,000 annual tourists visit to check out the stellar street art along Clarion. 
According to CAMP, their mission is to cultivate and generate socially engaged and aesthetically innovative public art as a grassroots community-based, artist-run organization. Fresh murals always spring up along Clarion so I make sure to visit every so often. CAMP also run private tours.
CAMP's vision is to be a space where culture and dignity speak louder than the rules of private property or a lifestyle that puts profit before compassion, respect, and social justice.
CAMP is a community, a public space, and an organizing force that uses murals and street art as a means for supporting political, economic, and social justice messaging. The names of the other impressive murals and their talented artists can be found here.
Do not forget to gaze up while strolling down Clarion Alley because there's art hovering above you too!
The next block is Sycamore Street which has some interesting pieces but feel free to skip so you can continue heading towards 18th Street to our next mural – a jaw-dropping masterpiece!
---
B. Maestrapeace at the Women's Building
---
Address: 3543 18th Street, San Francisco, California 94110
Website: www.maestrapeaceartworks.com
Book: www.maestrapeacebook.com
The phenomenal 5-story soaring artistic masterpiece that envelopes half of this building is dedicated to women who painstakingly devote their lives for world peace. 
As one of San Francisco's largest and most astounding murals, MaestraPeace underscores the brave and enduring advocacy of women in fighting for what is just and right.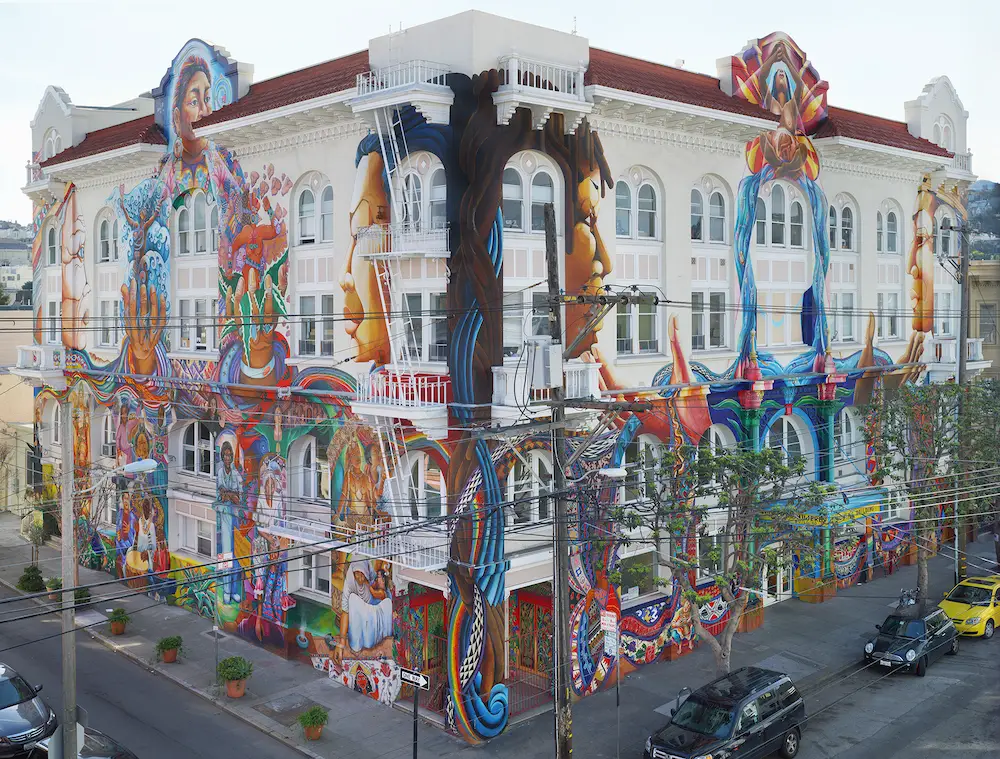 Be prepared to be enthralled by this spellbinding artistic creation of seven female artists that come from different generations and backgrounds (Edythe Boone, Miranda Bergman, Yvonne Littleton, Meera Desai, Juana Alicia, Susan Kelk Cervantes, and Irene Perez).
Painted in 1994 on the exterior of this community center, this mural also made a strong statement against gender inequality and social injustice through art expression. 
The mural was restored in 2012 by the original artists along with the assistance of a budding generation of amateur muralists.
This outstanding mural occupies two sides of the Women's Building: the facade on 18th Street and the left side along Lapidge Street. Do not miss both sides.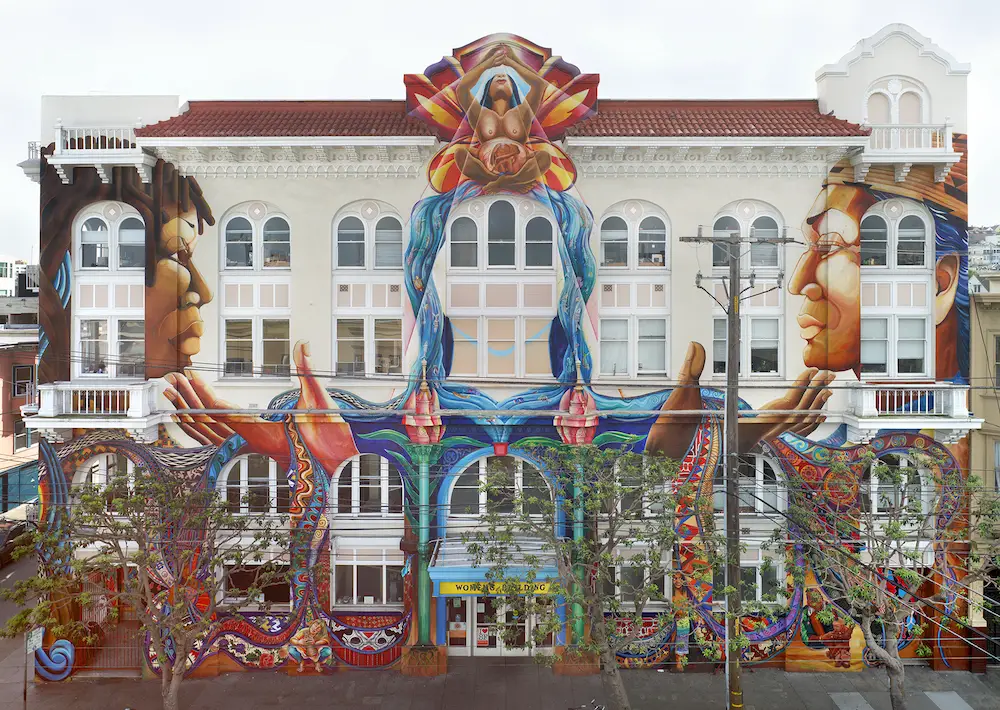 More Information on the History of the Mural at the Women's Building can be found here
Presently, the Women's Building welcomes an average of 25,000 clients and visitors each year. Aside from providing various educational & wellness programs and social services to the community, the building also has rooms that can be booked for workshops and meetings.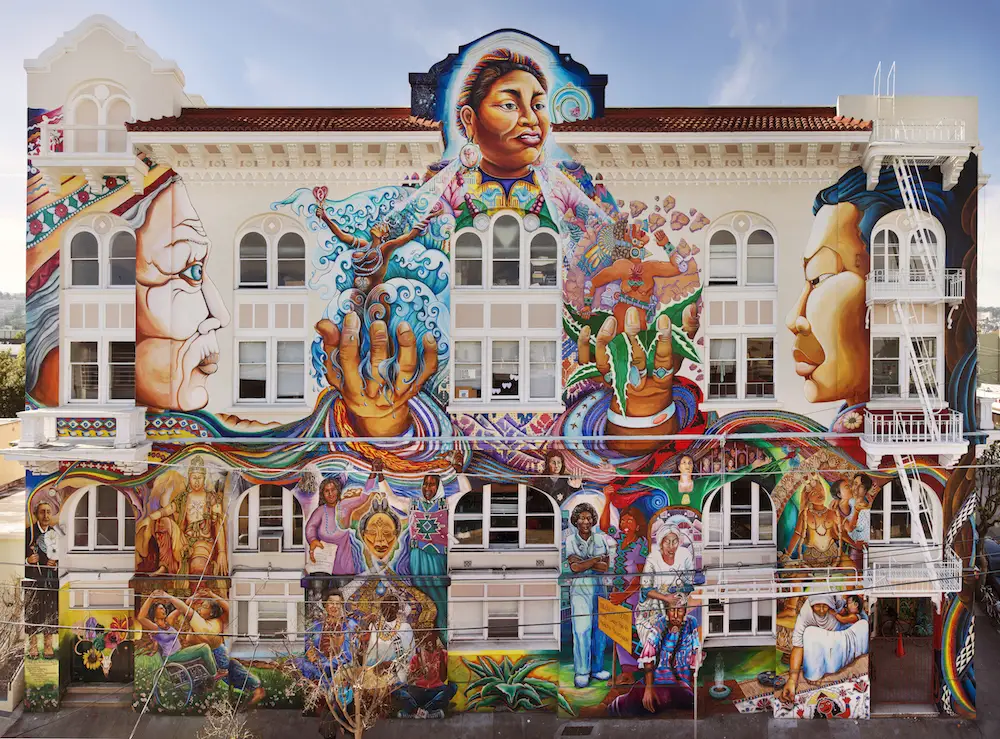 ---
Worth The Detour:
---
Mission Pool & Playground
From the Women's Building, follow down Lapidge Street until you reach the Mission Pool & Playground located on 19th Street. There are few noteworthy murals here.
---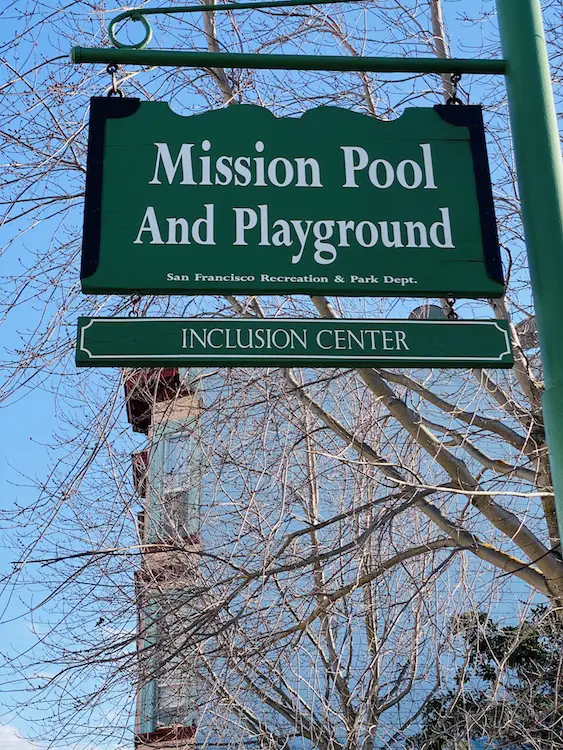 ---
Cut through the park and exit at Valencia Street. Walk towards 826 Valencia pausing at a mural on Cunningham Place along the way.
---
Marvel at this mesmerizing mural of a lady representing San Francisco (her hair turns into the Golden Gate Bridge) seemingly rescuing a homeless man. SF has one of the highest homeless populations in the country.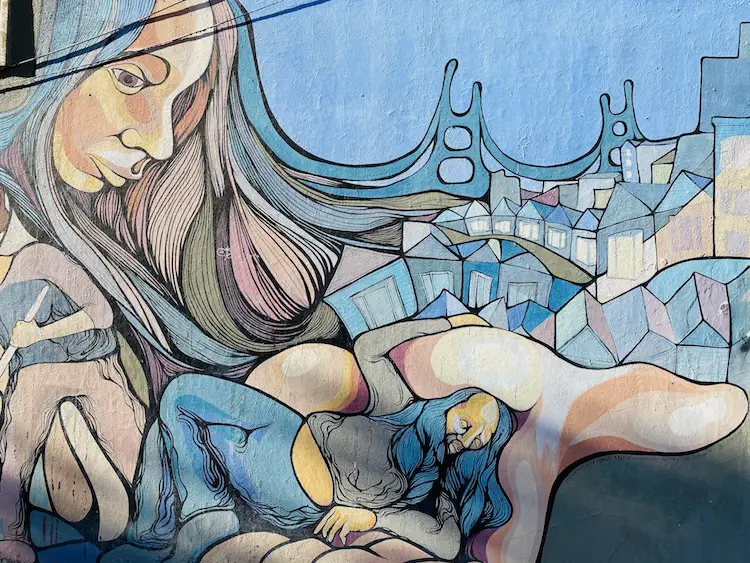 ---
826 Valencia
---
826 Valencia is a pirate supply store that funds a nonprofit organization dedicated to supporting under-resourced students ages 6 to 18 with their creative and expository writing skills and helping teachers inspire their students to write.
According to their website, 826 Valencia was founded in 2002 by author Dave Eggers and veteran teacher Ninive Calegari, who both have ties to the literary and educational community.
Over 1,400 volunteers have donated their time to work with thousands of students. These volunteers allow 826 Valencia to offer all of its services for free. Dave Eggers commissioned cartoonist Chris Ware to design the mural on the building's facade.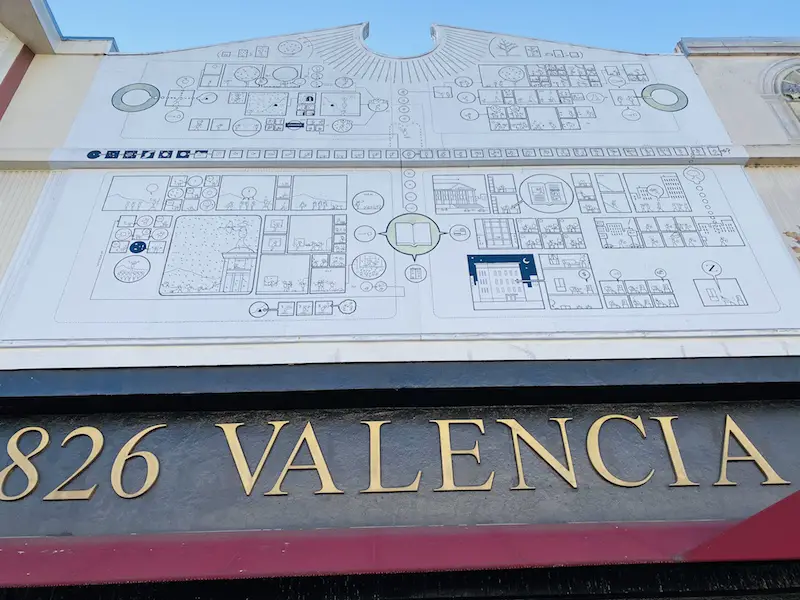 The mural depicts "the parallel development of humans and their efforts at and motivations for communication, spoken and written." 
In April 2010, Eggers launched ScholarMatch, a nonprofit organization that connects donors with students to make college more affordable. If you would like to donate or volunteer, you can access more information here.
Safely cross Valencia and walk back towards 19th Street. Make a right towards Mission Street for our next artistic gem.
---
C. Para La Mission (Carlos Santana Mural) at 19th Street and Mission
---
Para La Mission is a tribute to another Mission District local – Carlos Santana. He started his legendary band Santana in this exact neighborhood back in 1966.
Born in Jalisco, Mexico, Carlos Santana played various instruments as a little child including the violin and the guitar. His father was a mariachi musician so he was heavily influenced by his music growing up. When he was a teenager, his family moved up to SF where he started creating musical history.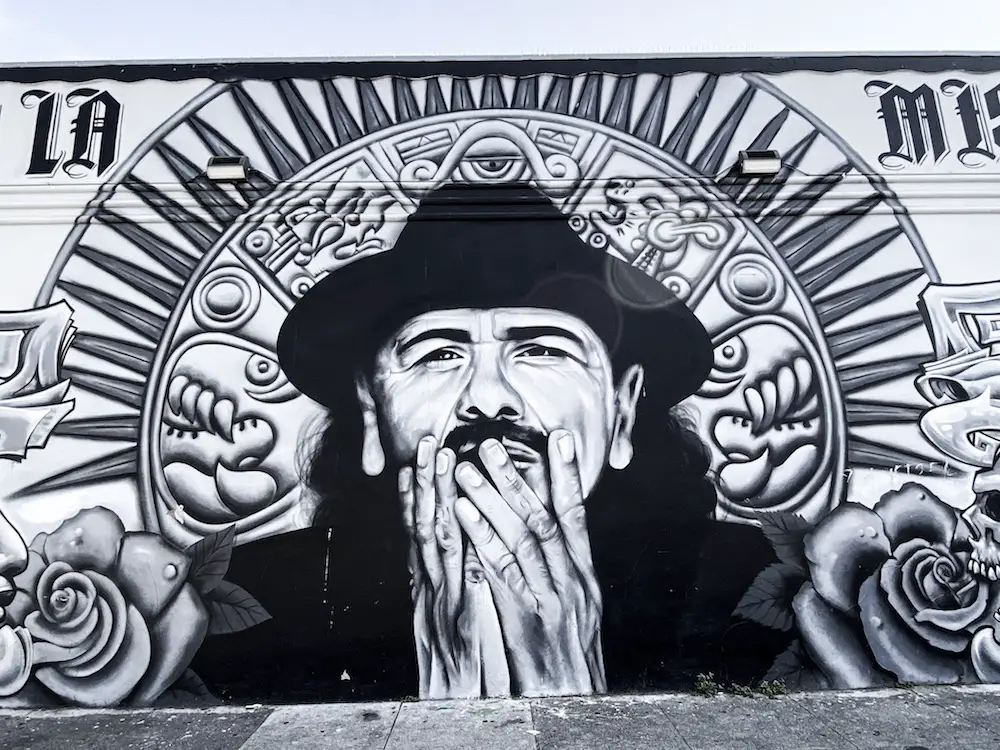 This stunning black and white mural is titled "Para La Mission" and was painted by Mel Waters.
In 2018, this beloved mural was horribly vandalized by someone who threw white paint between Santana's eyes. Waters came back to the Mission to repair the damage to the mural.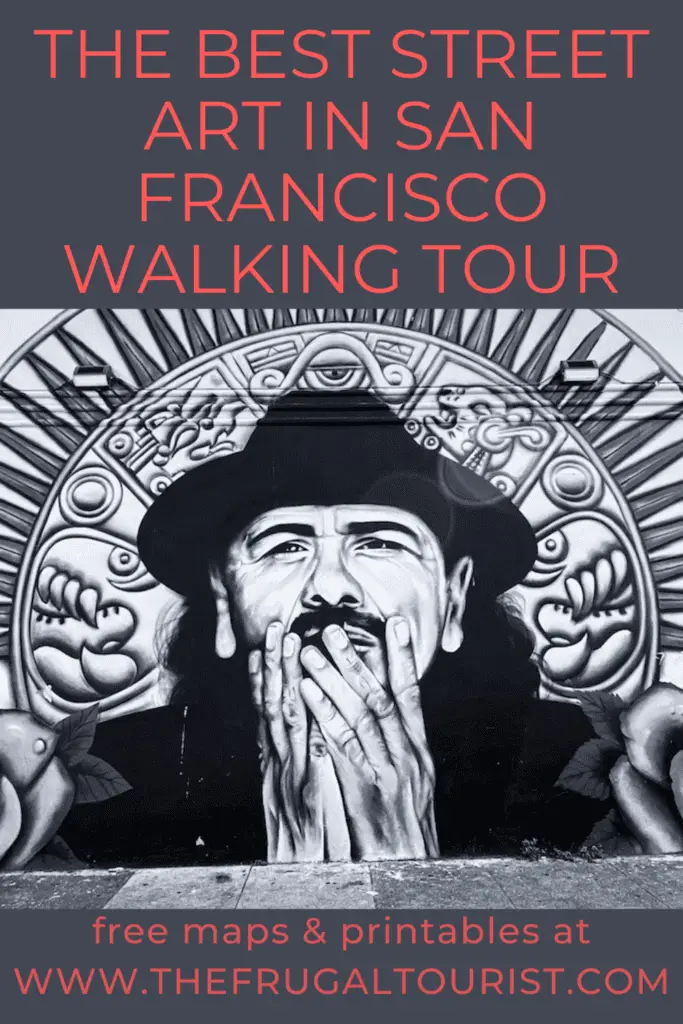 ---
A Walk Down Mission to 24th Street
---
From the Santana Mural, it is about 6-7 blocks walk down historic and frenetic Mission Street until you hit 24th Street. This provides an opportunity to experience a more raw and authentic facet of SF that's far removed from the usual tourist circuit.
Don't fancy walking? You can head back to 16th Street Station to take the train to 24th Street or Uber/Lyft to our next stop – 24th Street and Mission.
24th Street (Calle 24 Latino Cultural District) has the highest concentration of murals in the Mission District – you can easily spend hours here checking out the astonishing street art.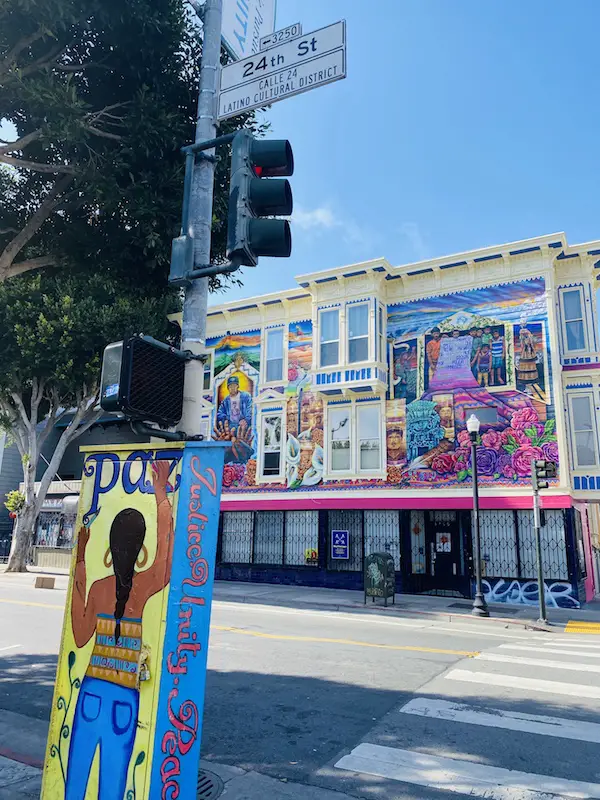 Whether you arrive on foot or by public transit, you will be greeted by a sea of people. Be wary of your surroundings. Although it is generally safe, it is still crucial to be vigilant.
The area around McDonald's and the train station are filled with murals. You're welcome to explore some of them.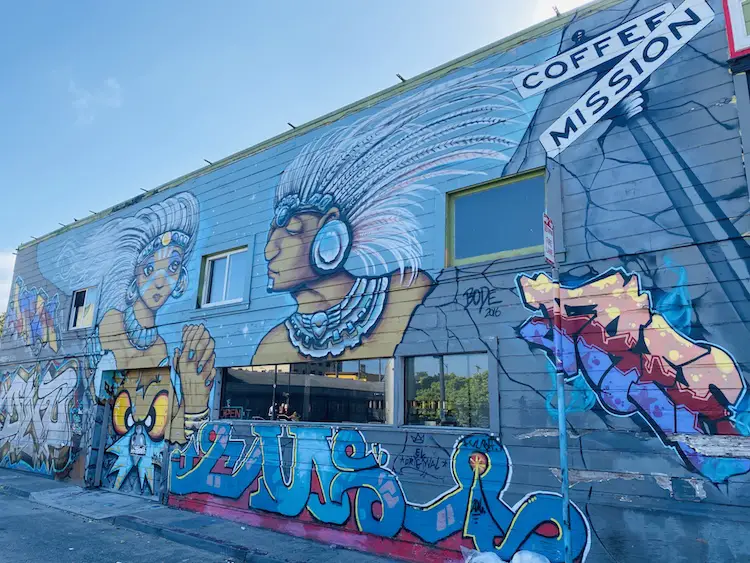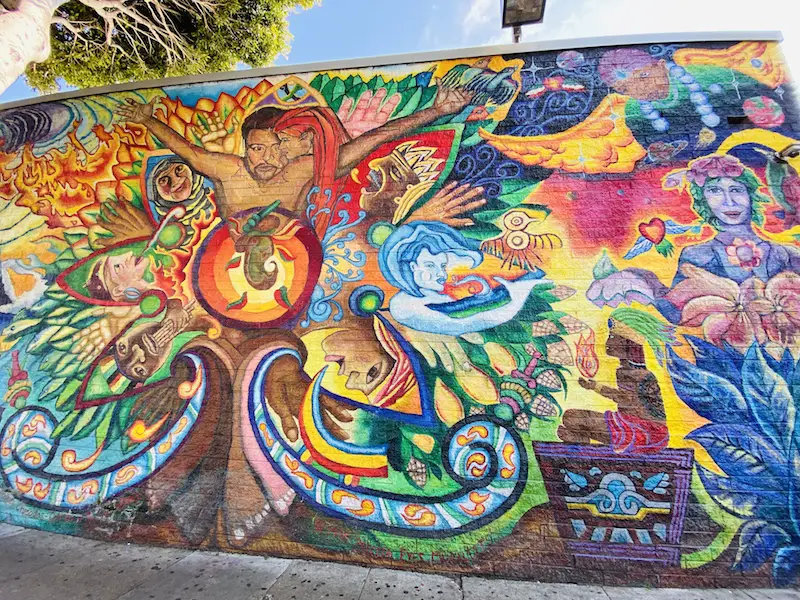 From the corner of 24th Street and Mission, walk down 24th Street on the right side (same side as Mcdonald's mural). Walk towards the next block – Lilac Alley.
---
Worth The Detour
---
Lilac and Cypress Alleys
If you have extra time and are in a group, I would quickly browse the art along these alleys. I visited these streets alone and felt somewhat uncomfortable so please skip if no other tourists are around.
There are a few noteworthy murals here but the turnover is quite fast so the pictures below may have already been replaced when you visit. Graffiti and tagging are also commonplace.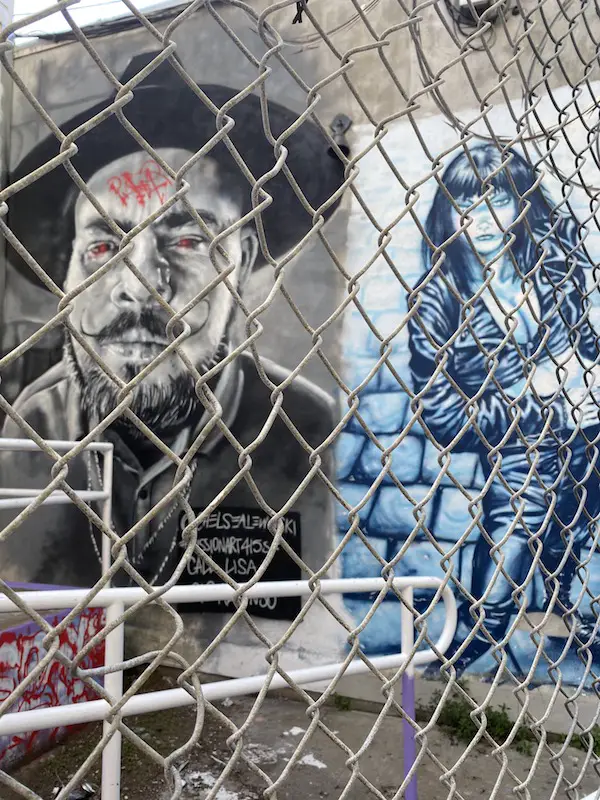 ---
Right across the street between Lilac and Cypress Alleys, there's a stellar mural on the facade of the building at the corner of Mission and Capp Streets.
---
This mural is entitled "Alto Al Fuego en la Mision". The mural pays tribute to the many people of color who died in the hands of the US government.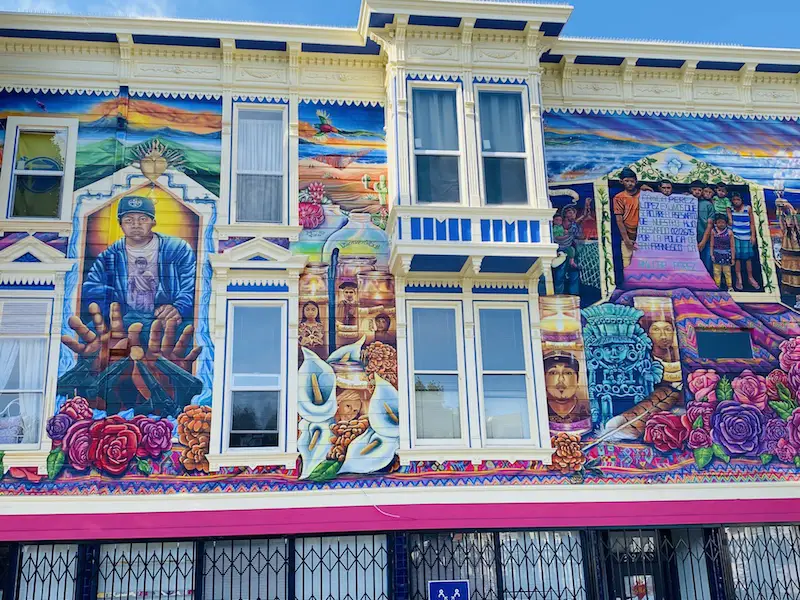 ---
D. Carnaval at 24th Street & South Van Ness Avenue
---
Continue walking down 24th Street, cross South Van Ness Avenue, to our next mural – the Carnaval Mural (also known as the "Golden Dreams of the Mission") located directly above the House of Breaks.
The original mural was painted in 1983 by Daniel Galvez and sought to capture the enthusiasm of SF's first Carnaval event held in 1979.
The recently restored bright hues of the Carnaval Mural reflect the diversity of this once-predominantly Hispanic neighborhood and the costumed performers that annually grace its streets during Carnaval.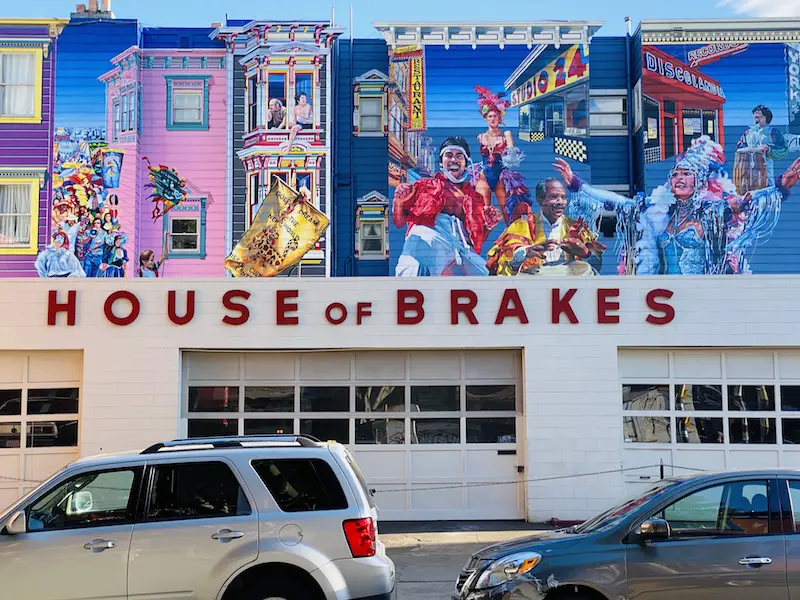 There is also a relatively new mural next to Carnaval titled "La Rumba No Para: The Chata Gutierrez Mural", completed in 2015.
Chata Gutierrez was a Salsa DJ legend and Mission District icon who ruled the airwaves since the 70s. She succumbed to liver cancer in 2013 and this mural is a fitting memorial.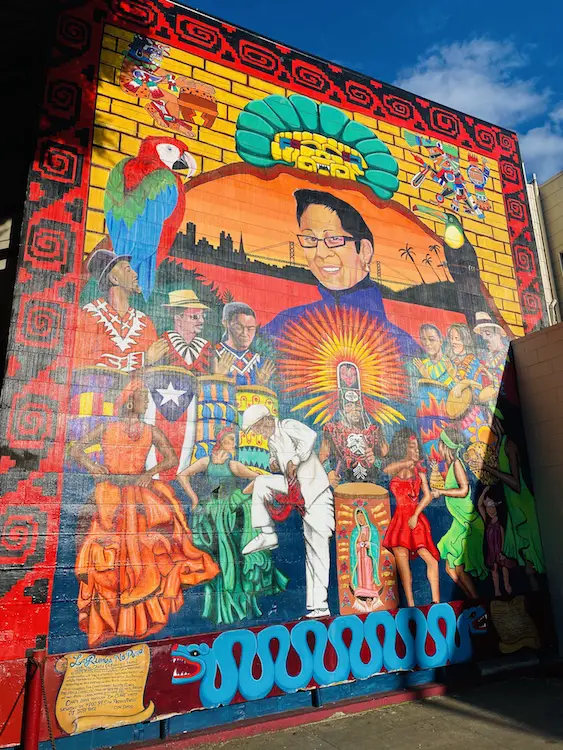 ---
E. Once Upon A Time in the Mission Mural at 24th Street & Shotwell Street
---
On the next block, stop at Shotwell Street for this relatively fresh mural completed in 2017 entitled "Once Upon a Time In the Mission".
This description was taken from the Precita Eyes website. This mural is a response to the pain from the gang violence that has plagued this neighborhood for decades. The Urban Youth Arts program collaborated with local artists who grew up on Shotwell Street to create an uplifting mural that serves as an offering to those who have passed on.
Vintage tourist postcards were used as a template for the mural, which has the legend "Once Upon A Time In the Mission District" spelled out in images inside of its letters.  
The "M" contains "17 Reasons" and "Whiz Burger" signs, a car chase, and a burning building with an eviction notice flying out of the window.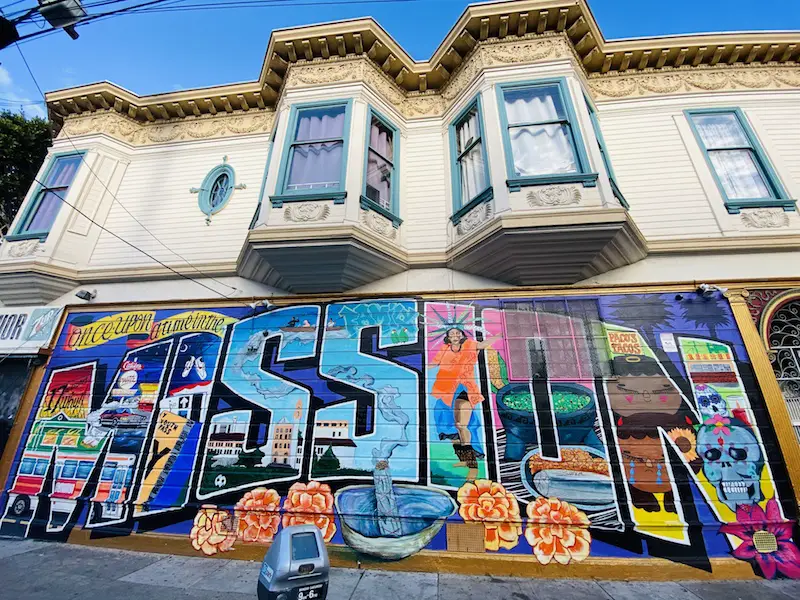 The "I" contains a BART ticket, a Red Trim label, a Youth FastPass and a pair of sneakers. The first and second "S" contain a view of Mission High School as seen from Dolores Park, along with an abalone shell and a stick of burning sage.
Smoke from the sage rises through the "S" and morphs into a scene of modern Ohlone people on a boat. The next "I" contains a dancer. The "O" portrays food. "N" depicts "Laugh Now, Cry Later" through the faces of two girls, Paco's Tacos and sugar skulls.
The word "District" is spelled out on the far side of the wall, where a teen biker is doing a wheelie. The Sun is based on an illustration from an old low-rider magazine.
Lastly, a stereo speaker commemorates the dead with the names of loved ones lost in the neighborhood.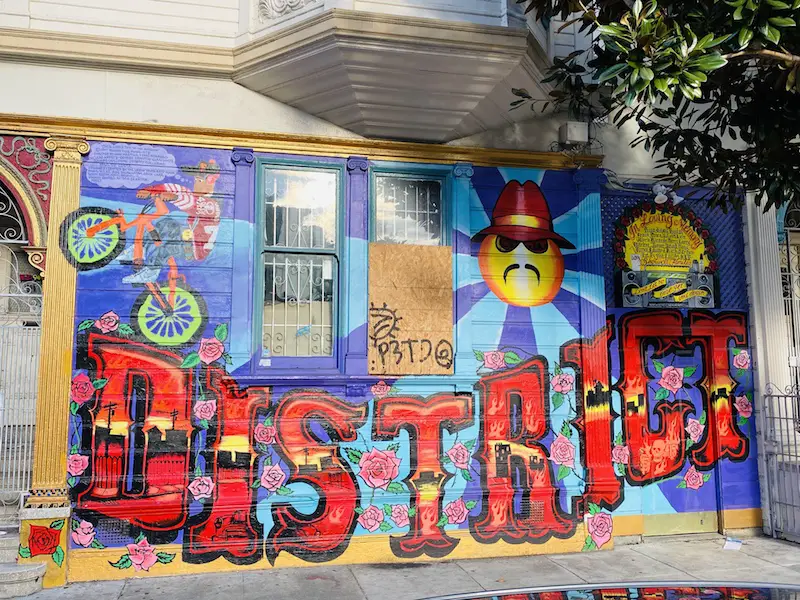 ---
Worth The Stop:
---
The Murals at 24th Street and Folsom
Jump, hop, and skip toward the next block (Folsom Street) and look at the Folsom Street wall of Philz Coffee.
Entitled "Presente: A Tribute to the Mission Community Mural", this mural started in 2015 and was recently restored in 2019 was painted by the Urban Youth Art Project in collaboration with Precita Eyes Muralists.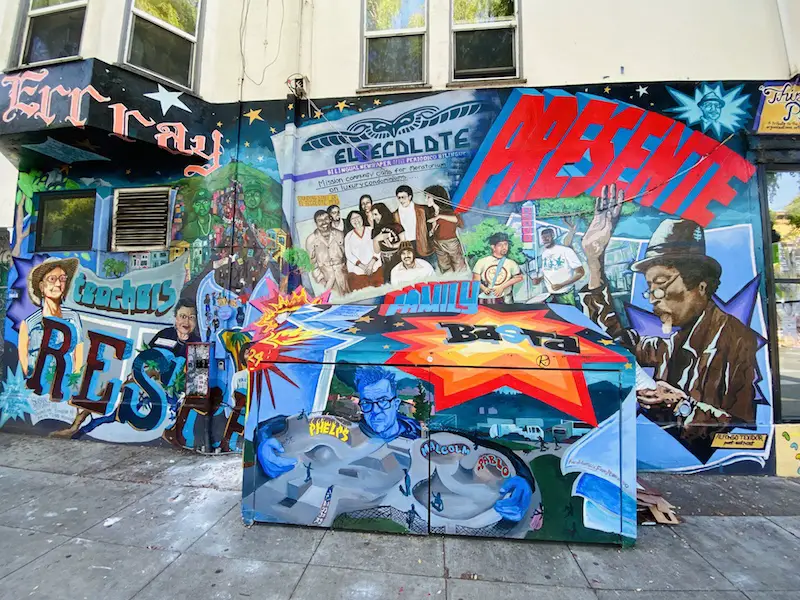 After savoring the art, feel free to swing by this San Francisco institution – Philz Coffee. This branch at the corner of Folsom & 24th Street is their very first cafe. My personal favorite is their Iced Mint Mojito coffee. You can also use the restroom here.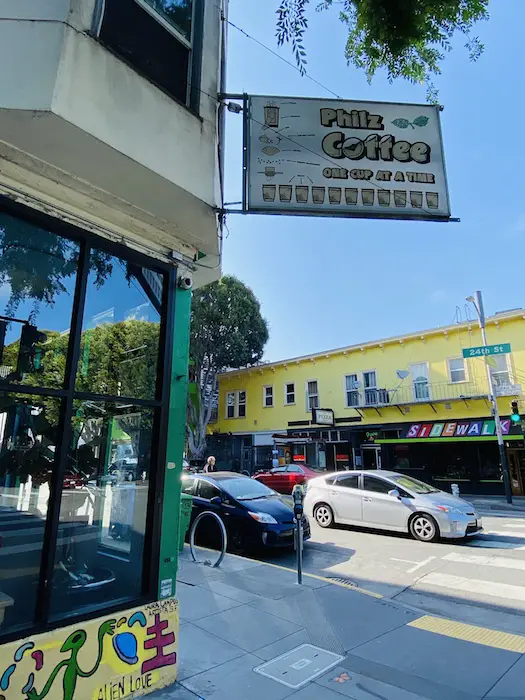 Now that you have your caffeine fix, it's time to plug ahead to our next stop. Kitty-corner to where Philz is is another Carnaval mural. Please cross the street safely.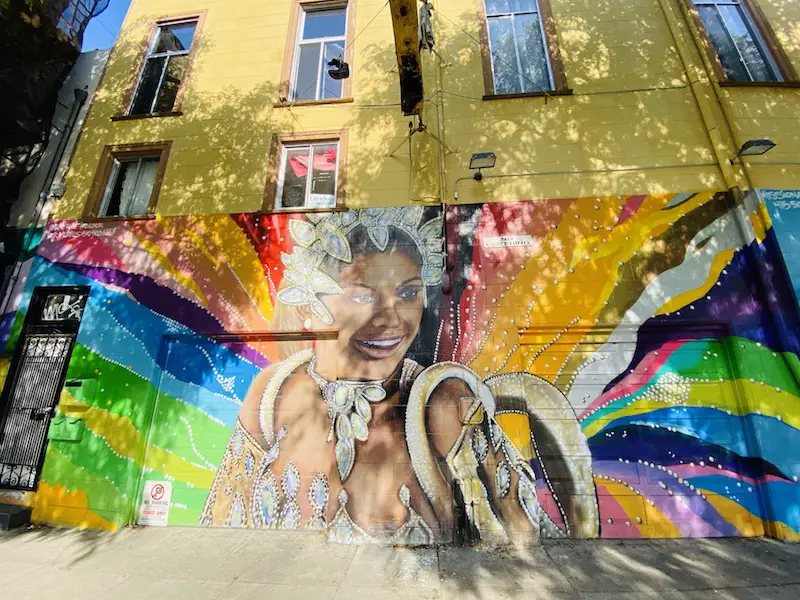 After relishing the festive colors of this mural, let's continue our walk down 24th Street for the breathtaking Balmy Alley. This was where the SF street art movement was born!
---
F. Balmy Alley
---
Started in the mid-80s, Balmy Alley is long considered to be the ultimate street to viscerally experience the most sublime murals in town. 
Located between 24th & 25th streets, this is where you can find some of the most popular and recognizable murals in SF. If you only have time for one stop – this alley should be it.
The first recorded mural in Balmy was completed in 1972 by resident artists in the neighborhood. Throughout the decades, local artists used Balmy as a platform to express their outrage over civil rights injustices and political instability that were rampant across America and the globe during the 80s. 
There's always something new around Balmy so it's best to visit every so often to check out what's fresh in the collection. Fences, garage doors, walls, and facades are intricately adorned by these magnificent murals.
One of the most recognizable murals along Balmy is Naya Bihana or A New Dawn.  London-born artist Martin Travers painted the mural in 2002 in response to the insurmountable ordeal women around the world face.
Other notable murals include the tributes to El Salvadoran Archbishop Oscar Romero who was assassinated by CIA-supported terrorists while he was giving mass in his local church.
If you want to join a private tour, Precita Eyes Murals Arts and Visitor Center, located a block away, runs weekend tours featuring the murals in Balmy as well as other showstoppers along the 24th street corridor. Other Balmy Alley murals are cataloged here.
---
After being awestruck by the art at Balmy, retrace your steps back to 24th Street, make a right, and head towards our next stop, St. Peter's Parish located at the corner of 24th and Florida Streets.
---
Worth The Stop:
---
Precita Eyes Mural Arts Visitor Center
Address: 2981 24th Street, San Francisco
Swing by the visitor center of Precita Eyes, a nonprofit organization responsible for the creation and restoration of the majority of the murals around town. The center has also meticulously cataloged these wonderful public art pieces.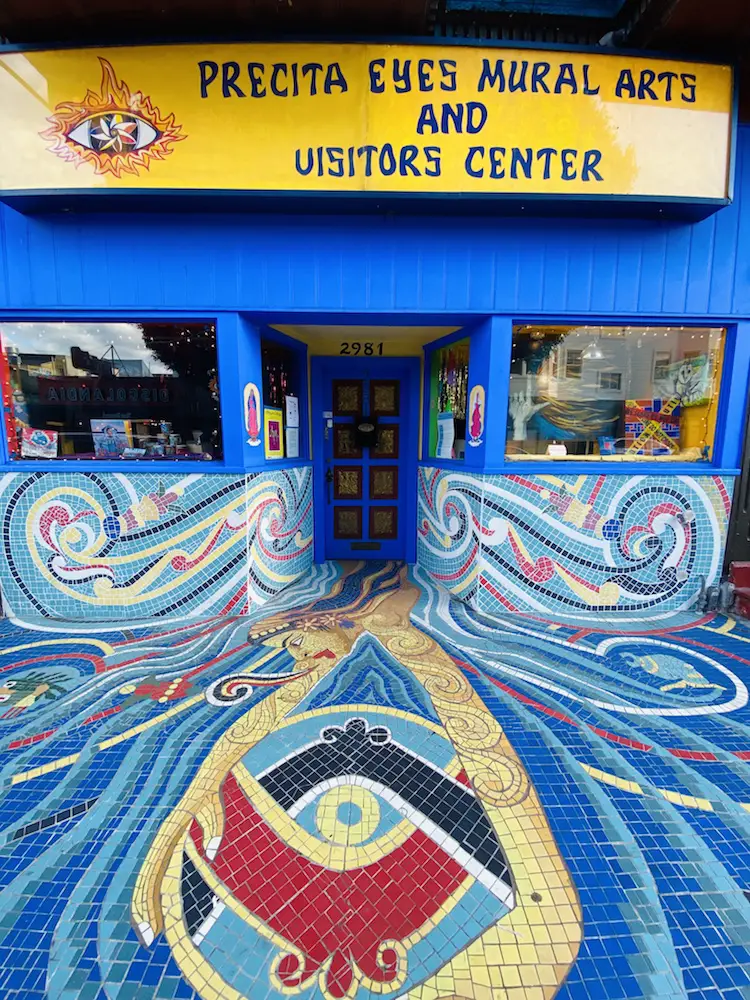 Located about a block away from Balmy, it is a recommended stop if you want to dive deeply into the history of street art in San Francisco. They offer various tours, from cultural, historical, bicycle, walking, bus, groups, and private tours!
If you want to support the muralists and the preservation of the phenomenal art around SF, you are welcome to donate here.
---
The Murals between Alabama and Florida Streets
---
Fanciful murals are stamped on the facades of 2919 and 2929 24th Streets, which are on the way to our next stop. Safely cross the street for the best views.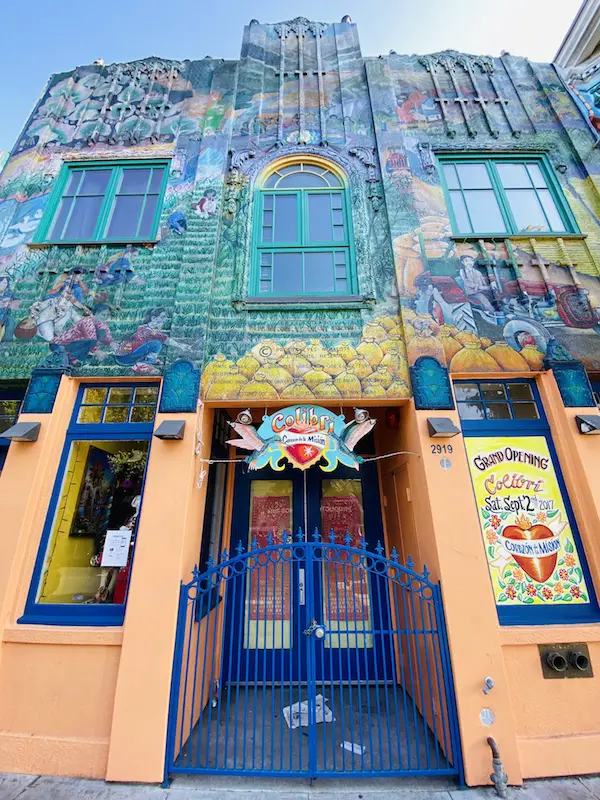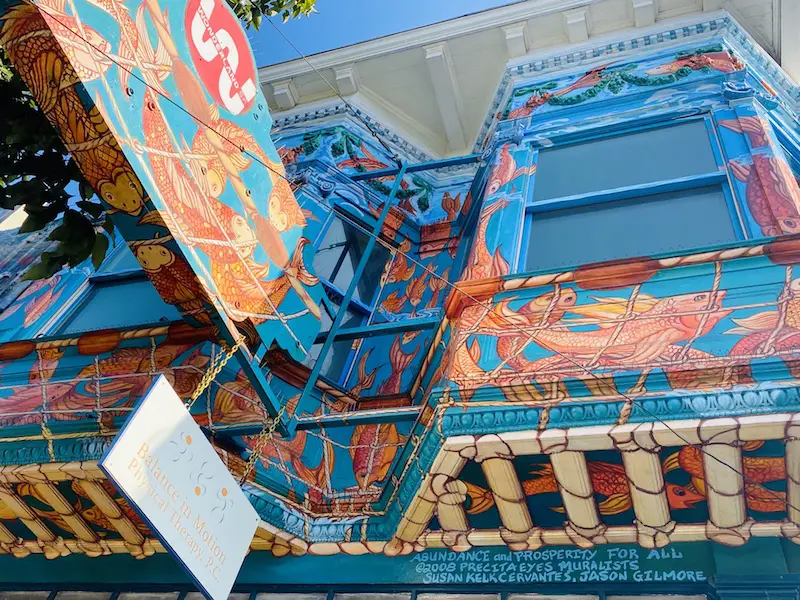 ---
G. 500 Years of Resistance At St. Peter's Church
---
Address: 1200 Florida St, San Francisco, CA 94110 (corner 24th Street)
The outstanding mural painted on St. Peter's Parish is a sight to behold.
500 Años de Resistencia is a larger-than-life public art mural by the Salvadoran master artist Isaias Mata. It was a gift to the vibrant immigrant Latin American community in the Mission District. This mural retells the 500-year history of the indigenous peoples of the Americas and shares the pride of heritage, culture and a message of resistance to violence and dominance.

www.wescover.com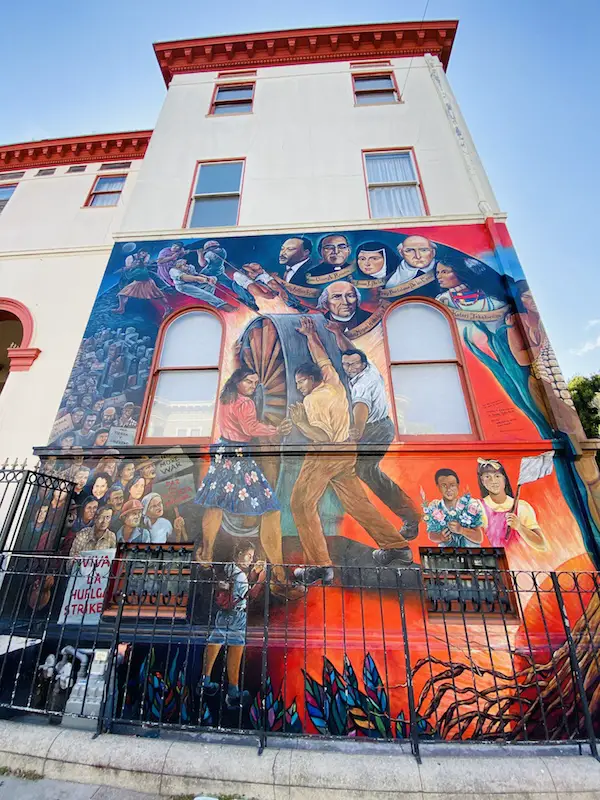 According to Mission Parish's website, this church was established in 1867 to serve a predominantly Irish Community. As the years went by and demographics changed, St. Peter continued to serve to a growing devout community of Latino Catholics.
In 1992, the late Father Jack Isaacs conceived and commissioned the mural, "500 Years of Resistance" in collaboration with resident artist, Isaias Mata. At that time, Father Isaacs was pastor of St. Peters' parish, one of the largest Spanish-speaking immigrant parishes in San Francisco, located in the heart of the Latin Mission district. Father Isaacs believed deeply in the power of art and beauty to heal and to inspire. He especially sought to create a public reference point for young immigrant youth caught in cycles of poverty, anti-immigrant sentiment, and rising gang violence and for the broader community. Father Isaacs and Isaias Mata aimed to depict the Conquest from the perspective of the indigenous and victims of empire, then and now. At the same time, the priest and the muralist sought to celebrate and honor the faith and resilience of the people and their descendants in the face of overwhelming violence. They viewed the mural as a powerful counterpoint to the negative cultural narratives dominating popular culture and as an offering that could spark the imagination and provide alternative reference points of identity and possibility, especially for youth.

www.precitaeyes.org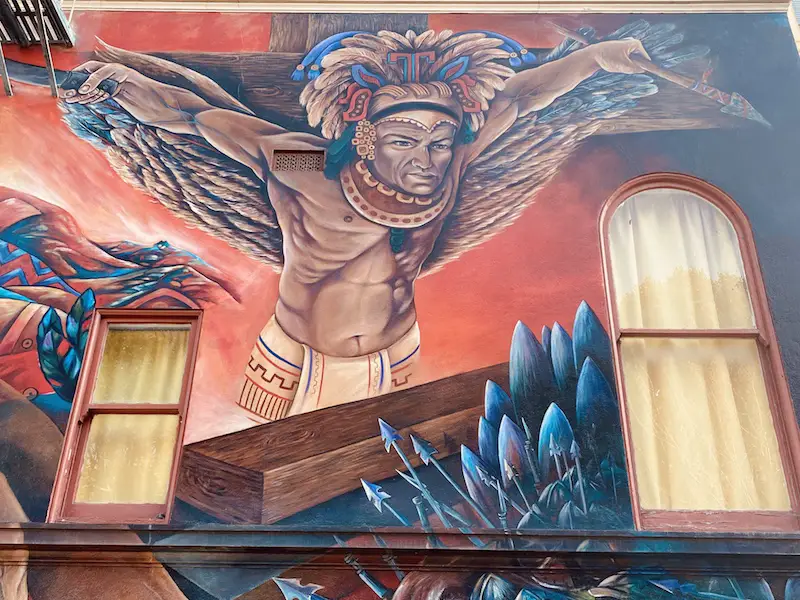 Continue along 24th Street to York Street for an unbelievable artistic tour de force – La Llorona.
---
H. La Llorana's Sacred Waters at 24th Street & York
---
Address: Taqueria San Francisco: 2794 24th Street, San Francisco (located right across historic Brava Theater)
Completed on June 30, 2004, Juana Alicia depicts the insurmountable challenges women face around the world daily with this compelling mural of cascading hues of blue representing water. This mural is one of my personal favorites and should not be skipped.
According to SF Mural Arts, this striking creation takes its title from the much-debated Mexican myth of the woman who allegedly drowned her children and is eternally damned to weep for them forever.
La Llorona weaves the stories of women in Bolivia, India, and at the U.S. Border together. It highlights Bolivians in Cochabamba who have fought to keep Bechtel Corporation from buying the water rights in their country; Indian farm workers in the Narmada Valley protesting in the flooded waters of their homes against their government's irresponsible dam projects; and the women in black protesting the unsolved murders of women in Juarez, in the shadow of the Rio Bravo and the maquiladoras (sweatshops).

Leticia Hernandez
---
Continue the tour by walking down York Street towards 25th Street for our next mural – a homage to Latin Rock! Before you leave this corner though, do not forget to admire the fantastic mural across La Llorona.
---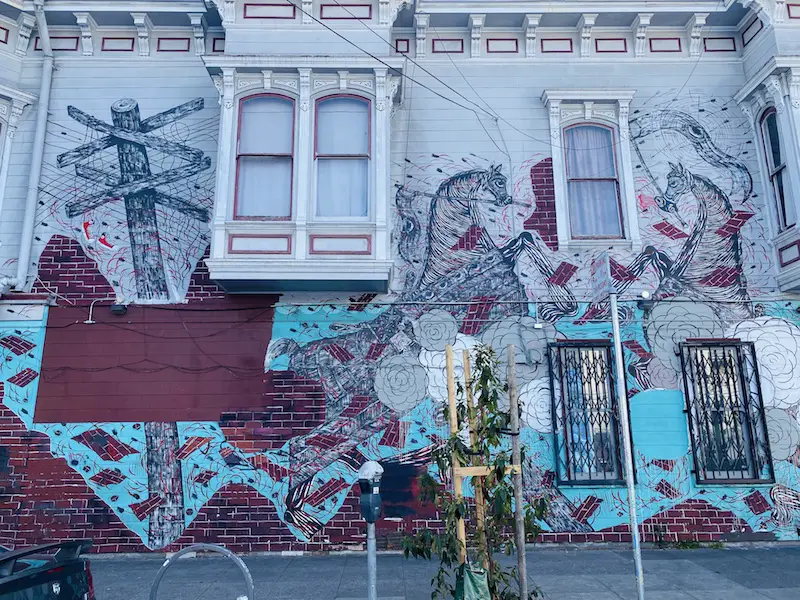 Another worthwhile detour is the 24th Street and York playground. It has murals and mosaics – my favorite combination!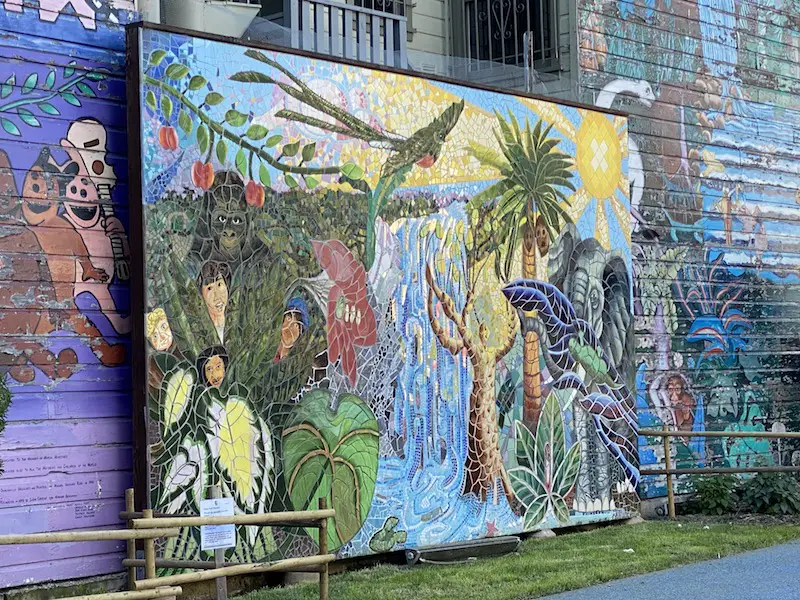 ---
I. Take It From The Top: Latin Rock At 25th Street & York
---
This mural titled "Take It From the Top: Latin Rock" was another project commissioned by Precita Eyes. According to their website, it is a kaleidoscopic tribute to local Latin rock legends, featuring the portraits of some 100 artists who helped define the sounds of the Mission and blazed the trails for others.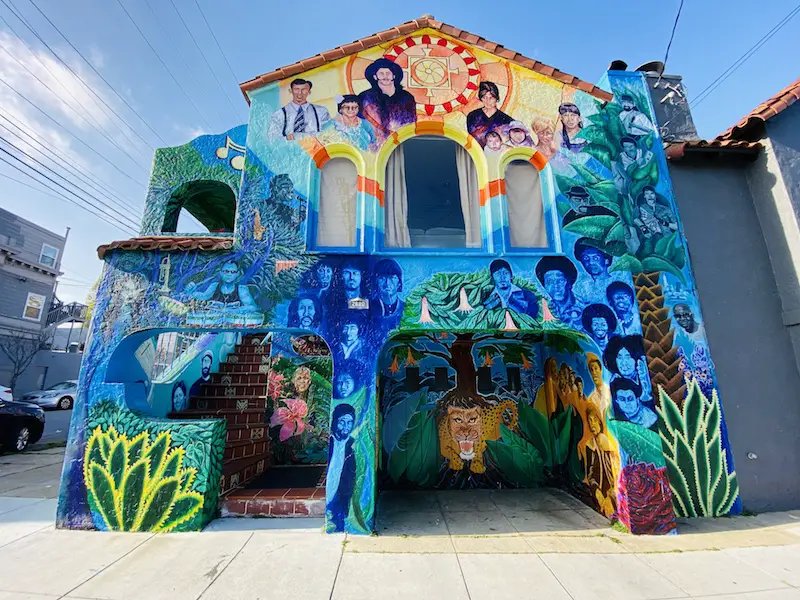 The mural is painted on a house belonging to local musician Richard Segovia. With the help of muralists Max Martila and Fred Alvarado, youths aged 14 to 22 painted the mural as part of Precita Eyes' Urban Youth Arts program.
They used photos and anecdotes provided by Segovia — who is also depicted with his family in the mural — as inspiration.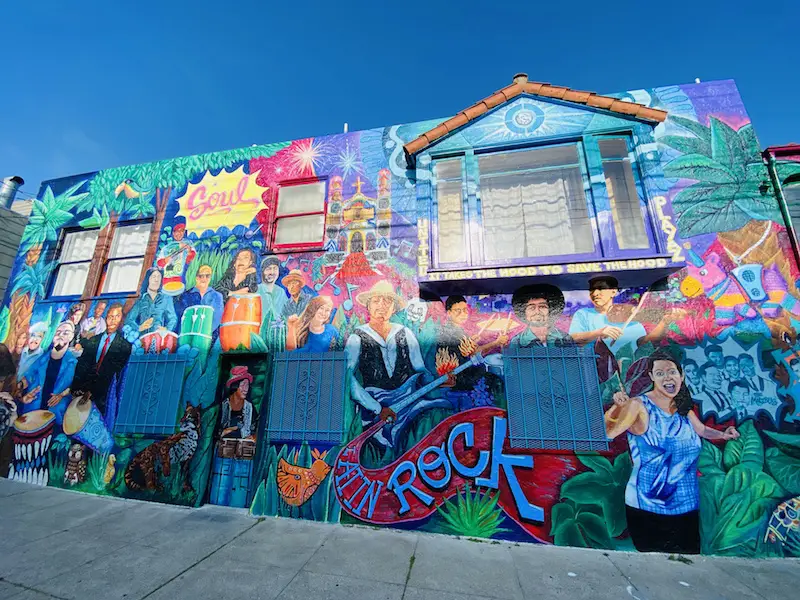 Inside the house is a recording studio where musicians practice as well as teach youth how to play instruments. Every inch of the exterior walls of Segovia's home is covered by this festive tribute to Latin music.
In 2019, Segovia added Carlos Santana and Santana percussionist Karl Perazzo to the mural.
"Latin music was created right here in San Francisco's Mission District and it's up to me to keep our legacy and our music alive."

Richard Segovia
Let's continue our tour by walking along 25th Street towards Hampshire, make a left on Hampshire and walk towards 24th Street. Keep an eye out for the wall of Zheng's Dry Cleaners, the location of our next mural.
---
J. Olivia At 24th Street & Hampshire
---
Address: Zheng's Dry Cleaners at the corner of 24th Street and Hampshire
This enthralling piece of masterclass art, entitled Olivia, can be found on the nondescript wall of this dry cleaning place.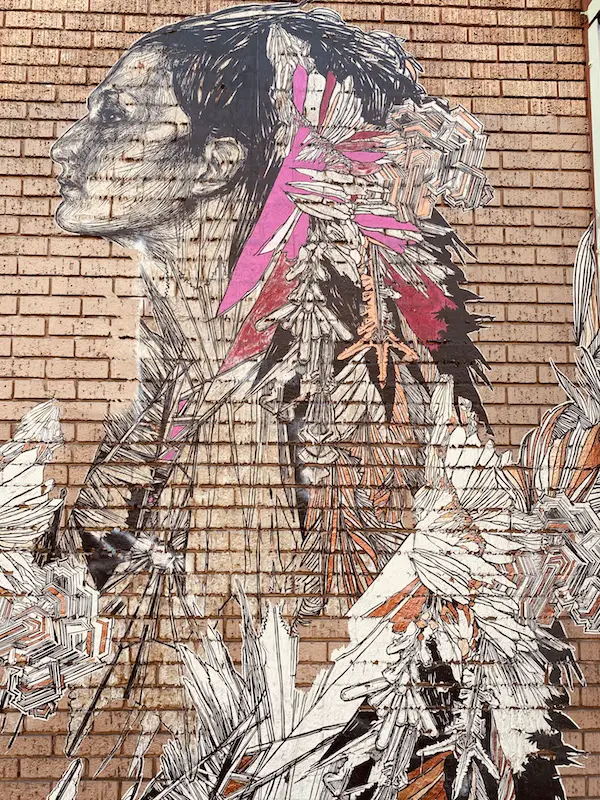 Superbly crafted by Brooklyn-based artist, Swoon, "Olivia" is subdued and riveting at the same time. I suggest checking this one out as Swoon is known to replace her old art with new ones every few years.
Born as Caledonia Curry, Swoon is widely regarded as the first woman to gain large-scale recognition in the male-dominated world of street art.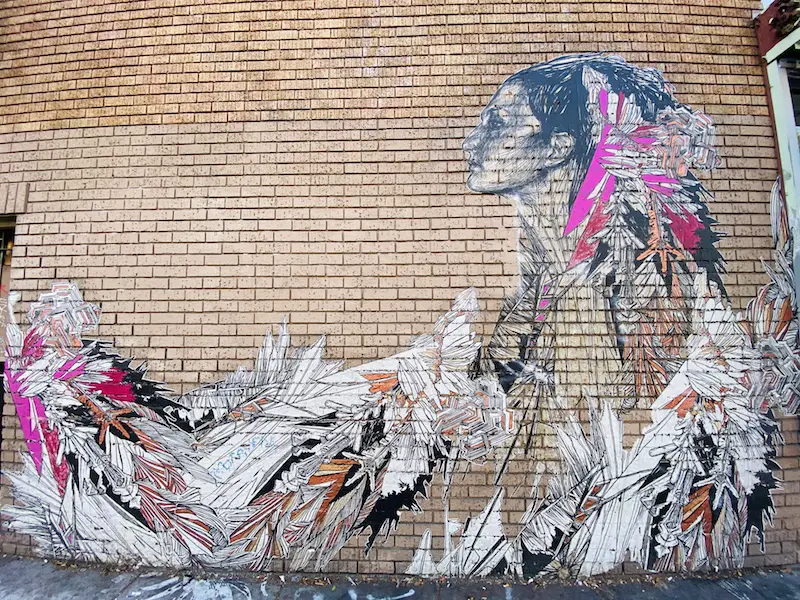 To see more of Swoon's enchanting street art, her favorite works are catalogued here.
Just around the corner from Olivia is a mural dedicated to the life of Claudia Patricia Gomez Gonzalez. She was a 20-year-old indigenous woman from Guatemala who was brutally shot in the head by a border patrol agent in Rio Bravo, Texas, a few minutes after she crossed the U.S. border.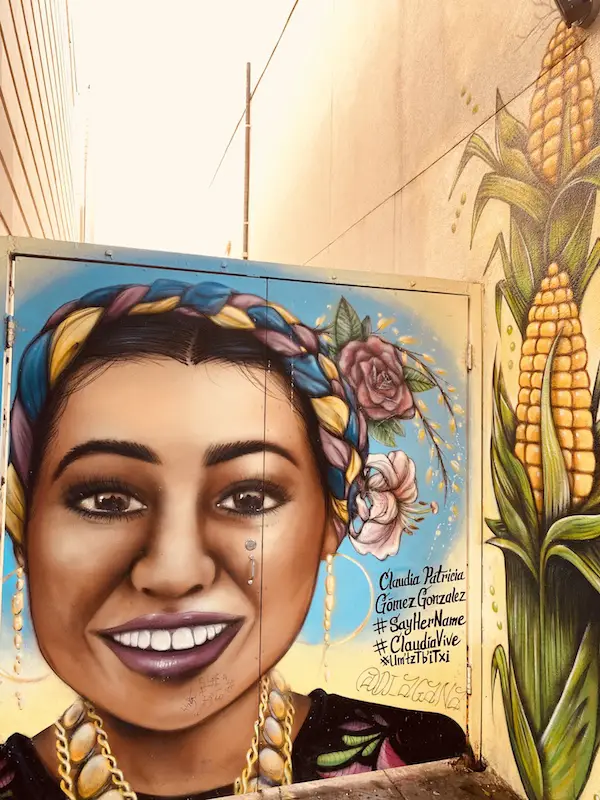 ---
End
---
Congratulations, you've just seen some of the best murals in San Francisco. You have a few options on how to proceed from this point.
a. You can walk back to the 24th Street Mission BART / Metro Station to head back home or to your hotel.
b. You can Uber / Lyft to your next destination. I suggest a hike in nearby Bernal Heights Park for unforgettable views of San Francisco at sunset.
c. You can also grab a bite in the area. I have suggestions on how to search for great restaurants below.
Disclosure: The blog may receive a commission when you use any of the links in this post at no extra cost to you. Thank you so much for supporting the blog! (See our Disclosures below)
Other San Francisco Posts/Tours
Please click the image below to be redirected to all the other blog posts and FREE walking tours in San Francisco.
Where to Stay
San Francisco is expensive, even for locals.
For tourists, I suggest staying outside of the city or staying in a hostel to save some cash.
I also use hostelworld.com every so often, particularly when hotels are insanely expensive or when I'm traveling solo. This gives me the opportunity to meet other travelers and join cheap tours that are frequently offered by these budget-friendly accommodations.
Where to Eat
I use google maps to search for well-reviewed restaurants in the area.
Go to the app and type in "restaurant" or click the "restaurant" icon.
You can also be more specific by indicating the type of cuisine you want to try out.
Aside from providing reviews as measured by the number of stars, the app also shows how expensive the restaurants are.
The fewer the $ signs, the cheaper it is.
The strategy is to choose the restaurant with the most stars and the fewest $ signs. Guaranteed best bang for your buck.
With that said, the Mission District has notable Michelin-starred restaurants that require advanced reservations. Be mindful though as the tab can certainly break the bank.
Travel Insurance
DO NOT TRAVEL WITHOUT TRAVEL INSURANCE!
Guides
Here are some of my recommended guides for San Francisco. Click the image to be read more information about these books.
How to FLY to San Francisco for almost FREE
All of my trips the past decade had been ALMOST FREE via travel miles and points.
In fact, I've visited a total of 85 countries using miles and points. I accumulate these points from credit card rewards and bonuses. Some of these credit cards are featured here.
Thank you for reading. Please let me know what you think of this tour. If you like to connect with me, below are my social media handles. Safe (frugal) travels!
EDITORIAL DISCLOSURE – Opinions expressed here are the author's alone, not those of any bank, credit card issuer, hotel, airline, or other entity. The content has not been reviewed, approved or otherwise endorsed by any of the entities included within the post.