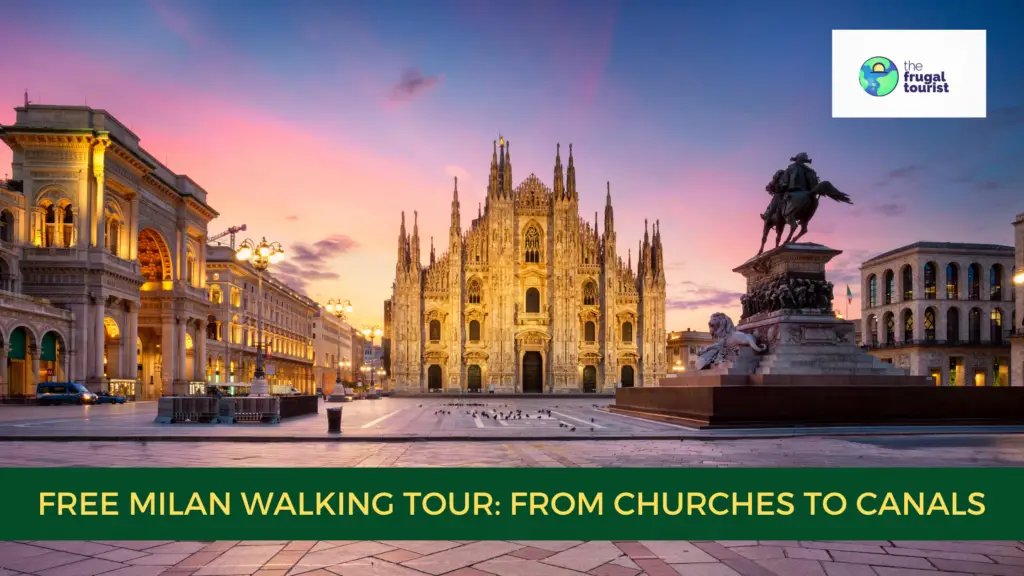 ADVERTISER DISCLOSURE: The Frugal Tourist is part of an affiliate sales network and receives compensation for sending traffic to partner sites, such as MileValue.com This compensation may impact how and where links appear on this site. This site does not include all financial companies or all available financial offers. Terms apply to American Express benefits and offers. Enrollment may be required for select American Express benefits and offers. Visit americanexpress.com to learn more. Additionally, the content on this page is accurate as of the posting date; however, some of the offers mentioned may have expired.
Milan, Italy's second-largest city and the capital of Lombardy, is a stunningly captivating city with an incredible historical and cultural heritage.
From its exquisite architecture to the vibrant art, fashion, and history that fill every corner of this exciting destination, it's no wonder why travelers worldwide flock here!
Milan has something for everyone. Let's explore this bustling metropolis together and discover what makes this beautiful city so alluring!
---
Free Self-Guided Walking Tour
---
The goal of this self-guided walking tour is to walk you through the highlights of Milan without breaking the bank.
This walk will also give your body the cardio exercise it needs while traveling.
This itinerary will take you to the city's most iconic landmarks, including grand churches, beautiful piazzas, and charming canals.
And along the way, I'll share some tips on how to make the most of your time in Milan.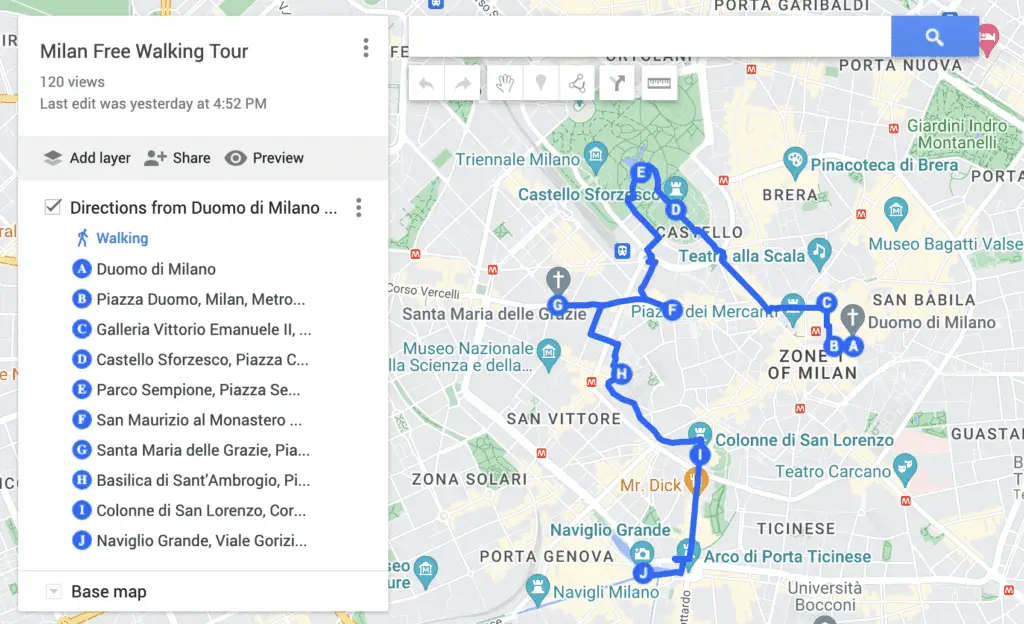 So whether you're a first-time visitor or a seasoned traveler, enjoy as you explore Milan on foot!
With this free tour, I hope you see Milan's best sites while learning about its history and culture.
So put on your walking shoes, and let's get started!
Heads Up: The Duomo Terrace Climb and Da Vinci's Last Supper are the only attractions requiring fees. Both are highly recommended and worth the cost.
---
Free Walking Tour Map
---
Total Distance: 4 miles
Total Length of Time: 1 hour and 8 minutes without stops & 5-8 hours with stops
Download this free map and save it on your phone before embarking on this walking tour. You can also easily share it with anyone.
You should also time your arrival at the Navigli Canal District around sunset, just in time for the customary aperitivo.
---
A. Start at the Duomo
---
Let's start this tour at the center of Milan- the Duomo.
This majestic structure, built in the early 15th century, is considered to be one of the most iconic buildings in the city and an essential must-see for anyone visiting Milan.
Its impressive size and ornate spires make it instantly recognizable and something you'll never forget.
On top of that, its intricately carved statues and breathtaking interior will surely keep anyone fascinated for hours.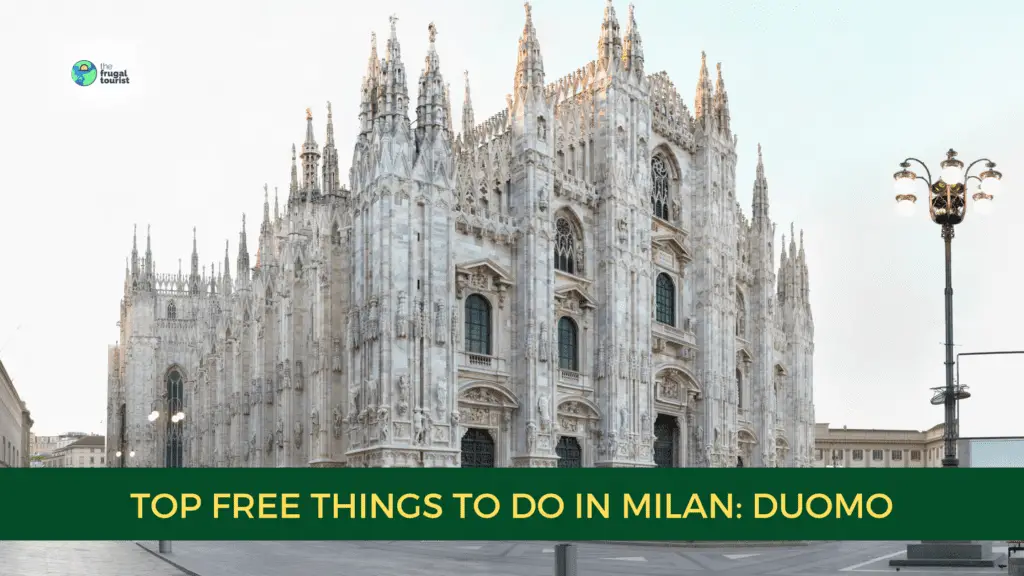 The Duomo's exterior is free to explore, so walk around it at least once.
Make sure to visit during the day and evening to see its impressive facade.
No matter what time of year you plan to visit Milan, make sure you take a few hours out of your trip to experience the Duomo di Milano for yourself.
Whether in the summer heat or beneath a dusting of snow, the Duomo di Milano should never be missed!
---
Bucket List: Duomo Terrace Climb
---
Plan to visit the terrace of the Duomo di Milano, which offers stunning 360-degree views of Milan. It's a travel bucket list item that I highly recommend.
Tourists can either take the stairs or a lift to the top. Since the terraces are incredibly popular, I suggest you book your tickets in advance to avoid wasting time queuing up.
From the top, you can admire the beauty and grandeur of this impressive building and soak in some breathtaking views of the city.
You might even see the Alps from neighboring Switzerland on a clear day.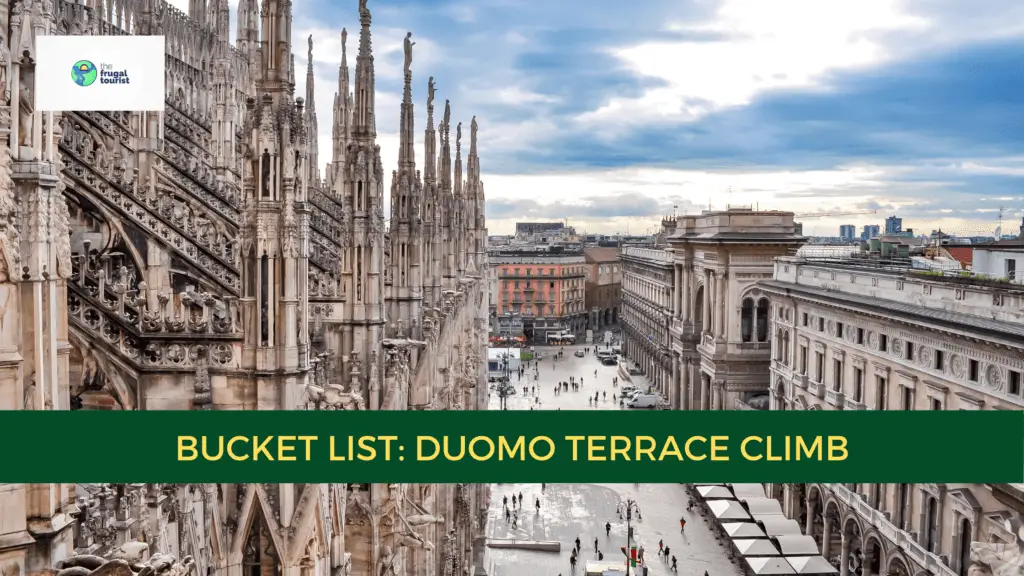 When you reserve your tickets, make sure to add access to the Duomo's interior, as it is equally spectacular and a must-visit.
For more information on visiting the Duomo di Milano and its impressive terrace, check out their official website.
It has all the essential information you'll need to make the most of your trip, from opening times and pricing to special events and guided tours.
---
Bucket List: Duomo Interior
---
The Milan Duomo is a stunning example of Gothic architecture, with an interior that is simply brilliant.
With its enigmatic stained glass windows and intricate marble pillars and sculptures, the Duomo's interior will surely take your breath away.
There are over 3,500 statues inside the church as well as various paintings and other artwork from Italy's Renaissance period, adding an extra grandeur to this already impressive structure.
Seeing the Duomo's striking beauty up close will give you a unique perspective on Italian history and art that can only be experienced by being there—making it something worthy of any traveler's bucket list!
DO NOT MISS: Marco d'Agrate's sculpture of "St. Bartholomew skinned" masterfully captures the details of human anatomy and musculature.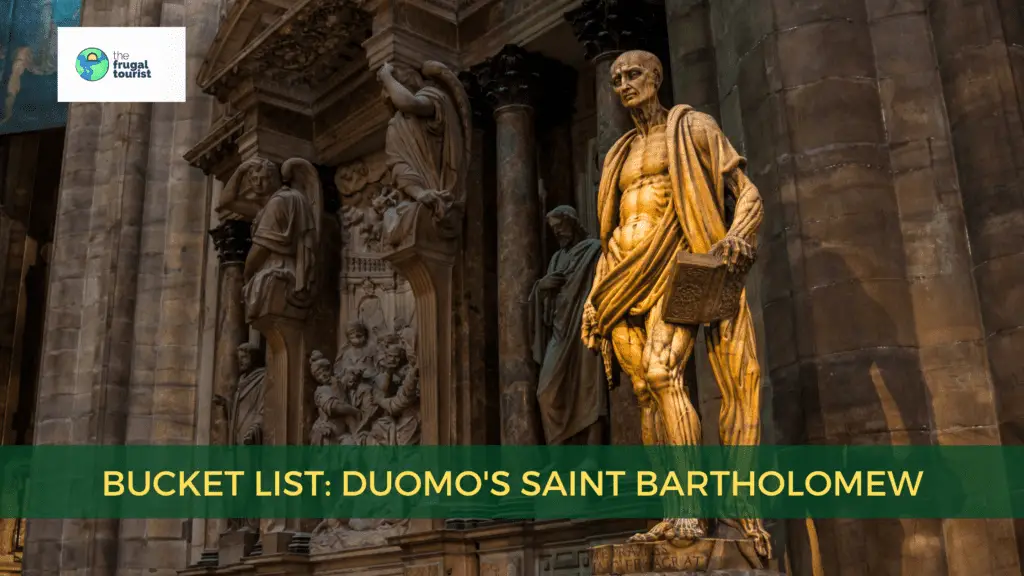 ---
B. Piazza Del Duomo
---
Undoubtedly, Piazza De Duomo is the best spot in Milan to people-watch.
As one of Europe's largest and busiest squares, it's packed with locals, tourists, street performers, vendors, and pickpockets.
Enjoy the scene but be wary of any distracting events – that's a known pickpocket tactic.
At the heart of this beautiful piazza rests a magnificent equestrian statue dedicated to King Vittorio Emanuele II, the first ruler of Italy.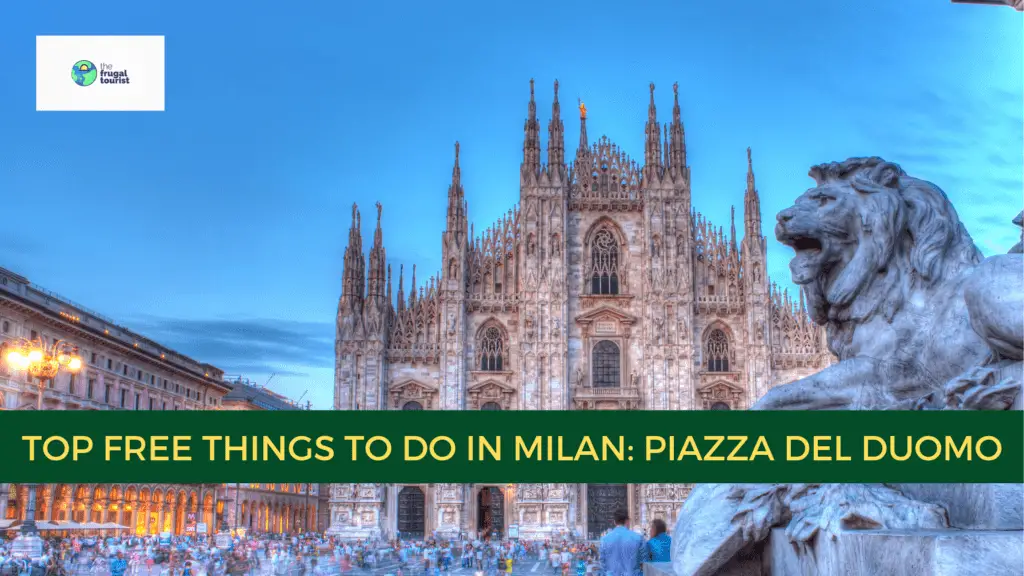 On any given day, you can find various activities at the piazza: from live music performances to acrobatic displays to the occasional political protest.
Aside from people-watching, this vast piazza offers a beautiful backdrop for any occasion: from leisurely strolls through the square to romantic dinners overlooking the Duomo Cathedral and its exquisite architecture.
Whether you're looking for entertainment or want to take in the sights, Piazza De Duomo is an ideal spot to spend a few minutes or hours in Milan.
Most importantly, it is free and open 24/7.
---
C. Galleria Vittorio Emanuele II
---
After marveling at the spectacular Milan Duomo, make a beeline for the gorgeous Galleria Vittorio Emanuele II, a few meters away.
This elegant glass-roofed shopping mall designed by architect Giuseppe Mengoni with beautiful terracotta and marble mosaics on the floor is not only one of the oldest shopping malls in the world but also a stunning work of architecture.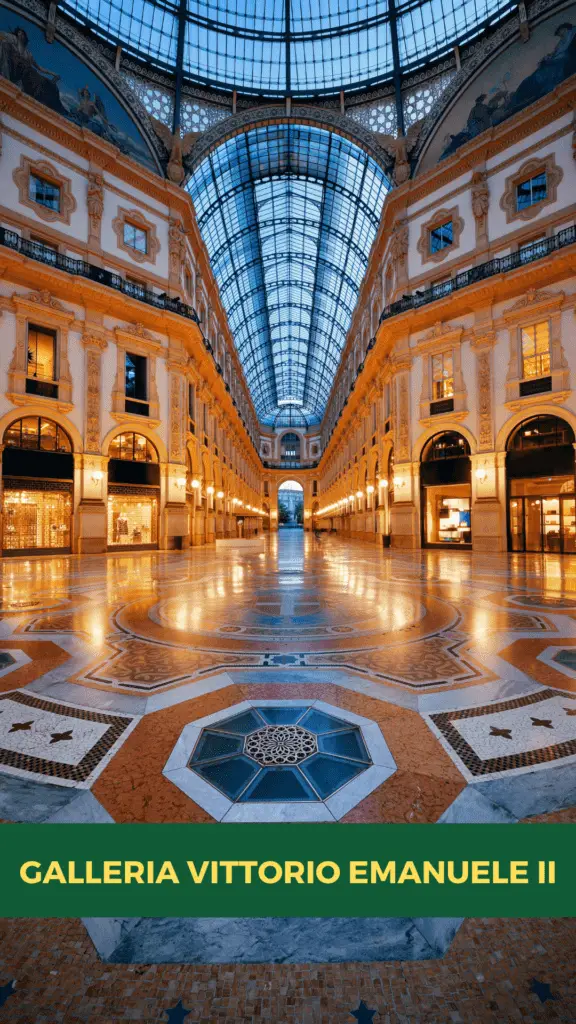 Constructed between 1865 and 1877, this Galleria is Italy's oldest active shopping mall. This magnificent structure radiates beauty while also exhibiting functional design.
Visitors can explore an array of luxury stores, books, artworks, restaurants, cafés, bars, and even a Hyatt hotel!
Tourists are drawn to this destination by the thousands every year. It is indeed one of Milano's unmissable highlights.
---
The Legend of the Lucky Bull
---
Once at the center of Galleria Vittorio Emanuele II, search for tourists happily spinning around while stepping on a bull's balls (see image below).
This tradition is so popular among tourists, so let me briefly explain its significance in case you are curious.
While no one knows how this superstition started, many people believe that stepping on the bull's balls (testicles) and spinning around three times on your right heel is said to bring good fortune.
Unfortunately, this practice has caused some wear and tear, resulting in a hole where people have been spinning their heels daily.
---
D. Castello Sforzesco Through Via Dante
---
From Vittorio Emanuele II or Piazza Del Duomo, head down to pedestrianized Via Dante for a casual stroll along one of Milan's most famous shopping streets.
Follow Via Dante until you get a glimpse of Milan's striking castle.
Built in the 15th century by Francesco Sforza, Duke of Milan, Castello Sforzesco is one of the largest citadels in Europe.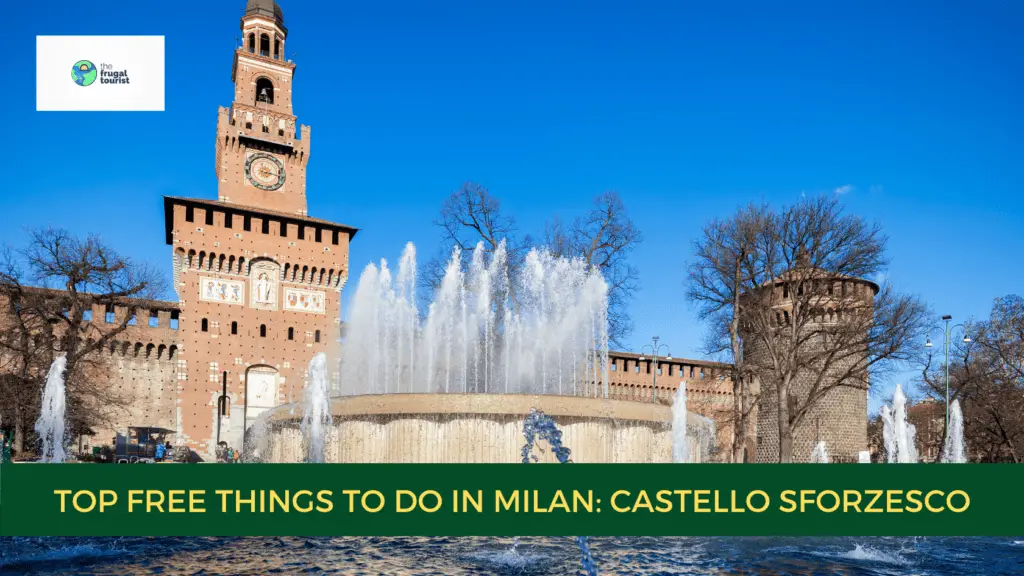 The castle has undergone numerous renovations over the centuries and houses several museums, art galleries, and cultural institutions today. It also serves as a venue for concerts.
While it is not free to enter the museums inside the castle, it is free to roam around the atmospheric castle complex.
Visitors who wish to check out the museum should prioritize seeing Michelangelo's last unfinished work- the Pieta.
A visit to Castello Sforzesco will be an enriching experience for any visitor looking to learn more about Milan's history.
---
E. Parco Sempione
---
Milan is a beautiful city with fantastic sights, shops, and restaurants.
However, sometimes it's just nice to relax and not do anything, even briefly. One of the best places to do this is in one of Milan's amazing parks.
Parco Sempione, located conveniently next to Castello Sforzesco, offers a peaceful escape from the hustle and bustle of the city.
The park has lush green lawns perfect for picnics or just lounging around. You can also stroll around the park's artificial lake with extra time.
You may spot ducks quacking around while admiring some of Milan's most iconic landmarks, such as Arco della Pace, in the background.
---
F. San Maurizio al Monastero Maggiore ("The Sistine Chapel of Milan")
---
From Parco Sempione, follow the tour map to our next stop – San Maurizio al Monastero Maggiore.
San Maurizio is considered by many to be the Sistine Chapel of Lombardy, the region where Milan is located.
Before you head out here, though, make sure to time it when the church is open to visitors. Check Google for opening hours.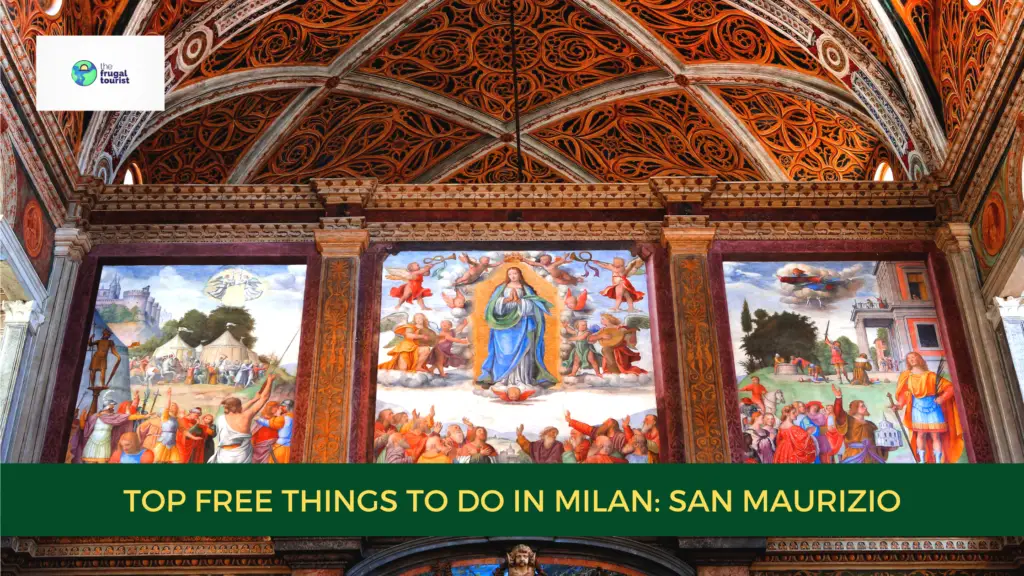 Although the exterior of this church in Milan may not look grandiose, it pales in comparison to what lies within.
Entering through its doors is an awe-inspiring experience that exceeds even the magnificence of the famed Duomo.
You won't believe your eyes when you step inside. Every inch of this breathtaking church has been masterfully crafted with attention to detail that will amaze anyone.
Given its stunning masterpieces, I am still surprised why this church gets very few visitors.
San Maurizio used to be a women's convent. It was divided into two separate parts – one for nuns and another for worshippers.
This strict partition did not vanish until the late eighteenth century. Now, anyone can enter the "Hall of the Nuns" behind the altar – it is breathtakingly splendid and a must-see.
The interior of the church is decorated with frescoes painted by Bernardino Luini and his colleagues between 1513 and 1529. These frescoes depict scenes from the life of Saint Maurice, including his martyrdom in Thebes and his subsequent canonization. Other works include images of saints, prophets, angels, and cherubs. The monastery is also home to a notable collection of paintings by artists such as Raffaello Sanzio and Andrea Mantegna.
---
G. Santa Maria Delle Grazie for Da Vinci's Last Supper
---
From one artistic masterpiece to another Renaissance tour de force, let's continue to our next stop – a church that houses one of Da Vinci's stellar creations.
Located in Santa Maria delle Grazie, the Last Supper is an iconic artwork that has stood the test of time and had a major impact on art and culture.
The painting is considered one of Leonardo da Vinci's masterpieces, symbolizing his innovative style and technique.
In addition to its artistic significance, the painting has great religious importance as it illustrates the traditional biblical story of Jesus' "Last Supper" with his 12 apostles.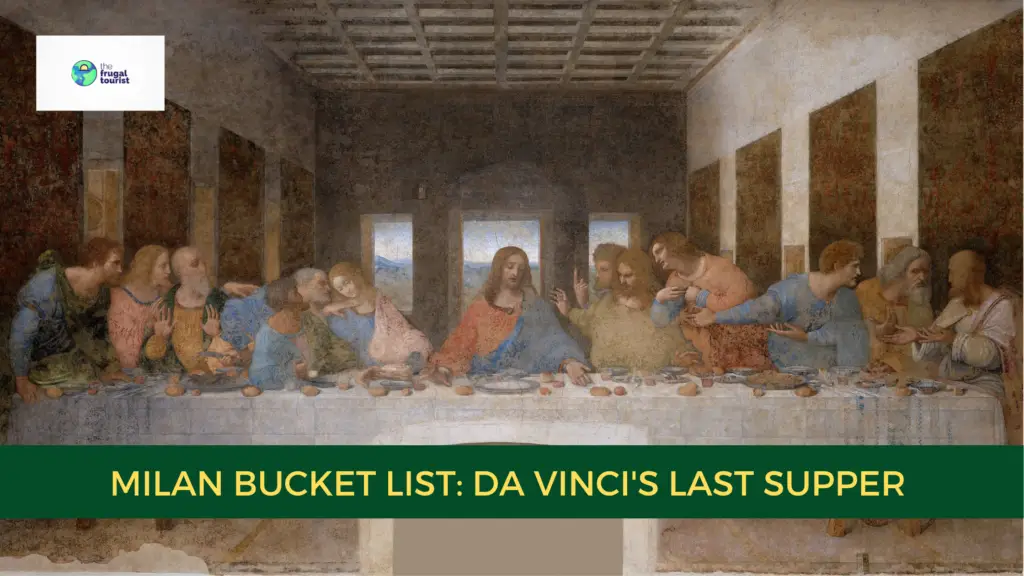 Overall, The Last Supper will surely be a memorable experience for any traveler, but only if you can find tickets.
Tickets get sold out fast, so book about 3 months out. Book early or in the late afternoon to add this stop to this walking tour.
Unable to find tickets? You can book a guided tour.
---
H. Basilica Di Sant'Ambrogio
---
Milan is renowned for its host of world-class churches. Basilica di Sant'Ambrogio is high on that list, which is why it is one of the most important stops on this walking tour.
This historic church dates back to 379 AD. It features incredible works of art, including a twelfth-century fresco depicting the life and death of St. Ambrose, as well as an altar made of marble and decorated with gold. There is also a crypt with the tombs of several archbishops.
Whether you're looking for spiritual enlightenment or just appreciate grand architecture, Basilica di Sant'Ambrogio will not disappoint.
Check Google for opening hours before you head out there.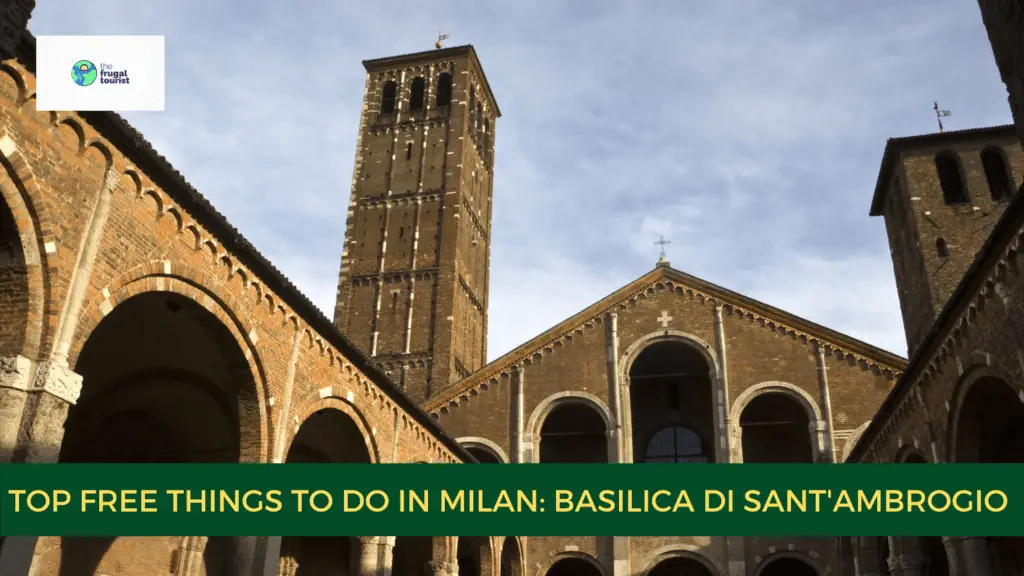 ---
I. Columns of San Lorenzo (Colonne Di San Lorenzo)
---
From Basilica Di Sant'Ambrogio, refer to the map to find our next stop – The Columns of San Lorenzo.
Located in the city's central square, Piazza San Lorenzo, the columns stand 22 meters tall and have become one of the iconic symbols of Milano.
Originally built in the 12th century as part of a Romanesque church, the columns have remained largely unchanged.
The Columns of San Lorenzo have served as a backdrop to some of Milan's most important historical events, such as Napoleon's 1805 coronation ceremony. They also served as a stage for performances by some of the city's most famous musicians.
At the end of the columns is Porta Ticinese Medievale, one of the 12th-century wall gates to Milan.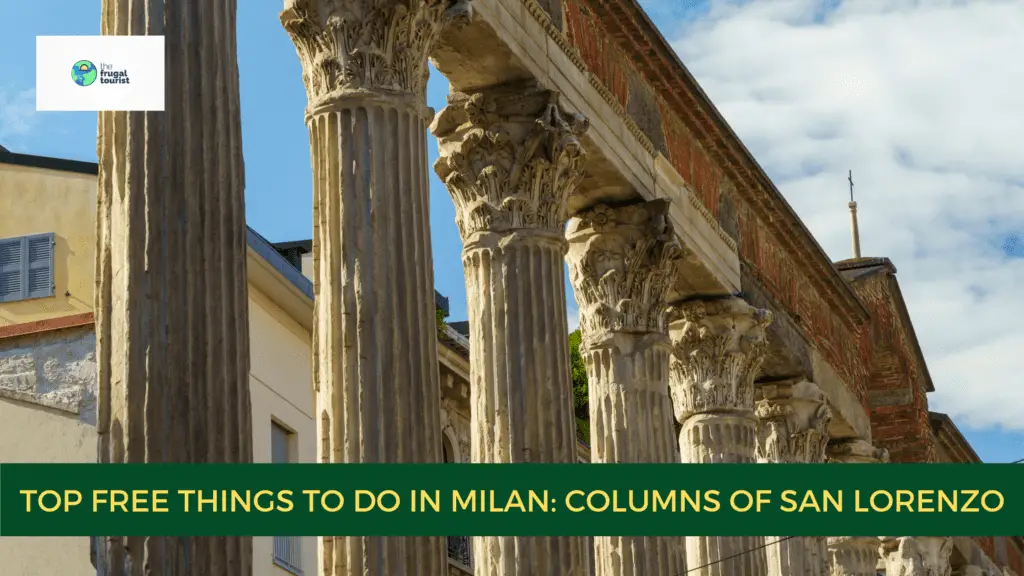 ---
J. Navigli Canal District
---
From the Columns of San Lorenzo, you walk down one of Milan's funkiest streets – Corso Di Porta Ticinese.
Follow this hip street until you reach the end of the road, where a neoclassical columned gate – Arco di Porta Ticinese – greets you.
This is a busy intersection, so please be careful. Turn west towards the canals and walk until you reach the Navigli Canal District.
This vibrant area has something for everyone, from the captivating canals and picturesque bridges to countless restaurants and bars bustling with activity during nighttime.
As if that weren't enough, you'll have the chance to witness one of Milan's most stunning sunsets. No wonder this is one of the top free things to do in Milano!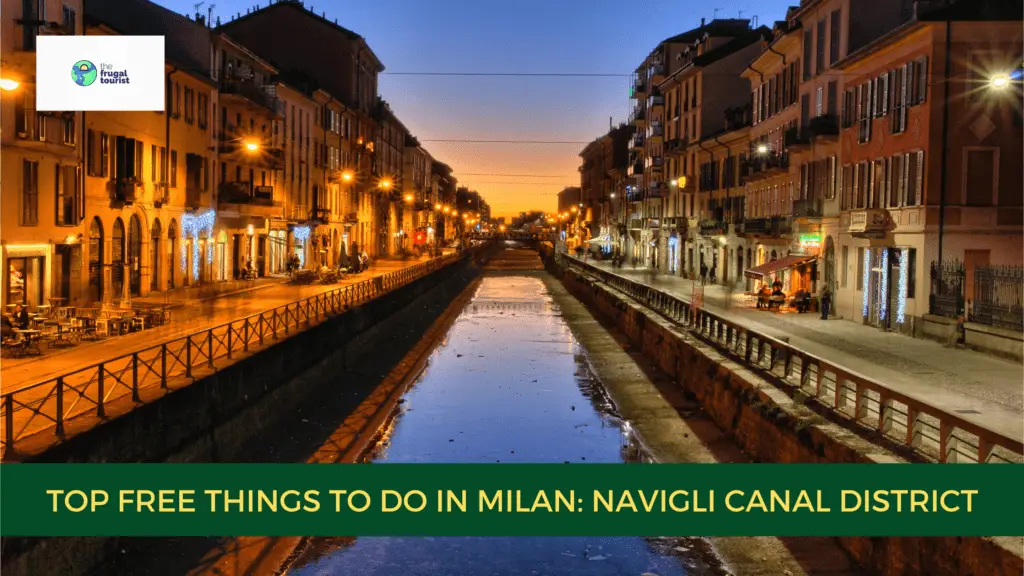 ---
Get Free Appetizers
---
Contrary to popular belief, a free lunch can be yours in Milan – here in Navigli.
Navigli is the go-to spot for its gorgeous canals and chic bars. The local specialty here? Aperitivo – an alcoholic beverage consumed before dinner that comes with complimentary food!
All you have to do is buy any drink around sunset at one of the nearby establishments (look inside for a buffet table if it's your first time). And voila!
You don't just get what you paid for; you'll also enjoy all-you-can-eat treats without breaking the bank.
Savor your beverage as you nibble away for free while watching the sunset or people-watching.
.
---
Don't Forget: Sample Milan's Delicious Food – From Pizza to Gelato
---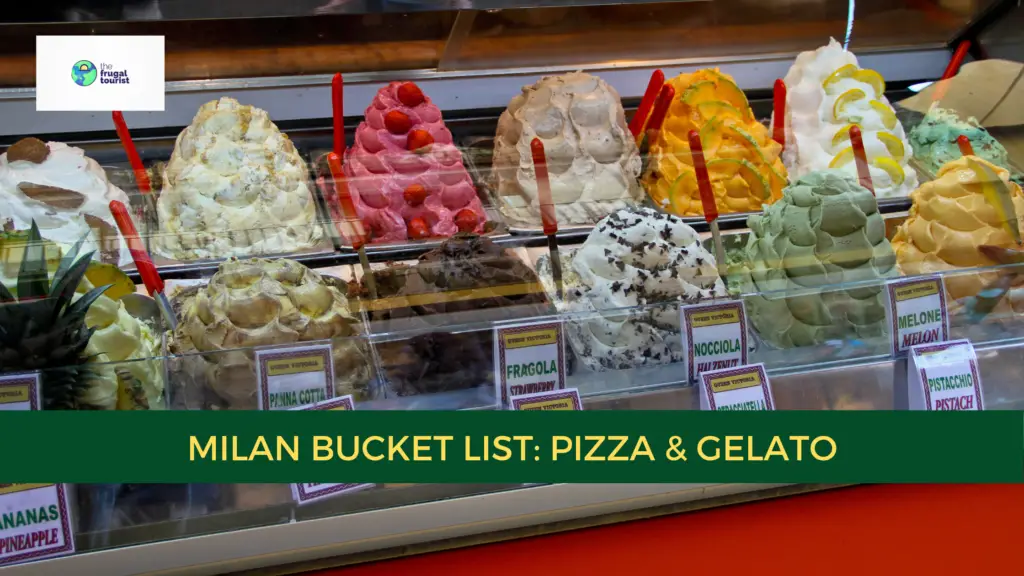 When planning a trip to Milan, make some room in your schedule & belly for some of its popular delicacies.
From legendary Italian pizza and pasta dishes to freshly-made gelato, there's something to please even the most discerning palate.
Don't forget to sit at one of the many outdoor cafes or bistros, where you can indulge in one or two Milanese specialties while taking in this city's famous sights. Buon Appetito!
---
End: Metro or Walk Back to Piazza Duomo
---
After enjoying the Navigli Canal night scene, it's time to head back to the start of our trek – at the Duomo. A must-see highlight at night.
The cathedral's stunning Gothic architecture is illuminated with colorful lights, making it a breathtaking sight.
As summer draws near, the Duomo's terraces open in the evenings once a week! Check the timetable and book your rooftop evening tour here.
Whether you want to appreciate the cityscape or take some awesome photos, visiting this iconic landmark in the evening will surely be an unforgettable experience.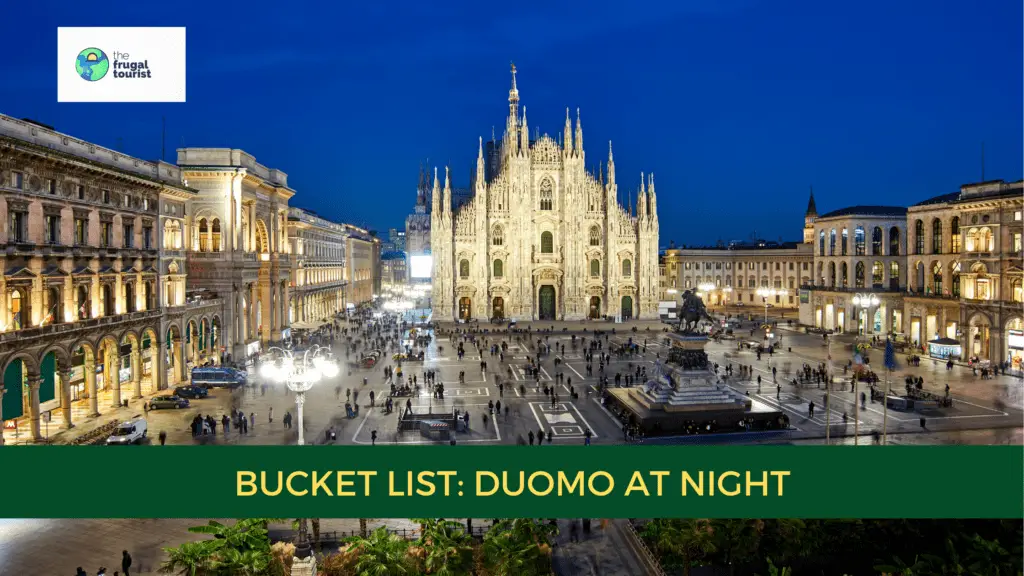 ---
Heads Up: Beware of Pickpockets
---
Pickpockets wait for their targets at popular tourist spots and on the subway. They are exceedingly crafty, so be mindful!
Of my 3 visits to Milan, I have caught 2 thieves opening my bag.
Do not get distracted. They will open your bags even if you carry them in front of you.
a. A group of thieves pretending to be tourists with maps and guidebooks tried to open my bag as I got off the subway.
b. A pregnant lady pretended to lose her balance on the Metro so her accomplice could open my bag while we assisted.
---
How We Flew to Milan Using Credit Card Points
---
I primarily use credit card points for free and discounted travel.
As long as I am responsibly paying off my credit card bills on time, my travels are all paid for by the banks that provide these points as a form of a rebate.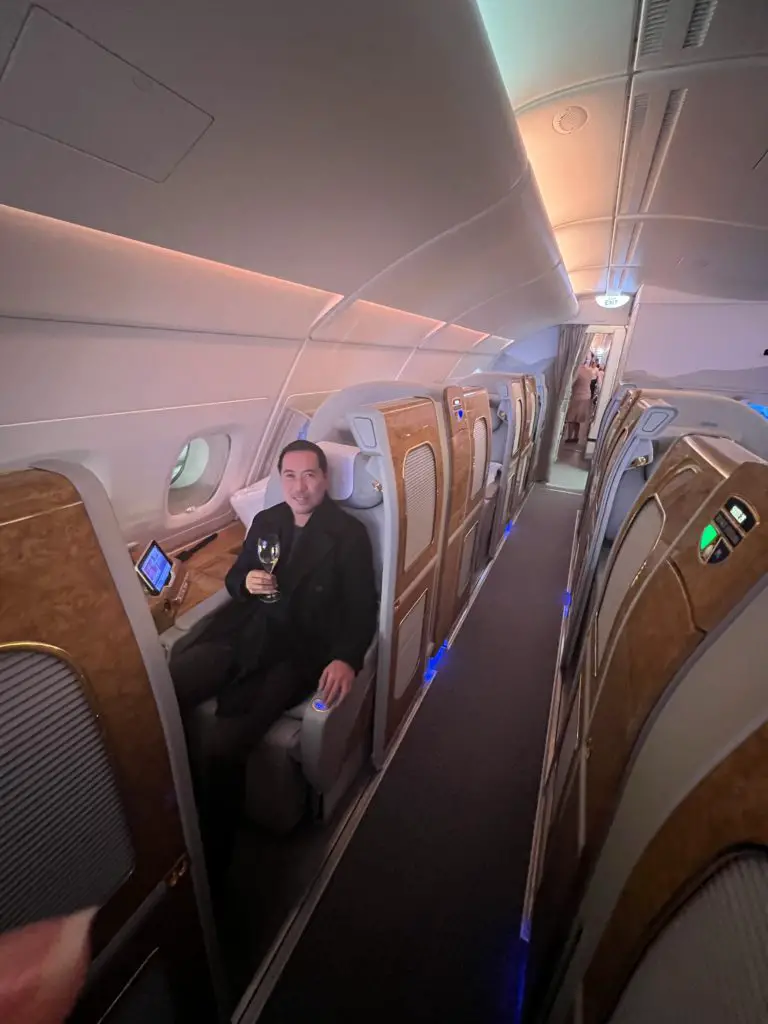 This practice of leveraging credit card points to acquire free travel is commonly called travel hacking.
For this trip to Milan, I flew on Emirates First Class by redeeming 85,000 Emirates miles and $88. Anyone who is frugal and financially responsible can travel hack too.
I earned my Emirates miles through credit cards. If you are new to travel hacking, feel free to reach out or join our free Travel Miles and Points Facebook Group.

---
How We Stayed at Park Hyatt Milan for $0 Using Credit Card Points
---
Just like with airline miles, I also earn hotel points to stay in hotels for free.
Previously, the only way to earn these hotel "loyalty" points was by consistently staying at specific hotel chains.
Without a doubt, that can take a lot of time and money before you can even rack up enough hotel points for a night or two.
Thankfully, that is just now a thing of the past. Anyone can earn these hotel loyalty points by accruing points from credit card sign-up bonuses.
I typically take advantage of the generous credit card sign-up bonuses that various banks offer.
These bonuses are usually in the form of "points" that can be exchanged for various rewards, including free hotel stays at Hyatt properties like the Park Hyatt in Milan.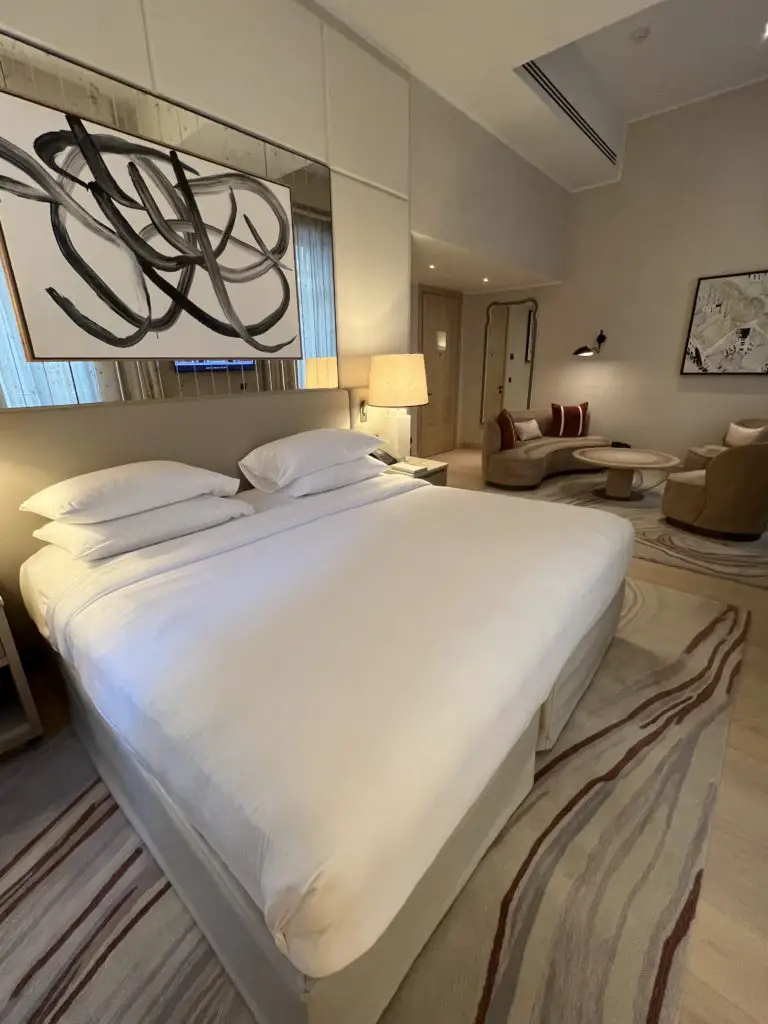 I view this as having the banks and credit card companies pay for my travel expenses. This, my friends, is one of my favorite frugal travel hacks.
If you would like to know more about using points for hotels, feel free to reach out to me via this form. I offer free consultations via email. Alternatively, contact us at our Free Travel Miles & Points Facebook Group.
---
Final Thoughts
---
Milan is truly a one-of-a-kind city, and on this free walking tour, you can get a glimpse of its unique architecture and culture that make it so captivating.
This self-guided tour will aim to show you the best of Milan – from its stunning churches and piazzas to its charming canals and vibrant art scene. If you only have one full day in Milan, this tour hits most of its highlights.
There's truly no better way to experience Milan than on foot! It is healthier, and you truly get to explore the various corners of this splendid Italian city.
So don't miss out on this opportunity – download this free walking tour today for an unforgettable adventure in Milan. Safe travels!
EDITORIAL DISCLOSURE – Opinions expressed here are the author's alone, not those of any bank, credit card issuer, hotel, airline, or other entity. The content has not been reviewed, approved or otherwise endorsed by any of the entities included within the post.
---