ADVERTISER DISCLOSURE: The Frugal Tourist is part of an affiliate sales network and receives compensation for sending traffic to partner sites, such as MileValue.com This compensation may impact how and where links appear on this site. This site does not include all financial companies or all available financial offers. Terms apply to American Express benefits and offers. Enrollment may be required for select American Express benefits and offers. Visit americanexpress.com to learn more. Additionally, the content on this page is accurate as of the posting date; however, some of the offers mentioned may have expired.
Amazon's Shop with Points perk allows shoppers to use points from their loyalty rewards programs towards purchases on Amazon, giving us another way to save money when we use points.
With Amazon's Shop with Points, you can access rewards points from numerous banks and credit cards. All it takes is a few clicks to link your bank account or credit card directly to your Amazon account so that you can start using your points right away.
Once your accounts are linked, you can use your points as payment at checkout. However, there are a few things to keep in mind when redeeming your points on Amazon, and I will provide tips on how you can get the most value out of them.
In this guide, I will walk you through redeeming your points using Amazon's Shop With Points program. I will also provide tips on getting the best return for your points. 
But most importantly, I will teach you when you should use your points and when you should not. So, let's get started!

---
Current Shop With Points Promos
---
Skip this section if you are new to Shop With Points
---
American Express Membership Rewards
---
---
Chase Ultimate Rewards
---
---
Citi ThankYou Points
---
---
Which Loyalty Programs Are Participating in Amazon's Shop With Points Program?
---
Some of my favorite loyalty programs that can be linked with Amazon's Shop With Points program are as follows:
American Express Membership Rewards
Chase Ultimate Rewards
Citi ThankYou Points
Capital One Rewards
Bilt Rewards
Discover Cashback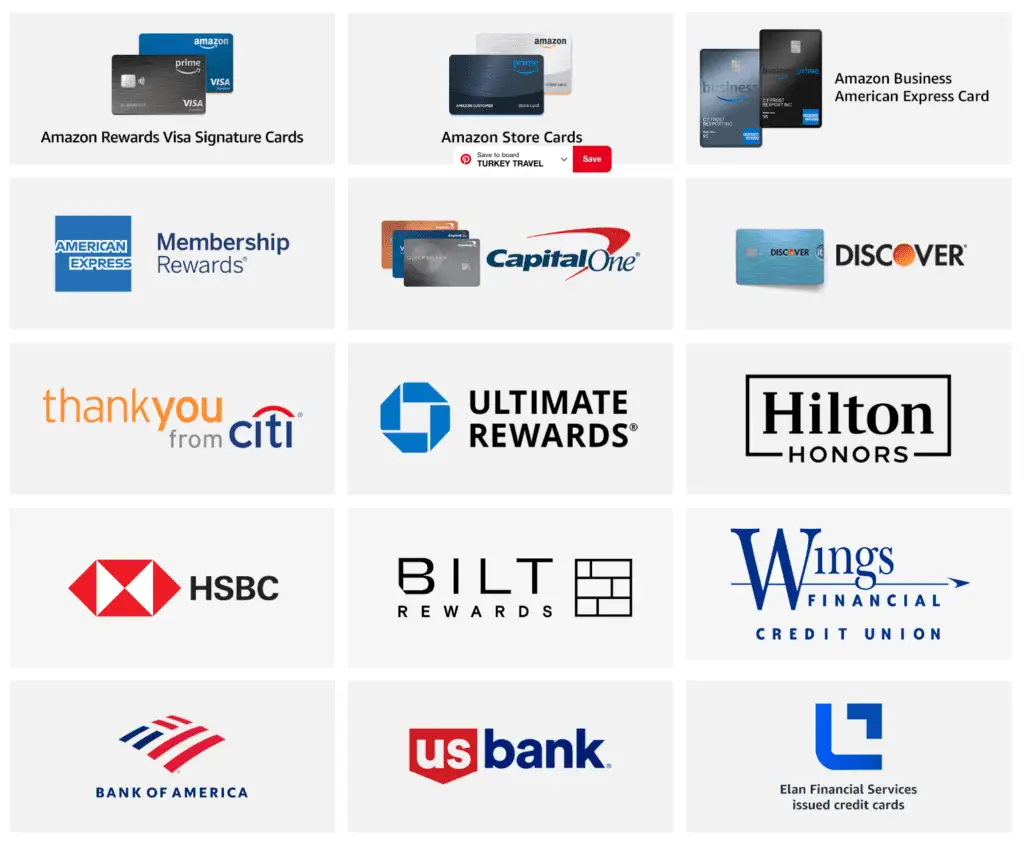 ---
How Do I Link My Loyalty Program to Amazon?
---
Step 1:
Go to www.amazon.com/shopwithpoints or click the button below.
Step 2:
Amazon will prompt you to log in to your Amazon account. Log in if you still need to do so.
Step 3:
Once logged in, click the loyalty program you want to link with Amazon. You can access the activation links for the most popular loyalty programs below:
Step 4:
Enter your credit card details. Amazon will let you know if your specific credit card has rewards points that can be redeemed to pay for items on Amazon.
Once your accounts are linked, your loyalty rewards points will be available at checkout.
Heads up: Do not use your points YET on Amazon. Later in this blog post, I will go over one specific deal that we recommend you use your hard-earned points on.
Step 5:
Make sure you register your other eligible loyalty programs with Shop With Points so that your accounts are seasoned once future promotions are rolled out.
Therefore, Amazon accounts not currently registered in Shop With Points are not targeted for these discounted offers. Once you have enrolled to the program, you will start seeing banners like the image below letting you know that you have been targeted for the Shop With Points promotion.

---
Is Redeeming on Amazon a Good Use of Points?
---
The answer is NO, except for one particular promotion. The next section will discuss the specific "Shop With Points" deal we recommend.
For example, 10,000 American Express Membership Rewards Points will only yield $70 on Amazon ($0.007 per point). You will get better value if you transfer your American Express points to airline partners or cash out via Charles Schwab Amex Platinum, which has a conversion rate of $0.011 per point.

Chase is slightly higher. As per Amazon's terms: When redeeming Chase Ultimate Rewards Points at checkout, each point is worth $0.008, which means that 100 points equal $0.80 in redemption value. Without a doubt, you will get a better return if you transfer your Chase points to the World of Hyatt, United Mileage Plus, Singapore Airlines, or Flying Blue.
---
When Is It Recommended to Use Amazon's Shop With Points?
---
While redeeming our rewards points on Amazon does not always provide the best deal, there is one particular offer where it is recommended to redeem some of your points.
Amazon regularly offers significant discounts to shoppers who use at least one reward point when making purchases. These targeted deals are rolled out periodically, usually during holidays.
And that's precisely what we recommend you do when redeeming your points – whenever you are targeted for a Shop with Points offer, make sure you only use the minimum amount Amazon requires, usually one point or $0.01 cents. 
In the example below, Amazon will give a 40% discount on eligible purchases when folks opt to use their Membership Rewards Points.
---
Who Is Eligible to Participate in Amazon's Shop With Points Promo?
---
Not all consumers will be eligible to participate in Shop With Points promotions.
As stated above, to increase the likelihood that your account will be targeted in future Shop With Points offers, you must ensure that all your loyalty programs are linked with Amazon.
We announce Amazon Shop With Points Promotions in our free Travel Miles and Points Facebook Group. Join us!
---
How Do I Determine If/When I Am Targeted?
---
You will need to link your credit cards with Amazon Shop With Points before you can get targeted.
Then, you must click any of the links under the "Current Shop With Points" section to determine whether you are currently targeted for a deal.

---
How Many Points Do I Use?
---
We recommend that you only use the minimum number of points required, which is 1. 
1 Point = $0.01 
Amazon does a great job of providing a breakdown of the details of your Shop With Points transactions. Make sure that you verify the information before moving forward with your purchase.
Sometimes, however, specific programs will require an amount greater than $0.01, so make sure you read thoroughly read the terms of the promotion before checking out, so you are guaranteed to earn a discount.
For example, Chase recently offered this promotion but required a minimum of 100 Chase Ultimate Rewards Points to activate the discount (see image below).

Heads up though, Amazon automatically assigns the maximum amount of points you can redeem at checkout. Therefore, you will need to manually change the amount to $0.01; otherwise, you risk depleting your entire stash of rewards points. 
---
What Items Are Eligible for Amazon Shop With Points?
---
Not all items are eligible to activate this discount. The items you're purchasing should be sold and shipped by Amazon.
Even if they are fulfilled by Amazon, products sold by third-party sellers are not eligible for this promotion. Additionally, products not sold directly by Amazon and digital content purchases are also ineligible for this promotion.
When it is time to pay, check if your purchases were able to activate the Shop With Points deal. If they did not, you could still modify your cart to include items sold and shipped by Amazon.
---
Steps in Maximizing Amazon's Shop With Points
---
Step 1: 
Determine if you are targeted for Shop With Points promotions by clicking the links under the section "Current Shop With Points Promotions".
You will need to enroll your credit cards then link them individually to Amazon Shop With Points before you can be targeted for these offers.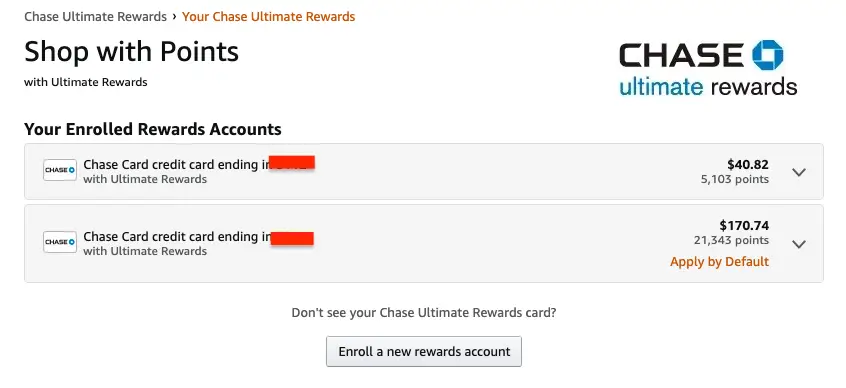 Step 2:
If you are one of the people that received the targeted offer, click "Activate Promotion".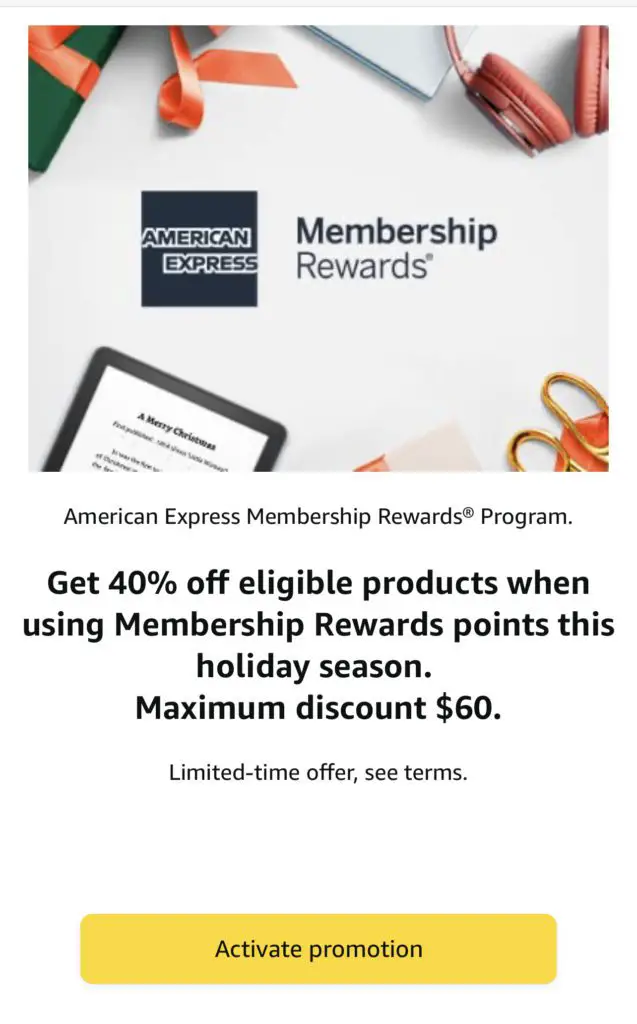 If you are not currently targeted, don't stress. Amazon will gradually roll out these promotions to more users, so it's best to check back frequently.
If you are not targeted after checking numerous times, resist the temptation to use your points to purchase items on Amazon. It will not give the best bang for your buck.
Step 3: 
At checkout, make sure that you change your payment method to the "points" credit card that currently has a Shop With Points promotion, toggle it on and type in the number of points you would like to redeem.

Step 4:
Make sure to only use 1 point from the loyalty program you were targeted for.
For example, if you were targeted by American Express, type $0.01 when asked how many Membership Rewards points you would like to use. Please see the image below.
It is fantastic that you only need 1 point to unlock these generous discounts. Still, it is a manual process that can confuse anyone who does not pay close attention.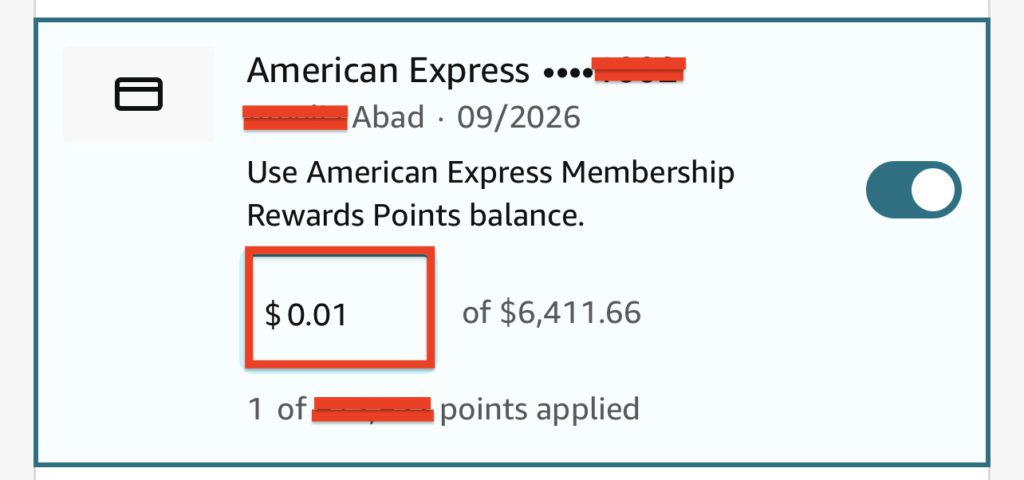 Step 5: 
Verify if the information is correct. It is worth mentioning again that Amazon will auto-populate the maximum number of points you can redeem, so you need to manually change the number of points you would like to use. Please see the example below – change the amount to $0.01.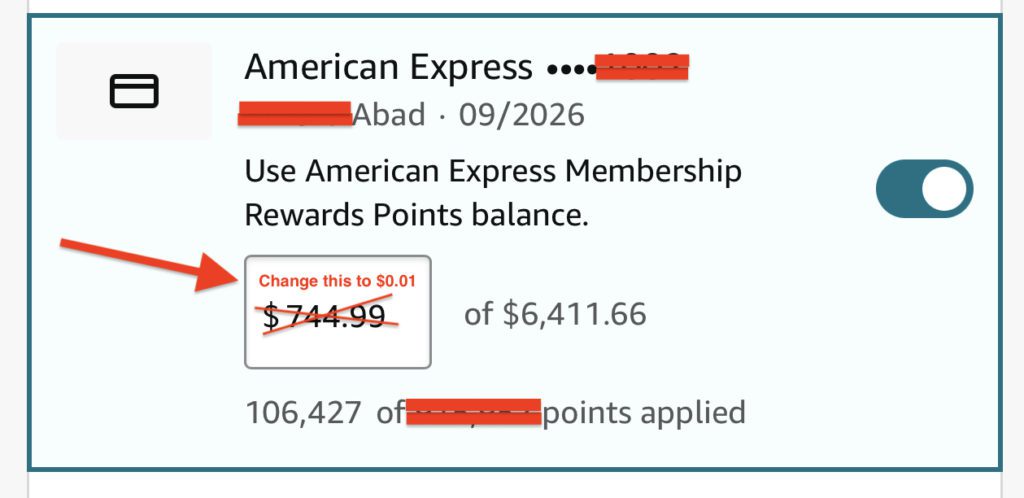 Datapoint: I inadvertently authorized Amazon to use all of my Membership Rewards points towards a purchase, not realizing it initially. But once I saw the mistake, I contacted American Express and they graciously modified the transaction. Even though this worked out this time, I'm worried that it won't be an option in future scenarios, not to mention that reaching out to the bank requires so much time. So, don't be like me — pay close attention when Shopping With Points on Amazon. Make sure you are only using $0.01 worth of loyalty points when paying.
Step 6: 
Ensure all the other details, such as shipping address, payment method, etc., are correct. Before purchasing, Amazon will indicate whether you are getting the discount or not. If you can see that you were able to activate the offer, continue with the purchase. If not, you can go back and check if you did the previous steps incorrectly.
Shop with Points ensures you're always aware of how much value your points provide and gives you total control over which rewards programs to use for your purchases.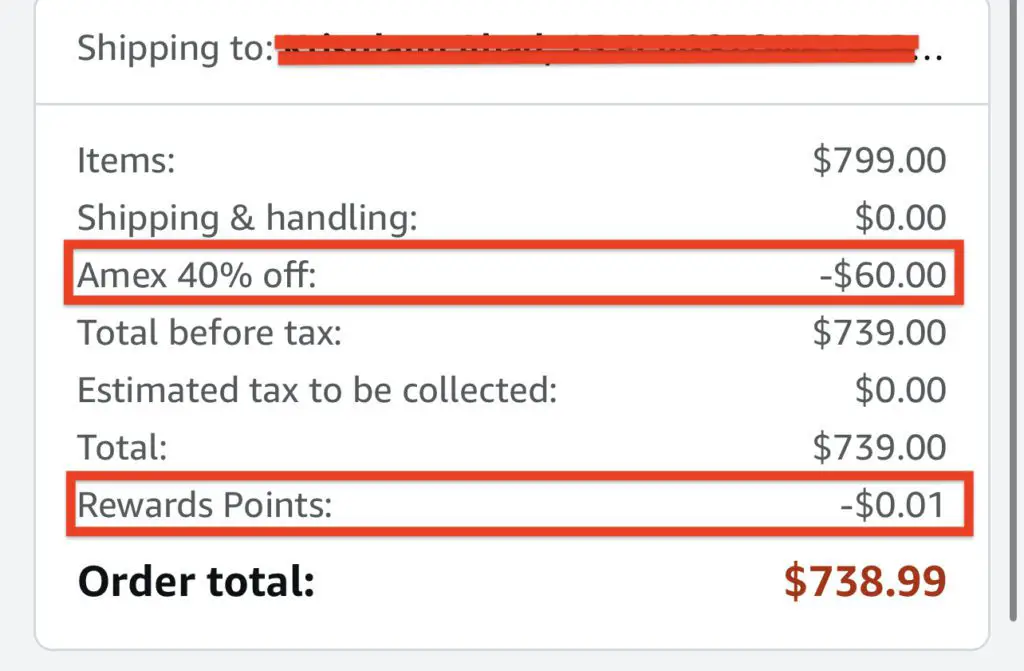 ---
Don't Forget To Change Your Payment Method On Your Next Purchases
---
After activating this promotion, Amazon automatically sets your payment method as points. 
If you do not manually change your preferred payment method on your next purchase, Amazon will use your points as your payment source by default
Therefore, make sure you change your payment method to another credit card before paying for your next purchases at checkout.
---
Compare Shop With Points With Other Deals 
---
Generally, it is recommended to always check other options before redeeming your points on Amazon. This is because redeeming your points may not always provide the best value, even if it is just one point.
For example, if you purchase an item at full price, it may be more cost-effective to use a new credit card that earns a generous sign-up bonus (SUB).
My recommended strategy is only to purchase enough items to trigger the maximum discount on Amazon's Shop With Points offer. 
For example, if you are targeted to receive 50% off with a maximum discount of $10, I'd try only to purchase items worth $20, just enough to earn the maximum discount.
I'd then use a different payment method for my other purchases, ensuring I always get a significant return for each dollar that comes out of my wallet.
---
Shop With Points Terms and Conditions:
---
Each time you activate a promotion, Amazon will outline the offer's terms and conditions at the bottom of the page.
Here are the most important terms as spelled out by Amazon:
Shop With Points is a limited-time offer. The promotion will end on the earlier of (a) XX:XX pm PT on XX/XX/20XX, or (b) the time at which XX,XXX customers have redeemed the offer. The promotion button will expire simultaneously.
Please note that Amazon.com can cancel or change this offer without notice. This invitation-only offer cannot be redeemed for cash and may not be resold.
This offer is only eligible for customers who use loyalty points to make this purchase, and the promotion must be applied at checkout. Shop With Points deals may not be combined with other offers..
The discount applied to your order will be spread out among all the promotional items included in that purchase. If any of those items are later returned, you will only receive a refund for the original cost of that product minus the percentage of the total discount dedicated to that item. In other words, if you return an item, the remaining discounts on your original purchase will be lower than what was originally advertised.

---
Summary of Steps
---
According to Amazon, redeeming your promotional discount through their Shop With Points offers involves three steps.
Step 1: You Need To Activate The Promotion
You must access a link that has a Shop With Points offer. Then, click on the "Activate Promotion" button to activate this offer and apply points to your next order. You will not receive the promotion credit if you do not click this button.
Step 2: Add Eligible Products To Your Shopping Cart
Add products that are sold and shipped by Amazon to redeem this promotion. This offer is only available on certain products, so make sure you purchase the correct items before you check out!
Step 3: Use Your Rewards Points To Pay At Checkout 
To redeem this offer, you must use points for at least a portion of your order. Points will be temporarily set as your payment method at checkout, so reset it back to your preferred payment source when paying for your subsequent purchases.
Pro-Tip Summary: DO NOT USE ALL OF YOUR POINTS. Instead, type "$0.01" as this will deduct the minimum amount of points required which is 1 point.
---
Final Thoughts
---
Now that you know how and when to use Amazon's Shop With Points using your points, you can start saving on your purchases.
Just remember to always compare your other options before redeeming your points, and look out for exclusive discounts from Shop With Points. Most importantly, make sure to only use the minimum required amount of points at check out.
Amazon's Shop with Points program is a great way to save money on your purchases. By following the tips in this guide, you can be rest assured that you will earn the most value from your points by using the steps above.
Have you tried Amazon's Shop with Points program? What was your experience like? Let us know in the comments below.
Happy shopping!
EDITORIAL DISCLOSURE – Opinions expressed here are the author's alone, not those of any bank, credit card issuer, hotel, airline, or other entity. The content has not been reviewed, approved or otherwise endorsed by any of the entities included within the post.