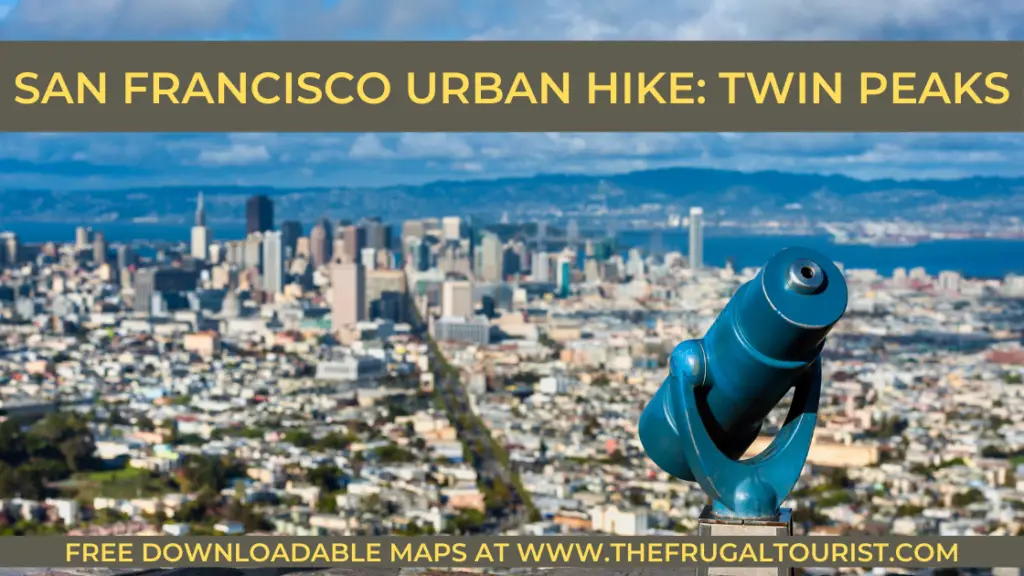 ADVERTISER DISCLOSURE: The Frugal Tourist is part of an affiliate sales network and receives compensation for sending traffic to partner sites, such as MileValue.com This compensation may impact how and where links appear on this site. This site does not include all financial companies or all available financial offers. Terms apply to American Express benefits and offers. Enrollment may be required for select American Express benefits and offers. Visit americanexpress.com to learn more. Additionally, the content on this page is accurate as of the posting date; however, some of the offers mentioned may have expired.
Twin Peaks, one of SF's most iconic tourist attractions, is a must-see on your first trip to this stunning city by the bay. After countless visits, its sweeping 360-degree views of the San Francisco Bay still never fail to blow me away.
As one of the most popular hiking trails within the city boundaries, the Twin Peaks trail concludes at the summit that reaches an elevation of 1,898 feet (579 m) above sea level.
To add, there are virtually no towering trees on the way to the summit. Therefore, you will be blessed with impressive unobstructed views from all angles on your ascent. Arguably, this San Francisco urban hike is guaranteed to give you the best views.
---
Twin Peaks: San Francisco's Best Views
---
From the top of the peaks, you can see staggering views across much of San Francisco including the bay's two iconic bridges: the San Francisco – Oakland Bay Bridge and the Golden Gate Bridge.
If the weather is crystal clear, you can also see San Francisco's most famous island – Alcatraz. Other Bay Area peaks and cities are also visible from the summit. Turn on your navigation app and try to locate Oakland, Berkeley, Mt. Diablo, Marin Headlands, and Mt. Tamalpais.
In fact, the indelible images of San Francisco's skyline and the Golden Gate Bridge from this vantage point are beyond compare. Time your visit around sunset on a clear day and you're destined to have memories that will likely stay with you for a lifetime.
Without a doubt, Twin Peaks is the perfect spot to savor San Francisco's famous skyline. Because of its lofty elevation, there are countless opportunities to snap pictures of this breathtaking urban jungle. Wherever you turn is guaranteed to capture a picture-perfect postcard shot.
---
COVID19 Update
---
Before COVID19, the peaks were teeming with cars and tourists alike. But due to the pandemic, cars are temporarily not allowed to go all the way up to the summit. So, hiking or biking are currently the only options to reach the top.
However, that is guaranteed to change once we get this pandemic under control. Twin Peaks will undoubtedly open up again and expect cars to clog these streets in no time.
Since there is now more space, anyone can easily find a spot that will allow for solitude while absorbing the scenery without disruptions – an impossible feat to achieve pre-COVID.
In fact, I approximate that the crowds have been reduced by at least 90%. This makes adhering to social distancing guidelines not too difficult.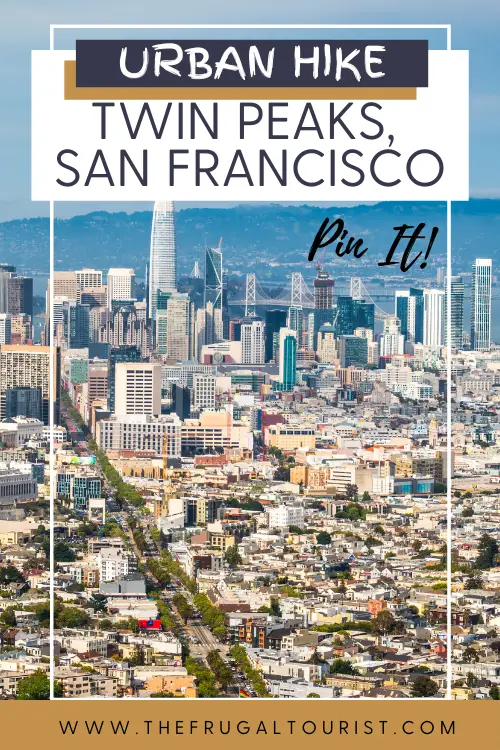 I suggest capitalizing on this opportunity to visit these peaks without the suffocating traffic and crowds as this ban may not last long. So, grab your walking shoes, and let's conquer Twin Peaks!
In this blog post, I will map out a walking tour itinerary that is sure to get your heart pumping to its limit. Prepare to tackle numerous stairs along the way and summit two of SF's most famous hills.
If you fancy a leisurely stroll, you can adjust your walk speed and pause periodically to admire the views of San Francisco's skyline. 
---
When to Hike Twin Peaks?
---
Even though this tour is highly recommended, I will not suggest that you embark on this urban hike if the city is enveloped by fog.  Not only will the views be hidden, but they will also be uncomfortably cold, damp, and windy. 
Since SF weather is challenging to predict, if you find yourself up on the peaks on a foggy day, waiting for half an hour or so may prove rewarding as the fog sometimes clears up. Nevertheless, make sure you have ample layers in case the weather sours unexpectedly.
The perfect time of day to hike these hills would be an hour or two before sunset so you're certain to be on the summits while the sun is just about to "call it a day". It is truly mesmerizing!
If you are an early riser, Twin Peaks is also a terrific spot to witness the sun rising on the horizon. But a visit at any time, as long as there is not a lot of fog, is guaranteed to be unforgettable.
Alternatively, you can also ride your bike, scooter, or skateboard to get up to the peaks. It is accessible to everyone and is open to pedestrians every single day of the year.
Lastly, it is also possible to drive all the way up to the peaks if you prefer not to hike or if you have mobility issues.
If you're visiting, this is a bucket-list San Francisco attraction that even locals frequent every so often. Do not miss it!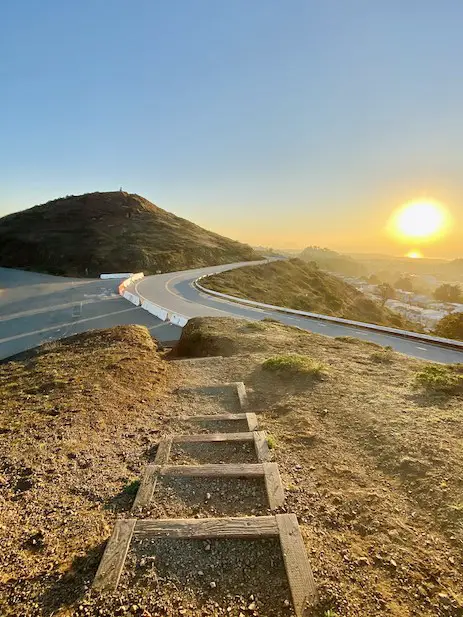 ---
Twin Peaks Opening Hours & Restroom Information
---
Twin Peaks is open every day including holidays. The parking lot opens at 5 AM and closes at 12 midnight.
Restrooms are available near the main parking lot on Christmas Tree Overlook.
---
Is Twin Peaks the Highest Mountain In San Francisco?
---
Although frequently mistaken as the highest spot in SF, the 922-foot summit of Twin Peaks is second only to Mt. Davidson as far as altitude is concerned.
But, without a doubt, these peaks certainly beat Mt. Davidson and all of San Francisco's other 40-plus hills as far as sweeping splendid vistas.
---
What to Bring And What To Wear?
---
Water
Sun Protection
Camera
Navigation
Binoculars (bring quarters to activate the binoculars on site)
Snack
Sturdy Shoes
Layers of Clothing since the weather is unpredictable at the top
Rain Jacket
Umbrella during winter
---
Visit Twin Peaks At Night
---
Another recommended alternative to hiking the summit of Twin Peaks is to drive up to the hills just before dusk.
Not only will you witness the sun disappearing behind the Pacific Ocean, you will also get to watch the exact moment when the lights of downtown San Francisco start to shine.
---
Parking
---
Space is extremely limited to no more than 40 spots. This is an incredibly popular tourist attraction so expect to wait about 15-30 minutes if the parking lot is full.
Type "Twin Peaks Parking Lot" on your navigation app and it will direct you to the Christmas Tree Overlook Parking Lot.
There are also parking spots at Crestline and Vista Lane where the Twin Peaks trailhead begins. This is a good alternative if you do not like to wait for a parking spot to become available.
---
Free Downloadable Map of the Twin Peaks Urban Hike
---
Click the square icon to automatically download the map below on your smartphone before or during this urban hike.
You may also save it for later or share it with someone who may benefit from this hike.
The hike and the corresponding map have two segments:
a. Noe Valley to Twin Peaks Trailhead (Points A to F)
b. Twin Peaks (Points A to D)
---
Part 1: NOE VALLEY TO TWIN PEAKS
---
A. Start: Noe Valley Courts at the corner of Elizabeth Street and Douglass Street
---
We are starting this walk in one of SF's highly desirable neighborhoods – Noe Valley. It is currently one of the most expensive places to live in the city, with median house prices approaching 2 million dollars.
As per Wikipedia, Noe Valley's famous residents include sculptor Ruth Asawa and Facebook CEO Mark Zuckerburg. Carlos Santana and Benjamin Bratt both graduated from James Lick Middle School on Noe Street.
Our tour starts just a block from Noe Valley's downtown area – at Noe Valley Courts. This park has a playground and lots of greenery for dogs and families to gather.
A block south is Noe Valley's downtown – 24th Street. You can grab a bite at any of the restaurants here or buy an SF original- Philz Coffee's Mint Mojito, either before or after the hike.
When you're ready, walk slightly uphill along Elizabeth Street towards our destination – the Twin Peaks – which should be visible from here.
The next block up is Elizabeth Street and Hoffman Street – the location of our first stairway.
---
B. Elizabeth Street and Hoffman Street
---
Your first lung-busting set of stairs greets you at this corner. 
Depending on your fitness level, you can use this as your warm-up climb, or you can opt to take your time by checking out the different architectural details of the houses along this street.
At the top of the stairway is Grand View Avenue.  
---
C. Elizabeth Street and Grand View Avenue
---
The major throughway before you is Market Street. We will need to cross this busy roadway by crossing over an elevated pedestrian walkway, which should be visible on your right.
Safely cross the street to the other side of Elizabeth Street and walk along Grand View Avenue until you reach the passageway. Safely cross the street and then ascend the walkway's spiral entrance.  
Cross Market Street via this path, but do not forget to look back because the views of SF's Financial District are spectacular from this vantage point.
At the end of the walkway is a ramp that will deliver you to the 900 block of Corbett Avenue. Turn right until you reach the next corner – Corbett and Hopkins.
---
D. Hopkins and Corbett
---
Once at this intersection, look up!  The Sutro TV Tower should be visible from this corner- that is the direction where we are headed. It's hard to miss!
Rising above 977 feet, this three-pronged TV & radio antenna tower is a permanent fixture in SF's skyline. Residents use Sutro Tower as a beacon to orient them where Twin Peaks is – particularly valuable when the summits are shrouded with fog. Even though not actually erected on Twin Peaks, it's close enough to assist with navigation. Previously the tallest edifice in SF, Sutro Tower was recently replaced by Salesforce Tower as the highest structure in the city in 2017. (Wikipedia)
There are no stairs on this semi-steep street, so it may be a bit challenging to the knees. Take your time.
At the top of Hopkins Avenue is Burnett Avenue. You will notice a set of stairs just right across from where you are. Ignore that one for now.
Instead, make a left turn and walk until you find your next set of stairs – Vista Lane – across the street.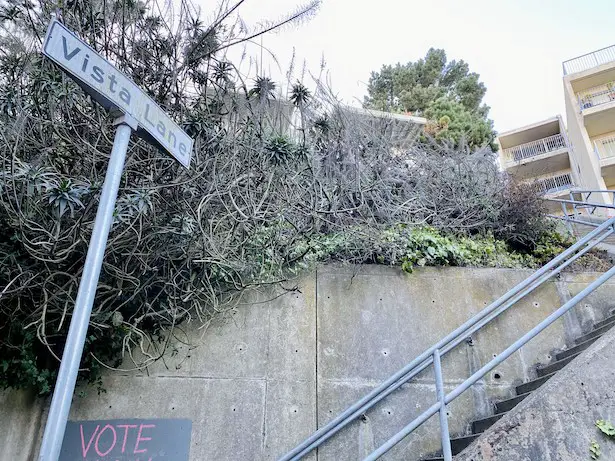 ---
E. Vista Lane Steps
---
Ascend Vista Lane for about three heart-pounding blocks, crossing both Gardenside Drive and Parkridge Drive.
You can make this section as intense or as mellow as you want it to be. Nonetheless, it is a lot of steps – hundreds of them!
At the top of the steps on Parkridge Drive, you will have a clearer view of Twin Peaks & the Sutro TV Tower to your right. Avoid the temptation to walk in that direction. Instead, Vista Lane continues to your left.
Don't worry. There will be signs to point you in the right direction. Look for the arrow that directs you to "Steps to Twin Peaks."
Continue revving up your heart rate by conquering the final leg of Vista Lane, which will terminate on Crestline Drive.
---
F. Crestline Drive and Vista Lane
---
Opposite Crestline Drive and Vista Lane is the trailhead to Twin Peaks. Congratulations, you are over halfway done!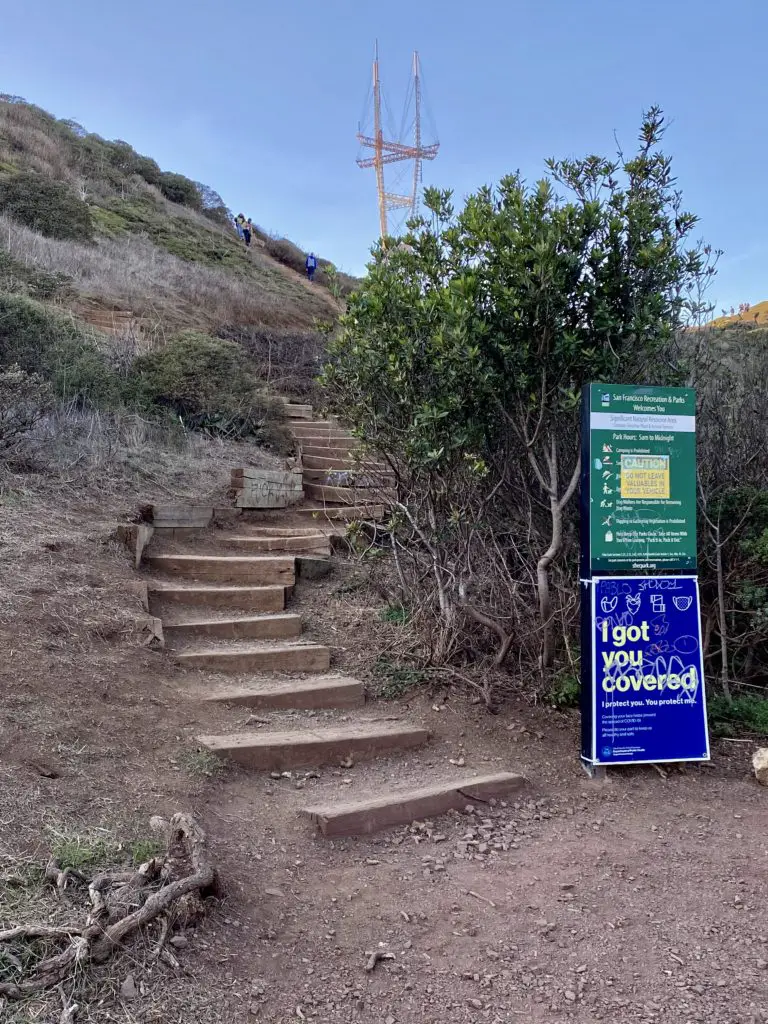 ---
Part 2: TWIN PEAKS
---
A. Twin Peaks Trailhead (Opposite Crestline & Vista Lane)
---
This next section will be a bit easier than the previous one. We will be scaling the peaks on well-marked pathways with mostly wooden steps.
Erosion is a constant threat up in these hills because of over-usage, so please use the provided steps and do not veer out of the paths.
Start walking up the wooden steps until you reach Twin Peaks Boulevard. This road used to be incredibly busy with tour buses and human traffic, but thanks to COVID, you will only come across a few skateboarders, cyclists, and hikers like you.
Also, Twin Peaks Boulevard has a waist-high, graffiti-covered barricade that you have to breach.  Be careful when you hop over this hurdle.
The hill directly before you is Noe Peak. Eureka Peak, its twin brother, is the hill to your right. 
We will climb up Noe Peak first.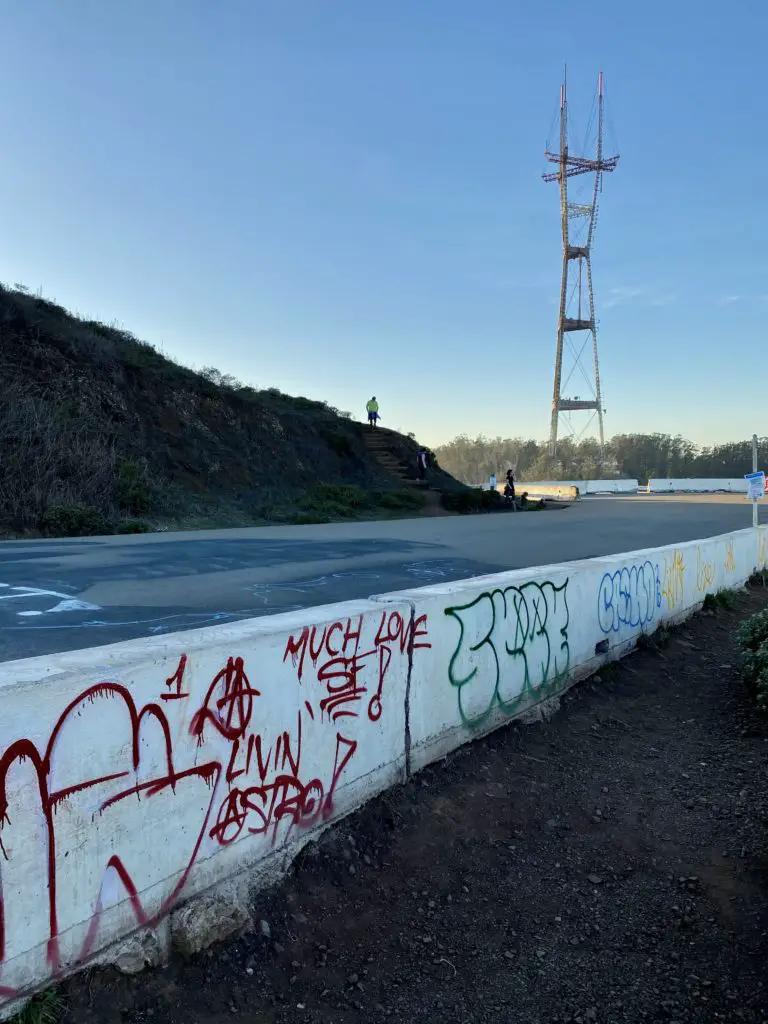 ---
B. Noe Peak (Southern Hill)
---
Once you have successfully negotiated the barrier on Twin Peaks Boulevard, cross the street and bear to your right to find the stairs leading up to Noe Peak.
Gently climb the trail as the wooden steps are somewhat uneven. Pause and look back frequently to savor the views of SF and Eureka Peak on the same frame. 
If you trek up here around sunset, the views of the sun disappearing behind the Pacific Ocean is nothing short of spectacular. Even after seeing this phenomenal event multiple times in the past, it still never fails to captivate me.
Take a few snaps of Eureka Peak and SF from this vantage point.  Admittedly, Eureka Peak is the more photogenic of the two peaks.
Watch your step as you navigate back down to the trailhead where you came from along Twin Peaks Boulevard. The trailhead for the steps leading up to Eureka Peak should be visible from here.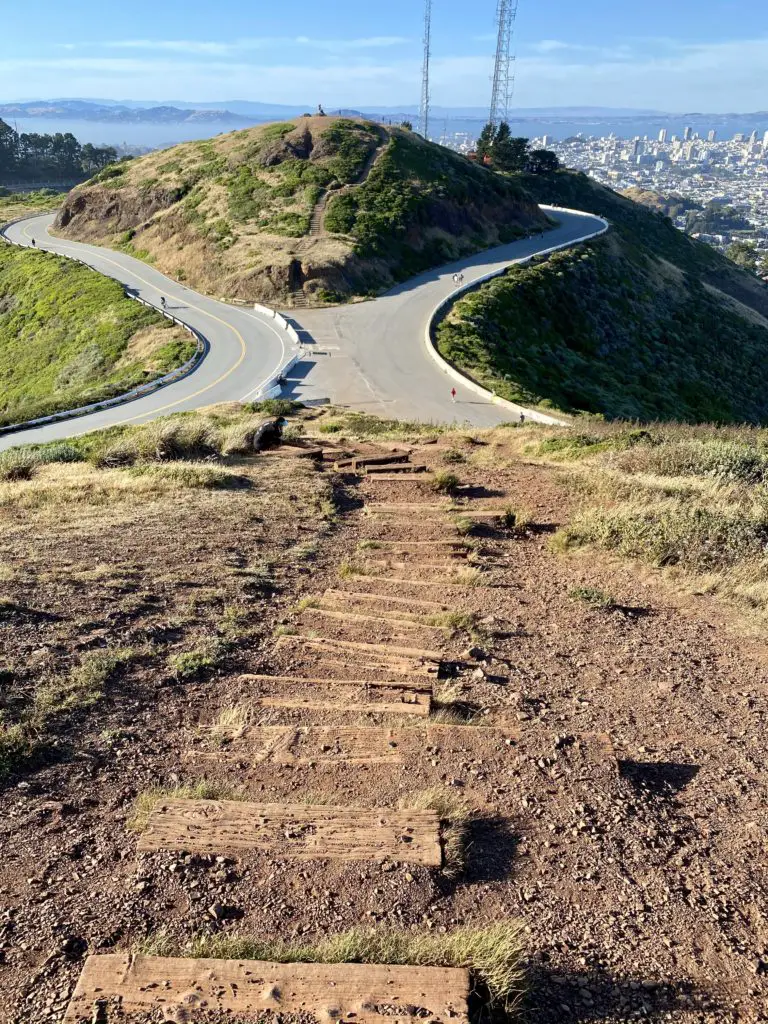 ---
C. Eureka Peak (Northern Hill)
---
To the north of Noe Peak is Eureka Peak. Eureka Peak is slightly larger than Noe Peak and indisputably the more popular one.
Its peak provides sweeping unobstructed views of the SF skyline as well as the Golden Gate Bridge.
Once at the top, pause here for a moment and relish your achievement. You've successfully climbed up the Twin Peaks. 
Descend the opposite series of stairs so you arrive on the other side of Eureka Peak. From here, follow the signs to Christmas Tree Point Overlook.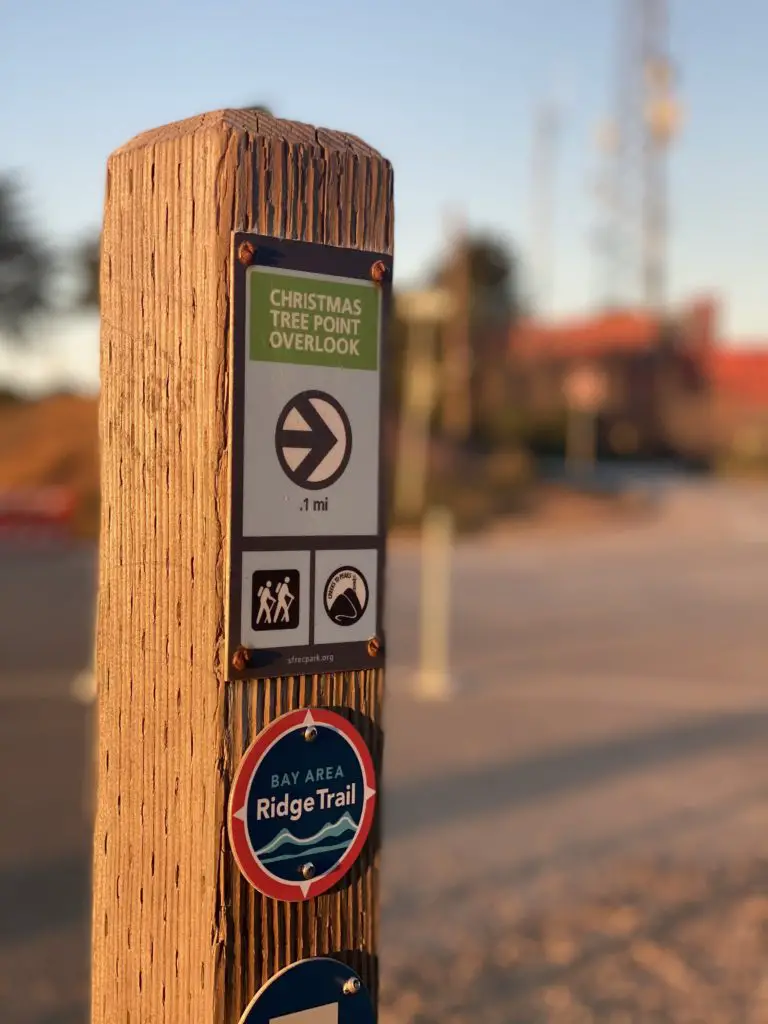 ---
D. Christmas Tree Point Overlook
---
Previously a frenetic tourist attraction, this lookout is surprisingly serene without the cars and tour buses. 
Pre-Covid times, the parking lot is constantly jampacked with all types of vehicles – cars, vans, and the massive tour buses. Now, you will only see a handful of hikers and tourists – those who exerted the effort to trek up here.  
Without the fog, the views here are simply astonishing. Make sure to capture the views from all angles. Walk along the brick barrier to the other side for views of the Golden Gate Bridge.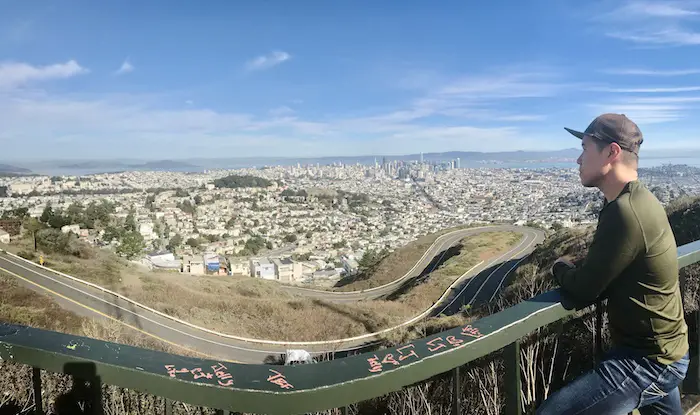 ---
END
---
Congratulations! We had reached the end of our urban hike. You have a few options from here.
Option 1: You can go back down and retrace the steps back to Vista Lane to where you parked. Once you get back to Noe Valley, feel free to grab a sip of Philz Coffee's famous Mint Mojito just opposite the park where we started. A handful of restaurants are also within walking distance.
Option 2: If you still have the energy to embark on another urban hike, I have a few other recommendations for you here. 
Option 3: An alternative way to go back down is via Twin Peaks Boulevard towards Burnett (follow the signs pointing towards Stanyan). The map below will chart out the itinerary if you want to make this hike a loop. Click the star icon to automatically download the map on your smartphone.
A. From Christmas Tree Point, walk along Twin Peaks Boulevard towards Stanyan. Follow the road until you hit Burnett Avenue. Views of the SF skyline are glorious here.
B. The first street you will come across is Burnett Avenue. Turn right until you get to 275 Burnett Avenue.
C. 275 Burnett Avenue will have unobstructed views of the SF skyline. Take a few snaps here. Follow Burnett Avenue until Hopkins. Follow Hopkins back to Corbett all the way down to the Market Street overpass.
D. Once you're at Market Street level, walk along the side pathway towards your next set of stairs – Dixie Stairway. Descend these stairs and walk down Alvarado Street. Refer to the map provided.
E. It's an architectural stroll along Alvarado Street, which showcases different quintessential SF home designs from Georgian and Victorian, to the more modern style. Marvel at the stunning facades of the houses here. Walk until you hit Alvarado Elementary School.
F. Make a right on Douglass and walk down until you hit the Noe Courts, the beginning of our hike.
---
How to Get to Twin Peaks Via Public Transport
---
At the Noe Valley Trailhead:
Buses 24 and 48 have stops in Noe Valley near our trailhead.
At the Twin Peaks Trailhead on Crest View Lane:
Buses 48, L, and 37 can get you to the Twin Peaks Trailhead.
At the Twin Peaks Parking Lot:
Buses 48, L, and 37 can also get you to the Twin Peaks Parking Lot.
---
---
BEFORE YOUR TRIP
---
1. WALKING TOUR GEAR
---
Click any of the images for more product information.
---
2. GUIDEBOOKS
---
Please click the images below to read more information about the guidebooks I used for this walking tour.
---
3. TRAVEL INSURANCE
---
I highly recommend World Nomads for Travel Insurance. If you want to read more about the coverage they offer, you can read about them here.
DO NOT LEAVE HOME WITHOUT TRAVEL INSURANCE! GET A QUOTE HERE!
---
4. BOOK YOUR ACCOMMODATIONS
---
BOOK WITH POINTS
---
I stay in Hyatt hotels a lot using points and San Francisco has several options. If you don't have Hyatt points, their credit card is giving away 50,000 Hyatt points after spending $6K in 6 months.
It also gives a free anniversary night every time you pay the annual fee. Please read the terms and conditions to ensure this card suits your needs.
Please do not apply if you are not able to settle your balance every month before the due date; paying interest charges is not worth it. Read more about this card here.
If you are an IHG or Marriott loyalist, you can check out their cards here.
---
BOOKING.COM
---
---
5. BOOK YOUR FLIGHTS
---
All of my trips the past decade had been ALMOST FREE via travel miles and points.
I've visited a total of 85 countries using miles and points. I accumulate these points from credit card rewards and bonuses.
Check out the different travel rewards credit cards here.
---
Final Thoughts
---
San Francisco is arguably the most beautiful city in the entire continental United States and this urban hike to the top of Twin Peaks will definitely showcase that claim.
The current lockdown restrictions make the hike here not only highly recommended because of the significantly reduced crowds, but also because of its potential to provide an incredible workout.
With gyms closed, coupled with the harmful effects of being cooped up at home, I hope that this short urban hike provides you with the exercise your mind, body, and soul urgently need in these trying times.
Please let me know what you think about this hike in the comments section below.
EDITORIAL DISCLOSURE – Opinions expressed here are the author's alone, not those of any bank, credit card issuer, hotel, airline, or other entity. The content has not been reviewed, approved or otherwise endorsed by any of the entities included within the post.