ADVERTISER DISCLOSURE: The Frugal Tourist is part of an affiliate sales network and receives compensation for sending traffic to partner sites, such as MileValue.com This compensation may impact how and where links appear on this site. This site does not include all financial companies or all available financial offers. Terms apply to American Express benefits and offers. Enrollment may be required for select American Express benefits and offers. Visit americanexpress.com to learn more. Additionally, the content on this page is accurate as of the posting date; however, some of the offers mentioned may have expired.
If you're a World of Hyatt Globalist member, you should be familiar with its Guest of Honor benefit.
Globalist is the World of Hyatt's top elite status and has many incredible benefits. From complimentary breakfast to suite upgrades when available, Globalist status makes travel easier and more enjoyable.
In addition, Globalist status members save money in different ways. For example, they don't have to pay resort fees, and their parking fees are waived if they book rooms using points– both of which could amount to a lot of savings at luxurious properties.
Globalist members get a lot of great perks, but one of the best is the Guest of Honor Program.

So what exactly is so great about this benefit?
In this blog post, we will discuss the Guest of Honor benefit in detail and show why it is one of the best perks of being a Globalist member!
---

---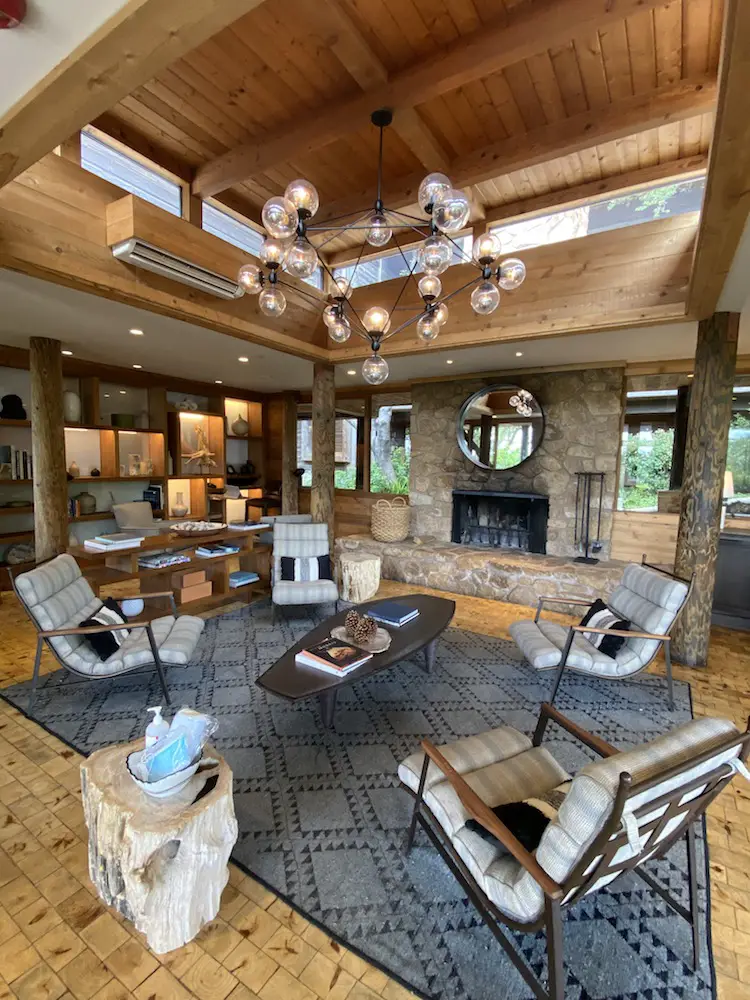 ---
What is a Guest of Honor Reservation?
---
With Guest of Honor, Globalist members can share their perks with friends or family when booking award stays- even if the Globalist member isn't traveling themselves.
Being able to gift top-tier hotel status is a generous perk that is unmatched in the hotel industry.

This is why I am loyal to Hyatt. No other hotel program offers something similar.
With Guest of Honor, I can finally gift free nights and loyalty status to friends and family.
---
All Globalist Members Have Access to Guest of Honor
---
The World of Hyatt Globalist program is designed for those who frequently stay at Hyatt properties worldwide.
To achieve Globalist status, members must complete 60 qualifying nights or earn 100,000 base points (spend $25,000) within a calendar year.

After staying for 60 qualifying nights, Globalists can enjoy the following benefits:
Complimentary breakfast for two adults and two children
Complimentary premium internet
Regency Club Lounge Access
4 Suite night awards to use during the year
Gold status with MGM Rewards
Late Checkout up to 4:00 PM
Free Parking on Award Nights
Waived Resort Fees on Eligible Rates and Free Night Awards
Bottled Water,
Access to My Hyatt Concierge, and
Guest of Honor
You can also achieve Globalist status by finishing a status challenge or matching your current status with another hotel loyalty program.
These challenges or status-matching deals generally require fewer nights to expedite the process to Globalist Status.

Therefore, if you're offered one of these, it's an excellent deal that you should take advantage of.
That said, the Guest of Honor Perk is available to all Globalist members. You don't have to worry about how you achieved this top-tier elite status; whether it was from a status challenge or a 60-night stay at Hyatt, you can still make reservations under the Guest of Honor title.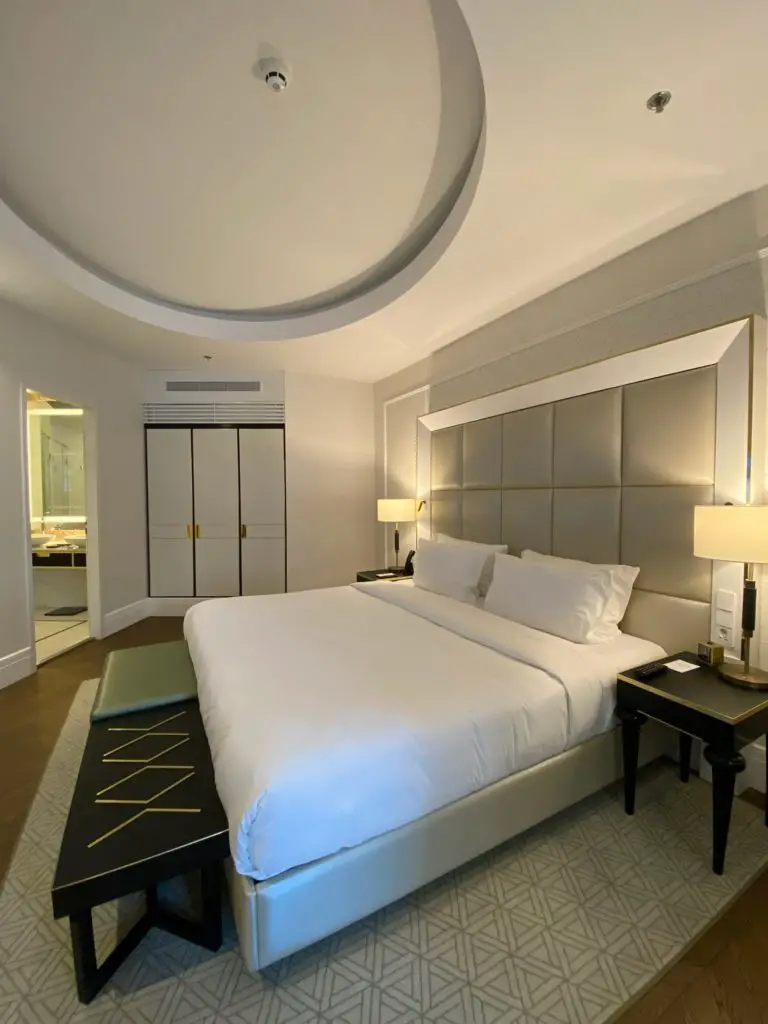 ---
Maximize This Globalist Benefit
---
One of the best benefits of having a Globalist membership is being able to share your status and accompanying perks with whomever you want.
With Guest of Honor, you can book an award stay for virtually anyone. And they are bound to experience all the great amenities of your elite membership- including complimentary breakfast, lounges, waived resort fees, etc.
If you want to make your friends and family feel special, the Guest of Honor program is perfect.

Whether they are celebrating a milestone occasion or you're showing them appreciation, this benefit will make your guests feel like VIPs.
Hence, if you want to make your World of Hyatt Globalist membership even more valuable, make sure to take advantage of this incredible benefit! Your friends and family will love you for it.
---
Steps on Booking a Guest of Honor Reservation
---
Step 1: Make Sure You Currently Have Globalist Status
---
First, you'll need to be a World of Hyatt Globalist member in good standing.

If you're not a Globalist yet, you can achieve status by staying at any of Hyatt's properties worldwide.
---
Step 2: Book an Award Stay Using Points at Any Property For Yourself
---
Once you achieve Globalist status, you can book an award stay for your friend or family member using the Guest of Honor program. However, you need to initially book this reservation for yourself as there is no way to assign a Guest of Honor reservation online.
Another alternative is to contact the World of Hyatt. While you can book any award stay over the phone or through direct messaging with a Hyatt agent, I prefer booking it myself before proceeding to the following steps.
---
Step 3: Write Down the Confirmation Number of Your Award Booking
---
Only by taking note of your reservation confirmation number can a Hyatt agent keep track of the reservation you want to gift someone.
---
Step 4: Reach Out to The World of Hyatt to Assign Your Guest of Honor
---
After booking your award stay, the next step is to call the World of Hyatt Globalist line at 1-888-994-9288 to transfer the reservation to your Guest of Honor.

You can also make a Guest of Honor reservation by messaging Hyatt on the Hyatt app, Facebook Messenger, or Twitter.
If you achieved Globalist status by accruing 60 qualifying nights, then you will have access to My Hyatt Concierge (MHC). Emailing your concierge (MHC) directly is a quicker option to make Guest of Honor reservations.
Remember to mention that you are using your Guest of Honor benefit when contacting a Hyatt representative.

They will ask for your name and contact information, as well as that of the person who will be using the room. Once you have successfully booked a Guest of Honor reservation, your recipient will receive an email confirmation.
Recommended Script: I would like to assign a Guest of Honor reservation to (your friend/family member) as a gift because they are celebrating a _________________. The property was already booked on points, and the confirmation number is ___________. I used a total of (number of points) and just want to ensure that this will not increase. The name of my friend/family member is __________ and their Hyatt Account number is _____________.
---
Step 5: Check if Extra Points Were Deducted
---
Check your Hyatt account for any extra point deductions, especially if you booked before the award chart devaluation.

In my experience, customer service representatives are willing to refund any extra points inadvertently deducted from my account.
If the property you're interested in has gone down in price, agents can give you the difference in points too. Win-win!
---
Step 6: Make Sure Your Guest of Honor Has The Reservation on Their Account
---
If you would like your Guest of Honor to receive elite night credits for their Guest of Honor stay, please confirm with them that the booking is showing up on their accounts. If not, they may not earn this stay as a qualifying night.
The World of Hyatt also has a Brand Explorer program wherein members are awarded a free night after staying in 5 different Hyatt brands. If your Guest of Honor is booked at a new Hyatt brand, that will bring them closer to a free night.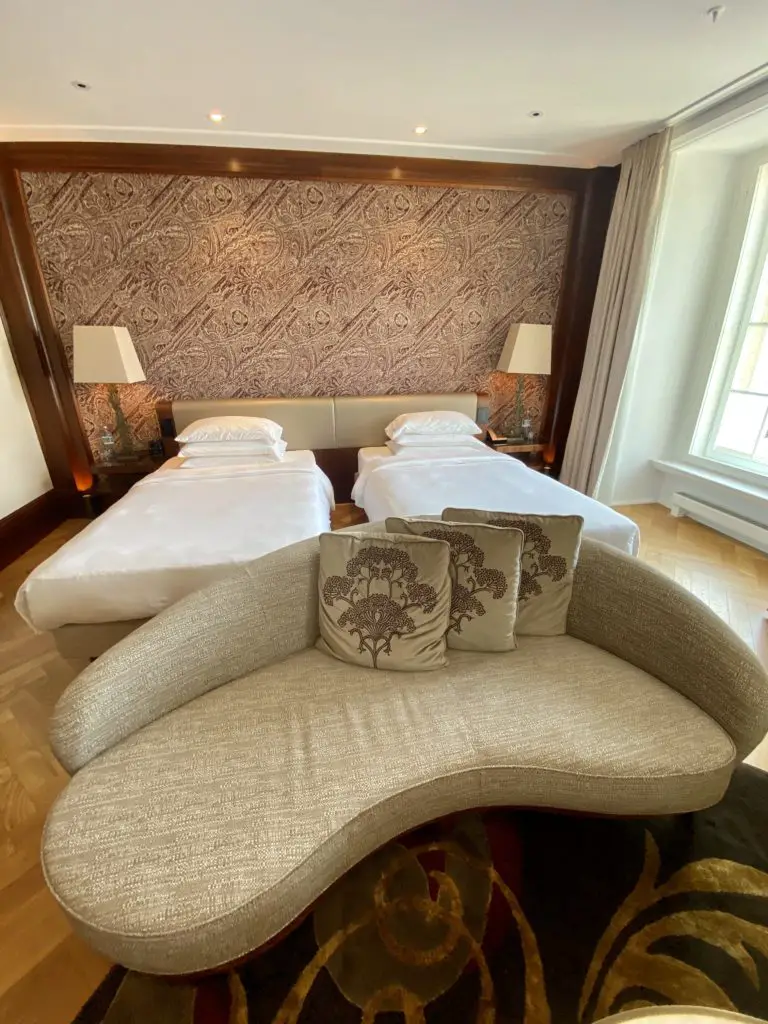 ---
Guest of Honor Tips and Tricks
---
Here are a few tips to keep in mind now that you know how to use your Globalist Guest of Honor benefit:
---
The Guest of Honor Program is Only for Award Stays
---
The Guest of Honor benefit can only be used for award stays booked on points or free night certificates. You cannot use this benefit with paid reservations.
---
Free Night Certificates Can Be Used to Book a Guest of Honor Reservation
---
Globalist members can also gift their free night certificates through the Guest of Honor program.

Earning these free night certificates is not too difficult, and the easiest way to earn them is by owning a World of Hyatt Personal Credit Card.
Cardholders get one complimentary night at any Category 1-4 Hyatt hotel every year after paying the $95 annual fee.

Plus, it gives a second free night when you spend $15,000 within a calendar year. When you do the math, this benefit usually offsets the card's $95 annual fee.
---
You Can Book Multiple Guest of Honor Reservations
---
Globalist members can book as many Guest of Honor reservations as they want. There is no limit to the number of rooms that can be booked as long as they are all booked on points.

You can essentially book a stay for different individuals every time and can even book multiple rooms with Guest of Honor benefits at once.
---
Guest of Honor is Meant to Be a Gift
---
According to the World of Hyatt's terms, the Guest of Honor booking should be given as a gift. Therefore, the Globalist member shouldn't receive points from the other member in return.
---
Do Not Cancel Unless Plans Change
---
If you cancel your reservation, your guest will also lose their booking Be sure to only use the Guest of Honor benefit if you're confident that you'll be able to follow through with your plans.
---
Frequently Asked Questions
---
How Do I Book A World of Hyatt Award Stay?
---
Step 1:
Log on to your World of Hyatt account on the computer. Don't have a Hyatt account?
 Sign Up for a Free World of Hyatt Account Here
Step 2:
Type in your destination, dates, number of rooms, and number of guests, and then check "Use Points."
Step 3:
Once you have plugged in your information, click "Find Hotels."
Step 4
Select the particular room that you want to book. Some properties have multiple options. In the image below, Carmel Valley Ranch, a Category 7 property, shows 3 room types at 25,000 points per night.
Step 5
Make sure the property is bookable using points, as sometimes the website gives inaccurate information.

I do this by going through the steps until I reach the payment page. If I do not have sufficient points on my World of Hyatt account, I transfer some of my Chase Ultimate Rewards Points to my Hyatt account to secure those award nights.
Pro-Tip: Do not transfer your Chase points unless you have verified that there is bookable award availability. Once you've confirmed that the room can be booked using points, go ahead and start the transfer and grab your free night. However, keep in mind that once your Chase points are in your Hyatt account, you will no longer be able to reverse the process.
The Chase to World of Hyatt transfer process was instant, so I just refreshed the Hyatt page and booked the award nights when my points showed up.
---
What If I Do Not Have Enough Hyatt Points?
---
It is sometimes difficult to save up for any bucket-list hotel redemption as those require a significant amount of points.

Thankfully, World of Hyatt's generosity does not end with its lucrative award chart. The program also allows transferring points between 2 members for free.
Hence, even the most unattainable luxurious properties suddenly become realistically "bookable" if more than one individual is diligently accruing World of Hyatt points.
Recruit a friend or family member to start helping you accumulate those valuable points. There is power in numbers and it couldn't be more true when you pool Hyatt points with others.
Whether you need extra points to book several rooms or extend your trip from a couple of days to a week, combining Hyatt points with another person can make that goal much easier to reach.
Two World of Hyatt members are eligible to combine points to redeem an award. … Member may combine the necessary number of points from their World of Hyatt account with those in one other specifically designated World of Hyatt account in order to have a sufficient number of points to redeem a particular award.

World of Hyattt
Before we go over the steps involved in transferring Hyatt points to another individual, there are a few important details I would need you to be aware of.
You can only transfer (give/receive) Hyatt points once every 30 days.
There is paperwork to be printed, filled out, signed, and scanned.
Hyatt allows transferring points if the purpose is to help another member book an award.
Both Hyatt accounts need to be active and in good standing. 
Now that we got those out of the way, the next goal is to find someone who can loan you those points.

As soon as another member is willing to lend you their World of Hyatt points, it's time to jumpstart the transfer process. This blog post on "transferring Hyatt points to another member" has the steps.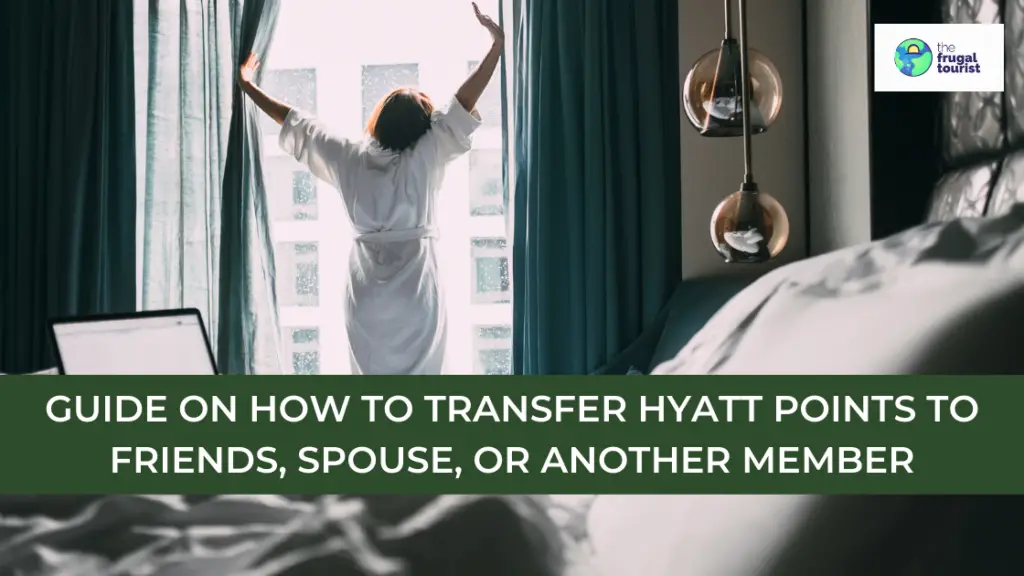 ---
If I Book a Guest of Honor Reservation, Who Earns the Elite Night Credit?
---
World of Hyatt gives elite night credits for award stays to the person completing the stay rather than the Globalist who made the booking.

So, if you make many Guest of Honor reservations for others, do not expect to earn elite nights from those reservations as Guest of Honor reservations do not earn qualifying nights for the "gifter".
---
What Is the Fastest Way to Earn Hyatt Points?
---
The quickest way to earn free nights at Hyatt properties is to sign up for travel credit cards that offer generous sign-up bonuses that can be redeemed at Hyatt properties.
Some of the best travel credit cards for this are the ones that earn Chase Ultimate Rewards points, as those points transfer to the World of Hyatt program at a conversion rate of 1 Chase Ultimate Rewards Point: 1 World of Hyatt Point.
My favorite credit cards that earn either Chase Ultimate Rewards Points or World of Hyatt Points are the following: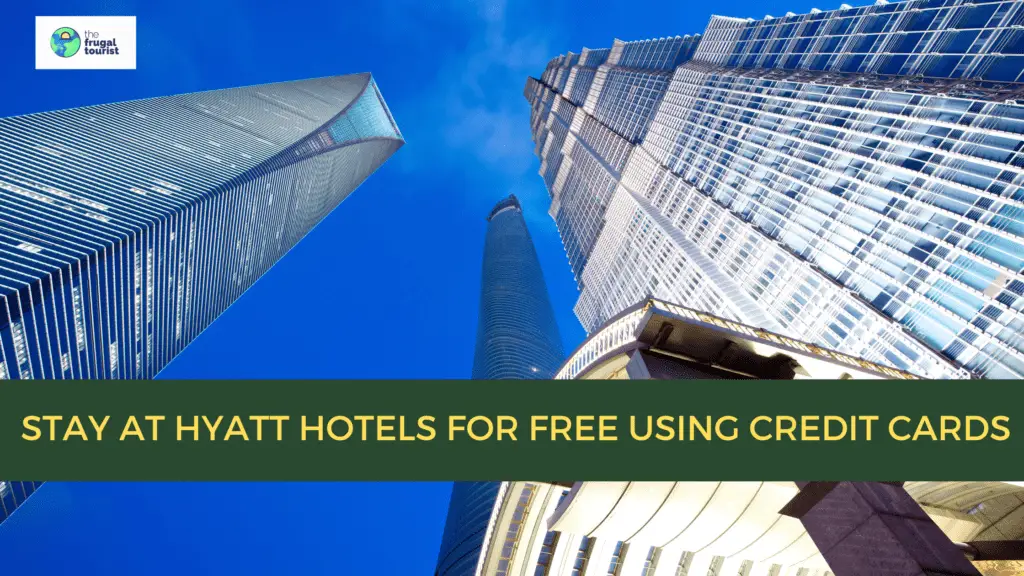 ---
How Can I Transfer My Chase Ultimate Rewards Points to the World of Hyatt Program?
---
Chase Ultimate Rewards Points is a top favorite travel rewards currency among points enthusiasts and frugal tourists like myself.
Since Hyatt is a transfer partner of Chase, you can essentially accumulate Hyatt points as a result of earning Chase Ultimate Rewards (UR) points.

If this is your first time transferring Chase Ultimate Rewards points to the world of Hyatt program, feel free to check out the article below.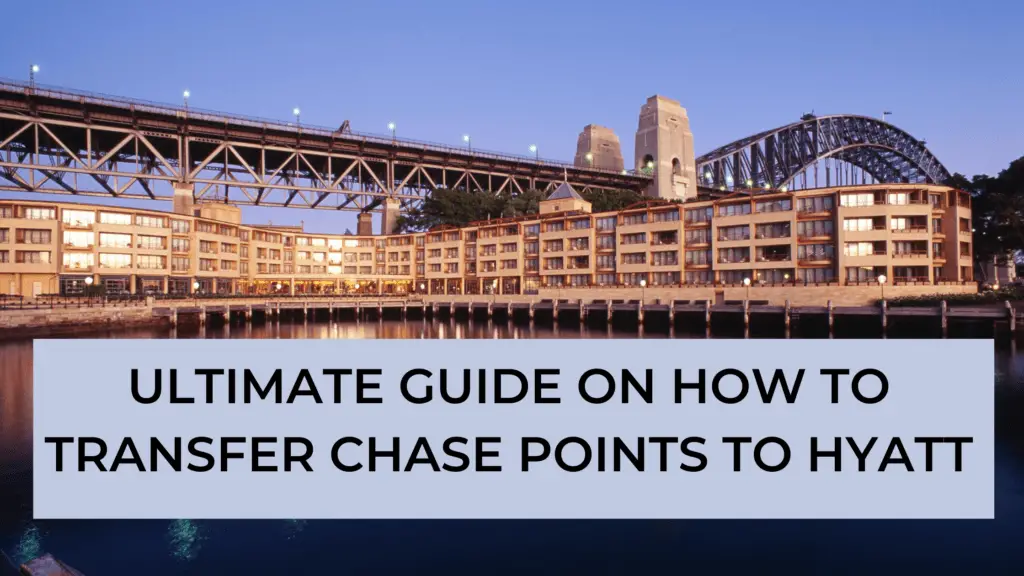 ---
Why We Love Hyatt Hotels
---
The World of Hyatt's award chart is more generous than most, as they charge fewer points overall for their properties.
For example, a Hyatt Category 7 hotel will only cost 30,000 points per night, whereas a Marriott or Hilton will require 70,000 points for the same level of accommodation.
In fact, I recently stayed at the Hyatt Centric Murano Venice, where we booked a night for as low as 9,000 Hyatt points since it's a Category 3 Hyatt property.
As you'll see in the next section, Hyatt's award chart is quite generous. I often seek out places where there are Hyatt hotels so that I can take advantage of free rooms and save money on our accommodations.
---
Hyatt's Award Chart: How Many Hyatt Points Do We Need?
---
There are a lot of variables that will determine the amount of World of Hyatt points you will need for a particular redemption. The best way to determine is to run the award searches themselves. Here are some of the variables that can influence the number of points Hyatt will require:
Season: Peak or Off-Peak
Room Type: Standard room or Suites
Category: Hyatt has 8 Hotel Categories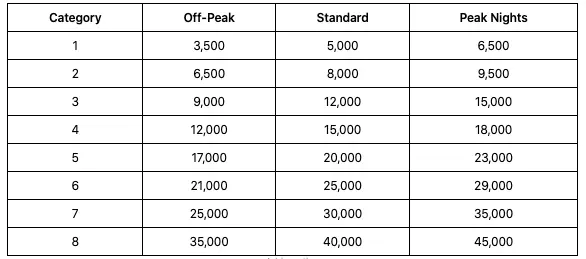 If you are curious about the categories of specific Hyatt properties around the globe, feel free to check out this handy Hyatt Location Search Tool or this Hyatt Map.
---
Final Thoughts
---
One of the reasons World of Hyatt's Globalist members value their status is the Guest of Honor perk.

With this benefit, you can comp a friend or family member's stay at any Hyatt location.
The room will be booked using the Globalist member's points or free night certificates and will cost the Guest of Honor nothing.

The Guest of Honor benefit is easy to use, and it's a great way to show your appreciation to friends and family.
World of Hyatt Globalist members receive many great perks, so make sure to take advantage of them!

And if you're not a member yet, now's the time to join. Start planning your next stay at a Hyatt property today.
EDITORIAL DISCLOSURE – Opinions expressed here are the author's alone, not those of any bank, credit card issuer, hotel, airline, or other entity. The content has not been reviewed, approved or otherwise endorsed by any of the entities included within the post.